printer friendly version
VESDA-E protects logistics warehouse
July 2015
Fire & Safety
Mango, a major international fashion brand of women's and men's clothing and accessories, has selected Xtralis' VESDA-E smoke detectors to protect its massive new logistics centre, located north of Barcelona, Spain. Mango attributes its success to three core elements – concept, team, and logistics. To ensure business continuity and logistics excellence, Mango selected VESDA-E for fire protection in its flagship logistics centre.
Mango began building the logistics park in 2014 at Lliçà d'Amunt to serve its rapidly growing global operations. The centre, which represents an investment of 360 million euros, will be completed in 2015, with the platform to come into full service in January 2016. The new logistics centre will occupy an area of 395 000 square metres, and incorporate the latest technological logistics tools, robotics, and fire prevention with 200+ VESDA-E detectors. Mango selected Cotein Fire for the installation.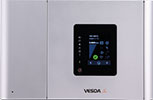 "The ultra-sensitivity of VESDA-E combined with very long pipe runs to provide wide areas of protection is the right choice for the Mango logistics centre," commented Oscar Arias, construction managing director with Mango. "VESDA-E is able to provide the very best in protection for our world-class facility. This project uses fewer detectors to cover a very wide area packed with valuable assets. The high ceilings and airflow also provided challenges that VESDA-E was able to solve. Mango logistics are best-in-class and when it came time to select fire protection, VESDA-E was the natural choice."
The new Mango logistics centre employs state-of-the-art technologies to efficiently inventory and ship the world-class brand. However, with a massive area to protect, ceiling heights of 46 metres, and high airflow, smoke detection and fire prevention to protect the valuable commodities posed a unique challenge. Zettler, a leading European safety system integrator, worked closely with Xtralis to deliver the VESDA-E VEU solution, which exceeded all requirements.
The VESDA-E series of aspirating smoke detectors are the new generation of VESDA ASD. With sensitivity up to 15 times greater than VESDA VLP, and provisioning for considerably longer linear and branched pipe networks to protect wider areas whilst allowing convenient mounting for ease of access and maintenance, VESDA-E is the ideal solution for maximum protection in a wide range of applications. A single VESDA-E detector can protect up to 2000 m² with much greater sensitivity and reliability than any detector on the market.
For more information contact Derek Waddell, Xtralis, +27 (0)82 316 2601, [email protected]
Further reading:
Fire-fighting force at Vergelegen
Editor's Choice Fire & Safety Residential Estate (Industry)
Vergelegen wine estate in Somerset West, and its neighbours, are set to enjoy greater peace of mind this summer, thanks to the delivery of a brand new fire truck .
Read more...
---
Rhino103 extinguishing control panel
Technoswitch Fire Detection & Suppression Fire & Safety Products
Technoswitch has released the Rhino103 extinguishing control panel range, designed and manufactured in South Africa to comply with EN54 parts 2 and 4, and EN12094.
Read more...
---
Technoswitch partners with Ciqurix for video fire detection
Technoswitch Fire Detection & Suppression News Fire & Safety
Technoswitch is pleased to announce the signing of an exclusive distribution agreement with Ciqurix (UK), a leading supplier of video fire detection products.
Read more...
---
Fire protection for new Fuchs warehouse
Fire & Safety
The new warehouse at Fuchs Lubricants South Africa in Isando, Johannesburg, not only incorporates the latest technology but complies with stringent fire detection and prevention requirements.
Read more...
---
Fire-safety risks during load shedding
News Fire & Safety
The current load shedding implemented by electricity utility Eskom, as it faces unplanned breakdowns, poses a heightened fire risk for homeowners and their families.
Read more...
---
FlameSpec flame detectors from Technoswitch
Technoswitch Fire Detection & Suppression Fire & Safety
The FM-approved FlameSpec detectors address slow-growing fires and fast eruptions of fire while maintaining high performance and reliable detection in all weather and light conditions.
Read more...
---
Improved hydraulic performance and efficiency
Johnson Controls Global Products Fire & Safety
Tyco 5.8K LFII sprinkler from Johnson Controls Global Products brings improved hydraulic performance and efficiency to residential fire protection.
Read more...
---
One-bolt coupling
Johnson Controls Global Products Fire & Safety
The G-Fire One-Bolt Figure 579A is a grooved, rigid coupling ready for out-of-the-box, push-on installation including self-lubricating gaskets for a smooth installation experience.
Read more...
---
Ensure your generator is fire-safe
Fire & Safety
A backup power supply such as a genset is critical during loadshedding, however, it is vital that such important equipment is maintained properly and serviced regularly to be able to cope with outages.
Read more...
---
Technoswitch Awards dinner for 2022
Technews Publishing News Fire & Safety
Technoswitch hosted its fifth awards dinner at Montecasino in September, where customers and suppliers celebrated a year of success.
Read more...
---