printer friendly version
VESDA-E protects logistics warehouse
July 2015
Fire & Safety
Mango, a major international fashion brand of women's and men's clothing and accessories, has selected Xtralis' VESDA-E smoke detectors to protect its massive new logistics centre, located north of Barcelona, Spain. Mango attributes its success to three core elements – concept, team, and logistics. To ensure business continuity and logistics excellence, Mango selected VESDA-E for fire protection in its flagship logistics centre.
Mango began building the logistics park in 2014 at Lliçà d'Amunt to serve its rapidly growing global operations. The centre, which represents an investment of 360 million euros, will be completed in 2015, with the platform to come into full service in January 2016. The new logistics centre will occupy an area of 395 000 square metres, and incorporate the latest technological logistics tools, robotics, and fire prevention with 200+ VESDA-E detectors. Mango selected Cotein Fire for the installation.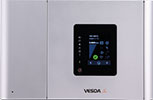 "The ultra-sensitivity of VESDA-E combined with very long pipe runs to provide wide areas of protection is the right choice for the Mango logistics centre," commented Oscar Arias, construction managing director with Mango. "VESDA-E is able to provide the very best in protection for our world-class facility. This project uses fewer detectors to cover a very wide area packed with valuable assets. The high ceilings and airflow also provided challenges that VESDA-E was able to solve. Mango logistics are best-in-class and when it came time to select fire protection, VESDA-E was the natural choice."
The new Mango logistics centre employs state-of-the-art technologies to efficiently inventory and ship the world-class brand. However, with a massive area to protect, ceiling heights of 46 metres, and high airflow, smoke detection and fire prevention to protect the valuable commodities posed a unique challenge. Zettler, a leading European safety system integrator, worked closely with Xtralis to deliver the VESDA-E VEU solution, which exceeded all requirements.
The VESDA-E series of aspirating smoke detectors are the new generation of VESDA ASD. With sensitivity up to 15 times greater than VESDA VLP, and provisioning for considerably longer linear and branched pipe networks to protect wider areas whilst allowing convenient mounting for ease of access and maintenance, VESDA-E is the ideal solution for maximum protection in a wide range of applications. A single VESDA-E detector can protect up to 2000 m² with much greater sensitivity and reliability than any detector on the market.
For more information contact Derek Waddell, Xtralis, +27 (0)82 316 2601, dwaddell@xtralis.com
Further reading:
Fire Beam Xtra covers up to 160 metres
October 2019, Technoswitch , Products, Fire & Safety
The Fire Beam overcomes traditional beam detection challenges where building movement and accessibility made beam detection unreliable and laborious to commission and maintain.
Read more...
---
Emergency voice communication system
October 2019, Technoswitch , Products, Fire & Safety
The Technoswitch Emergency Voice Communication Systems concept offers fire telephone and disabled refuge systems, as well as integrating emergency assist alarm systems in a single solution.
Read more...
---
Fast detection of smoke and flames
October 2019, Bosch Building Technologies , Editor's Choice, CCTV, Surveillance & Remote Monitoring, Fire & Safety
Video-based fire detection AVIOTEC from Bosch has been optimised for tunnels to provide early and reliable detection of smoke and flames in these dark environments.
Read more...
---
Choosing the right fire detection system
August 2019, FDIA (Fire Detection Installers Association) , Fire & Safety
Charles Thiong'o from the FDIA highlights important factors to consider when choosing a fire detection system.
Read more...
---
Local security technology manufacturer
August 2019, Technoswitch , Fire & Safety
Technoswitch, a South-African manufacturer, importer and distributor of fire detection and suppression equipment turned 45 this year.
Read more...
---
Fire detection and suppression for server cabinets
August 2019, Technoswitch , Fire & Safety
The TEC601, designed and manufactured by Technoswitch, is an all-in-one fire and extinguishing rack-mountable control system designed to protect electronic equipment in 19-inch server room cabinets.
Read more...
---
ORYX conventional fire panel range
August 2019, Technoswitch , Fire & Safety
The ORYX range of conventional panels from Technoswitch offers 2, 4 and 8 zone options, including weatherproof versions (with or without DIN rail) specifically suited to industrial applications.
Read more...
---
Next generation BlazeCut T-series
August 2019, Technoswitch , Fire & Safety
Designed to protect small enclosed spaces with greater risk of fire, the BlazeCut T-series system is easy to install.
Read more...
---
Emergency lighting and fire detection combination
August 2019 , Fire & Safety, Products
Hochiki Europe has launched FIREscape+, a system which combines emergency lighting, fire detection and wayfinding technology.
Read more...
---
Introducing Gulf Security Technology
August 2019, UTC Fire & Security SSA , Fire & Safety
Gulf Security Technology manufactures more than 16 million detectors and modules and more than 120 thousand control panels per year, making it one of the largest fire detection manufacturers in the world.
Read more...
---