printer friendly version
Sea Point sees two-thirds crime drop
July 2015
CCTV, Surveillance & Remote Monitoring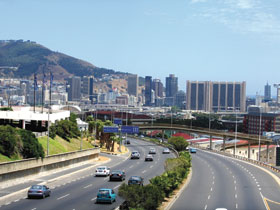 Some of Cape Town's busiest roads, leading to one of the wealthiest suburbs, are now being secured with an automated licence plate recognition system installed by LPR Solutions. At its heart is a network of 42 day/night cameras from Hikvision, whose iVMS video management software streams the video data to the LPR software. The increased surveillance has led to a dramatic drop in crime within the suburb, down an indicated 65% following the introduction of the cameras.
Monitoring universal access
Located just a few kilometres west of the city's central business district, the roads that access Sea Point are some of the busiest in the entire peninsular. Many arterial roads lead in and out of the area, providing drivers with a wide variety of route options, appealing to residents and legitimate visitors. However, the sheer number of route options means that the criminal fraternity has also been able to enjoy only partially restricted access to this valuable real estate.
Recognising the possibility to improve the safety and security of the area, the Sea Point City Improvement District, a joint municipal/police entity, decided to establish a licence plate recognition (LPR) system to monitor Sea Point's access roads and highways. Its aim was to identify and track every individual vehicle entering or leaving the area and co-ordinate law enforcement activity to combat crime. To design and implement the system it turned to local company, LPR Solutions.
The first LPR installation in Cape Town
"This project is the first large-scale LPR solution to be installed in Greater Cape Town," says LPR Solutions' Chris Hobbis. "With an average of over 300 000 vehicle movements per hour being expected for the network of just over 40 cameras, the sheer intensity of traffic movement represented a considerable technical hurdle for the system designers to overcome. On top of this, the LPR system had to be robust enough to cope with the speed of the passing traffic on these major link roads in all weather and be operational 24x7.
"Therefore, our emphasis for the camera was on build quality, reliability, weather protection, image quality and true day/night capability."
The LPR team also installed the network wireless and cabling links to feed the camera streams to a dedicated central control room located within Sea Point, which is manned around-the-clock by a staff of six.
The solution
The focus of the design was to record every vehicle movement into and out of the Sea Point area from the minimum number of cameras. After analysing the road infrastructure, the engineers at LPR Solutions identified 42 points for the cameras, with each camera dedicated to monitoring one lane of traffic. Once these points were calculated, the demands to be placed on the cameras were investigated.
Its eventual choice was the Hikvision DS-2CD4012F-A Smart IPC day/night box camera, with every camera protected from environmental stresses by an IP66 housing. Each camera's video stream is recorded on a dedicated server through Hikvision's iVMS video monitoring software suite and fed from there to LPR's itrack licence plate recognition software.
A SMART solution
Reflecting on its choice of the DS-2CD4012F-A camera, Hobbis says, "The main challenges we faced on this project were the changes in lighting conditions as we passed from day to the dark of night, the speed of the passing traffic and ensuring reliability.
"We opted for one of the new breed of SMART cameras from Hikvision, which offers good image quality under all lighting conditions and fast, remote focusing capability whilst more than meeting our needs for efficient bandwidth and storage utilisation. Visitors to South Africa will know that daytime conditions can be very bright but the DS-2CD4012F-A copes with everything. Moreover, the bright lens produces brilliant 1280 x 1024 HD720p video at up to 60 fps, critical for an application where image detail is critically important.
"As well as Smart Focus, the Hikvision DS-2CD4012F-A also features a comprehensive suite of SMART features, including Smart Codec, Smart VQD (video quality detection), Smart Face Detection and Smart Audio Detection. The Smart Codec is particularly significant in a network situation as the advanced encoding algorithm streams images at a very low bitrate without compromising quality. Compared to traditional cameras, the Hikvision Smart cameras enhance image quality by up to 30% while minimising the system's load and storage requirements. And, if necessary, up to 64 GB of on-board storage can be utilised," added Hobbis.
The result is clear images under the most challenging of environmental conditions, making it the ideal camera for all forms of surveillance, from large scale projects to small businesses.
For more information contact Hikvision, +86 571 8700 6060, [email protected], www.hikvision.com
Credit(s)
Further reading:
Smart car parking solution eases traffic flow
Dahua Technology South Africa CCTV, Surveillance & Remote Monitoring Integrated Solutions Products
Ethiopia's first smart parking lot, designed to improve traffic flow and management efficiency, has been built and installed using Dahua Technology's smart parking solutions.
Read more...
---
VMS 7.2 supports the investigation process and adds cloud capabilities
CCTV, Surveillance & Remote Monitoring Integrated Solutions Products
Qognify has launched the second release of its VMS, including extended support for body-worn video, additional functionalities to support investigations, and a new web client architecture. VMS 7.2 addresses the increasing use of body-worn video (BWV) across many sectors.
Read more...
---
The future of AIoT
Hikvision South Africa News CCTV, Surveillance & Remote Monitoring
Hikvision hosted its 2022 Shaping Intelligence Summit in Bali, Indonesia, on 29-30 November, where the company, its customers, and technology and solution partners, looked into the future of AIoT and explored paths to shared success.
Read more...
---
A comprehensive video solution for retail
LD Africa Retail (Industry) CCTV, Surveillance & Remote Monitoring Products
Retail Intellect is a comprehensive, flexible solution for retailers that matches technologies to ensure point-of-sale safety and security with video analytics.
Read more...
---
Understanding customers better using AI
Secutel Technologies Retail (Industry) CCTV, Surveillance & Remote Monitoring Products
With in-store analytics of consumer behaviour, retailers can improve store performance and boost the productivity of their business.
Read more...
---
Benefits beyond just security
CCTV, Surveillance & Remote Monitoring
Store cameras are boosting customer experience and sales, as well as preventing losses, finds market research e-book from IDIS.
Read more...
---
Hikvision unveils first 'True 8K' NVRs
Hikvision South Africa CCTV, Surveillance & Remote Monitoring Products
The new M-Series NVRs can be used with a host of Hikvision cameras, and are ideal for environments where a wide field of view and extremely high image resolution are needed.
Read more...
---
AI in video analytics
CCTV, Surveillance & Remote Monitoring Integrated Solutions
AI (artificial intelligence), has been developed and debated ever since the first computers were invented, and while the most revolutionary incarnations are not yet here, AI-based technologies are widely used today.
Read more...
---
Milestone flies a Kite for small businesses
Milestone Systems CCTV, Surveillance & Remote Monitoring
Milestone Systems introduces Milestone Kite for small to medium-sized businesses and organisations, supporting 6000+ camera models from 100+ manufacturers.
Read more...
---
Railway AI-enabled video analytics
Rugged Interconnect Technologies CCTV, Surveillance & Remote Monitoring
The Rugged Computing Group has announced the AVA-RAGX, a fanless AIoT video analytics platform for railway applications, paired with Nvidia's Jetson AGX Xavier platform.
Read more...
---