printer friendly version
Coordinated music festival safety
July 2015 Entertainment and Hospitality (Industry), CCTV, Surveillance & Remote Monitoring
Milestone Systems' open platform IP video management software (VMS) is a core technology in the mobile event incident command unit developed by Unified Command as a temporary security operation centre (SOC) that moves from one event location to another.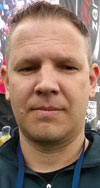 Chris Gandy, chief technology officer, Unified Command.
"Milestone VMS technology helps us unify all the facets of complex events into one centralised command. That coordination enables us to respond more effectively to emergencies. We're able to quickly dispatch the right people to the right places, which makes events safer for everyone," says Chris Gandy, chief technology officer, Unified Command.
The company hires local law enforcement, dispatch and emergency service personnel for 40 to 50 big events across the United States each year, such as the music festivals Hard Summer and Outside Lands, Coachella and Stagecoach. In 2013, Chris Gandy joined as chief technology officer. With nearly two decades of experience as a police technical detective in a major metropolitan police force, he has worked with video surveillance for years.
Freedom of choice
Gandy's list of must-haves for a VMS solution was extensive, from overall video stability to ease-of-use, to robust mapping capabilities – all based on a truly open platform. Milestone XProtect, his ultimate choice, met all requirements and exceeded most.
"A lot of manufacturers force you to buy their hardware, but with Milestone I use a Dell server, my own networking equipment and whatever kinds of cameras I want. I don't like being locked into a certain make and model of camera or a specific brand of hardware: I make my own choices."
Fast deployment and response
Gandy reports that the ease and speed for Milestone to be deployed makes it an attractive solution, especially in an industry where speed matters. "We go into a field in the middle of nowhere, put up cameras and the next thing you know we've got eyes on more than 100 acres. For the people operating the system, it's very user friendly and easy to learn."
The primary benefit is better overall response to incidents that happen at events: overflowing trashcans, lost items, clogged entry and exit points, unruly and potentially dangerous crowds and serious medical emergencies.
"By putting everyone in the same virtual room through access to a top quality video solution, everyone involved in the event's success is able to read off the same page. Without this way to coordinate, you would have all different facets operating separately," Gandy says. "The Milestone VMS helps put the right people into the right places. Since we can all communicate with each other directly, we respond more quickly."
For example, when a call comes in that someone has passed out, the dispatcher in the command centre uses the call's point of origin to identify the closest camera and directs that camera to scan the crowd to the person needing attention. The dispatcher gives the exact location to the medics – which is critical when it's dark out, strobe lights are running and there are no cross streets for reference points. As a result, the medics quickly get assistance to those in need, not wasting precious time searching a crowd of thousands.
The incident command team proactively scans video for potential problems. When people appear to have consumed too much alcohol or other substances, or crowds gather near perimeters perhaps preparing for 'fence crashing', Unified Command operators use the camera coordinates to direct security staff to the exact location, fast.
Ease of use is efficient
The complexities of managing incident response for changing event venues leave little – if any – time for training. Gandy reports that the Milestone VMS is very easy to use. "We can bring up multiple customised views for display on computers, mobile devices and the XProtect Smart Walls. It's a big issue with a lot of security systems to know where the cameras are to get the live view quickly, but the interactive map in Milestone takes care of that: operators just click on an icon and a separate window pops up with the camera feed of that view."
Gandy begins each event by putting a location diagram into the software and placing an icon for each camera on the computer-generated map. This eliminates the need for staff to look up confusing camera identifiers like North Parking Lot Facing South, which means nothing to dispatchers who don't work in the area every day.
Mobile and wireless situational awareness
Unified Command takes advantage of mobile and wireless capabilities to coordinate among the locations within an event. Using the Video Push feature in the Milestone Mobile client, cellphone cameras can record video at points not covered by the network cameras and stream ('push') those images back to the command centre via Wi-Fi. Milestone Mobile also streams video to iPads that Unified Command assigns to event managers, enabling views of the entire festival they can carry in their back pocket.
Gandy says the Milestone wireless support makes it possible to set up the command centre physically removed from the heart of the event. This ensures that staff can focus on coordinating services rather than protecting themselves during an emergency. "Anyone we have connected to the event's security network can easily and quickly see exactly what's going on anywhere without having to get to the command centre," he says. "That frees all of us up to focus on resolving whatever the situation may be."
For more information contact Milestone Systems, +27 (0)76 811 7495, [email protected], www.milestonesys.com
Credit(s)
Further reading:
Axis launches P3265-LVE dome camera
Axis Communications SA Products CCTV, Surveillance & Remote Monitoring
Based on ARTPEC-8 — the latest Axis system-on-chip (SoC) — Axis' latest dome high-performance camera includes a deep learning processing unit (DLPU), and cybersecurity features.
Read more...
---
The future of AIoT
Hikvision South Africa News CCTV, Surveillance & Remote Monitoring
Hikvision hosted its 2022 Shaping Intelligence Summit in Bali, Indonesia, on 29-30 November, where the company, its customers, and technology and solution partners, looked into the future of AIoT and explored paths to shared success.
Read more...
---
A comprehensive video solution for retail
LD Africa Retail (Industry) CCTV, Surveillance & Remote Monitoring Products
Retail Intellect is a comprehensive, flexible solution for retailers that matches technologies to ensure point-of-sale safety and security with video analytics.
Read more...
---
Understanding customers better using AI
Secutel Technologies Retail (Industry) CCTV, Surveillance & Remote Monitoring Products
With in-store analytics of consumer behaviour, retailers can improve store performance and boost the productivity of their business.
Read more...
---
Milestone flies a Kite for small businesses
Milestone Systems CCTV, Surveillance & Remote Monitoring
Milestone Systems introduces Milestone Kite for small to medium-sized businesses and organisations, supporting 6000+ camera models from 100+ manufacturers.
Read more...
---
No supply chain delays from Germany
Dallmeier Electronic Southern Africa News CCTV, Surveillance & Remote Monitoring Products
Dallmeier announces that its complete Domera single-sensor camera family is available without delivery problems for installers and channel partners.
Read more...
---
Axis announces W101 body-worn camera
Products CCTV, Surveillance & Remote Monitoring
Axis Communications has designed a body-worn camera, the Axis W101, that has an operating time of up to 17 hours with over 12 hours at 1080p.
Read more...
---
Going beyond security
Milestone Systems CCTV, Surveillance & Remote Monitoring Products
Milestone Systems reveals plans to bring its pioneering video technology beyond the traditional security market with new specialised solutions, including a special healthcare solution.
Read more...
---
Cathexis demonstrates its 'effective innovation'
Cathexis Technologies Technews Publishing Editor's Choice CCTV, Surveillance & Remote Monitoring News Integrated Solutions
Cathexis Africa recently held a roadshow with a stop in Johannesburg where Hi-Tech Security Solutions was invited to attend, along with many of the company's partners and users.
Read more...
---
Locally developed explosion-protected network camera
Modular Communications Products CCTV, Surveillance & Remote Monitoring
Modular Communications has designed and developed a locally manufactured camera enclosure which includes a 12 MP ultra-high-resolution IP camera.
Read more...
---