printer friendly version
Matching security to a superior customer experience
July 2015 Entertainment and Hospitality (Industry), CCTV, Surveillance & Remote Monitoring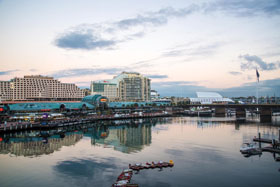 When it comes to the entertainment, gaming and hospitality industry, the customer's overall experience is considered one of the highest priorities. However, these sectors still rely on a highly competent security strategy to ensure patron and facility safety.
While not the only security solution necessary in this sector, CCTV surveillance is a crucial security component in this type of industry. CCTV cameras will monitor entry and exit points, points of sales at shops, restaurants and hotels, ATMs, gaming tables at the casinos, retail stores, hotels, and in some cases – large crowds of people at stadia.
According to Gus Brecher, managing director of Cathexis Africa, it's clear that in order to be effective, a multi-layered and fully integrated approach to security is key, which is why Cathexis Technologies works hand-in-hand with its clients to ascertain each facility's requirements and to customise the features associated with the CathexisVision IP Surveillance software. "The objective is to provide an holistic and sophisticated security solution, which will not only provide complete peace-of-mind, but actually also enhance the customer's experience."
The initial consultation with clients includes an evaluation of the risks that are inherent to the entertainment and hospitality environments, and then the development of appropriate methods to mitigate those risks, while keeping staff and customers safe and maintaining a relaxed and pleasant atmosphere.
Over the years, Cathexis has also demonstrated to clients in various vertical markets how to leverage all departments within an organisation to contribute to the overall security objectives and create a culture of customer focus and security awareness. "Many organisations are not aware that if the correct measures are implemented, the security department also becomes a revenue-generating, cost-cutting, substantial contributor to the bottom-line," says Brecher.
CathexisVision features
Rather than provide a laundry list of the various CathexisVision IP Video Management Software features, it is more effective to demonstrate how some of this product's leading features can be used practically in the hospitality environment.
Integration
CathexisVision becomes a complete security management system when integrated with the building's access control system, fire and alarm panels. Think beyond security, and CathexisVision provides maintenance and building management system. For example, many people would not even consider the advantages of using a CCTV system to ensure the optimal performance of the fridge/freezer controllers storing food at a large event.
Integration of the Building Management system with CathexisVision software provides for efficient maintenance, safety and energy management systems.
Sophisticated control room environment
The growth of the occupational health and safety industry worldwide has had a positive impact in many respects, but has also necessitated the need for reliable verification of incidents, as a growing number of organisations face the possibility of public liability claims where patrons can claim from the organisation for injuries sustained on site. Public liability claims can be verified for authenticity from recorded video footage, preventing fraudulent legal implications.
A sophisticated control room environment allows for service complaints to be verified and reviewed for additional staff management and training. Security services can also view multiple strategic areas from a central control room without impacting on the daily operations and customer experience.
Video analytics
The rise in popularity of the video analytics feature shows that clients in the entertainment and hospitality industry are recognising the advantages of real-time CCTV monitoring, which is combined with immediate and user defined action in the event of certain situations.
An abandoned handbag in a public restroom, for example, will ensure that security is immediately notified to investigate the situation and avoid a potential bomb threat. A delay or backlog at the entry point of a stadium gives the management team the advantage of reviewing the cause of the problem and rectifying it immediately to avoid a dangerous crowd situation.
"While this is only the tip of the iceberg it's clear that exceptional integration capability, flexibility and longevity, have made the Cathexis solutions ideal for the hospitality environment, providing true value across business operations, as well as a real return on investment," says Brecher. "Cathexis provides the most ideal product solution, combined with all the necessary expertise and ex­perience for the most specific industry requirements," he concluded.
Credit(s)
Further reading:
Axis launches P3265-LVE dome camera
Axis Communications SA Products CCTV, Surveillance & Remote Monitoring
Based on ARTPEC-8 — the latest Axis system-on-chip (SoC) — Axis' latest dome high-performance camera includes a deep learning processing unit (DLPU), and cybersecurity features.
Read more...
---
The future of AIoT
Hikvision South Africa News CCTV, Surveillance & Remote Monitoring
Hikvision hosted its 2022 Shaping Intelligence Summit in Bali, Indonesia, on 29-30 November, where the company, its customers, and technology and solution partners, looked into the future of AIoT and explored paths to shared success.
Read more...
---
A comprehensive video solution for retail
LD Africa Retail (Industry) CCTV, Surveillance & Remote Monitoring Products
Retail Intellect is a comprehensive, flexible solution for retailers that matches technologies to ensure point-of-sale safety and security with video analytics.
Read more...
---
Understanding customers better using AI
Secutel Technologies Retail (Industry) CCTV, Surveillance & Remote Monitoring Products
With in-store analytics of consumer behaviour, retailers can improve store performance and boost the productivity of their business.
Read more...
---
No supply chain delays from Germany
Dallmeier Electronic Southern Africa News CCTV, Surveillance & Remote Monitoring Products
Dallmeier announces that its complete Domera single-sensor camera family is available without delivery problems for installers and channel partners.
Read more...
---
Axis announces W101 body-worn camera
Products CCTV, Surveillance & Remote Monitoring
Axis Communications has designed a body-worn camera, the Axis W101, that has an operating time of up to 17 hours with over 12 hours at 1080p.
Read more...
---
Cathexis demonstrates its 'effective innovation'
Cathexis Technologies Technews Publishing Editor's Choice CCTV, Surveillance & Remote Monitoring News Integrated Solutions
Cathexis Africa recently held a roadshow with a stop in Johannesburg where Hi-Tech Security Solutions was invited to attend, along with many of the company's partners and users.
Read more...
---
Locally developed explosion-protected network camera
Modular Communications Products CCTV, Surveillance & Remote Monitoring
Modular Communications has designed and developed a locally manufactured camera enclosure which includes a 12 MP ultra-high-resolution IP camera.
Read more...
---
Surveillance solutionism is not a solution
Leaderware Editor's Choice CCTV, Surveillance & Remote Monitoring
The concept of surveillance solutionism has been used more broadly in the context of other types of surveillance, including the monitoring of people using technology, apps, social media, as well as AI-enabled technology.
Read more...
---
Mount Nelson opts for cloud surveillance
CCTV, Surveillance & Remote Monitoring Entertainment and Hospitality (Industry)
IOT Revolution Technologies, in partnership with MeyCom, will be implementing over 250 cloud driven Verkada cameras at the Belmond Mount Nelson Hotel.
Read more...
---