printer friendly version
Budget the overriding factor in console design
July 2015
Entertainment and Hospitality (Industry)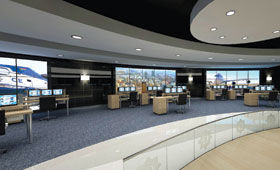 While ergonomics and functionality play a role in the design of a control room console, the biggest deciding factor is the available budget. Leveraging previous experience on solutions that work successfully is a differentiator when selecting a company to design and build a suitable security console.
Hi-Tech Security Solutions spoke to Jack McEwan and Penny Bond at long-established ProGroup Manufacturing about designing suitable security consoles. The company's scope of expertise ranges from standard single person CCTV desks through to fitting out fully contained control and surveillance operations, complete with video walls, multi-level surveillance rooms, and central command centres.
McEwan says that typically a client will provide the company with a brief that details the function of the console, whether there will be a supervisor present, how many operators will be using the console and whether the console will be manned around the clock. In addition, information on the type of equipment required, such as radios, PCs and telephones will be supplied. The more information that is supplied and the more comprehensive and detailed this information is, the better the end result.
Bond says that the console is designed to suit the specific room in which it is located, both from a functional and aesthetic perspective. Using the building drawings, a detailed design that considers accessibility and ceiling height, will be produced. A reputable and knowledgeable console designer will be able to incorporate factors such as ergonomics and lighting into the design. Additionally, they will select the construction materials best suited to the environment, typically those which are durable and robust, especially in environments where monitoring takes place on a 24-hour basis.
McEwan says that ambient noise can play a large role in the design of the console, citing the placement of glazing between individual operators as a noise-suppression measure. Other factors under consideration include the ideal distance required between the operator and the screen to reduce fatigue and eye strain. Soft ambient lighting is generally preferred for the same reasons.
While most facilities would like to provide each of their operators with an expensive ergonomically designed chair, the budget often dictates that a less expensive and usually less comfortable version is acquired. As the bare minimum, operators should have access to a comfortable desk and chair, combined with a monitor. Modular packages are available and ProGroup is able to flat box and ship units to cross border companies.
On the discussion between video walls versus consoles, Bond says that in the latter scenario the operator works in his own space or workstation where he has interaction with both other operators and the team of security/reaction officers at the workface as well as, in some instances, with the SAPS. A video wall, on the other hand, is rarely interactive and provides only a visual feed.
McEwan says that in lock-down situations or war room scenarios, where operational staff are locked into a control room environment for their entire shift due to security sensitivity, the incorporation of a recreation or breakout area is common. Here one would typically find kitchen and dining facilities, bathrooms, TVs and books, a sitting area and possibly a sleeping area.
In the entertainment environment, there are usually a multitude of cameras that must be monitored. In many instances, casinos employ operators who are trained in reading body language. The design of a console in this environment, says Bond, varies from circular to flat wall.
In the ideal world, budget would not be an issue and operators would work in an operations environment where only top of the range equipment is used. However, the reality is that there will always be a compromise between operator comfort and available funds and companies therefore need to focus on the most important elements and downplay the less important ones.
For more information contact Progroup Manufacturing, +27 (0)11 493 1545, [email protected], www.progroup.co.za
Further reading:
Mount Nelson opts for cloud surveillance
CCTV, Surveillance & Remote Monitoring Entertainment and Hospitality (Industry)
IOT Revolution Technologies, in partnership with MeyCom, will be implementing over 250 cloud driven Verkada cameras at the Belmond Mount Nelson Hotel.
Read more...
---
The house wins with Ajax
Elvey Security Technologies Perimeter Security, Alarms & Intruder Detection Entertainment and Hospitality (Industry)
One of the largest hotel-and-casino complexes in South Africa's North West province needed to increase security on its perimeter, but due to the sheer extent of the site, it was deemed extremely difficult ...
Read more...
---
Video technology can improve crowd management
Dallmeier Electronic Southern Africa CCTV, Surveillance & Remote Monitoring Entertainment and Hospitality (Industry) Products
Stadium operators can use video technology to implement effective crowd management in different areas, avoiding fines, reputational damage and injury or loss of life.
Read more...
---
Penguins enhance fan experience with smart camera applications
CCTV, Surveillance & Remote Monitoring Entertainment and Hospitality (Industry)
The Pittsburgh Penguins are implementing Azena's application platform for smart cameras in their home arena to provide analytics for heatmapping, queue detection and POS data integration to maximise the gameday experience for fans and stadium management
Read more...
---
How to plan a cybersecurity attack response
Duxbury Networking Entertainment and Hospitality (Industry)
After experiencing a breach, organisations often realise they could have avoided a lot of cost, pain and disruption if only they'd had an effective incident response plan in place.
Read more...
---
Comprehensive casino security and surveillance
Gallagher Editor's Choice Access Control & Identity Management Entertainment and Hospitality (Industry)
With approximately 400 million dollars channelled through its facility each week, the casino's concerns include security across multiple points of entry, vendor offices, cashier cages, count room areas and high limit rooms.
Read more...
---
Exercising via mobile
Paxton Access Control & Identity Management Entertainment and Hospitality (Industry)
Rotterdam 24-hour gym installs combined access control and video management system to use free scalable smart credentials and remote site management software.
Read more...
---
Smart technology to get sports fans safely back in stadiums
Axis Communications SA CCTV, Surveillance & Remote Monitoring Integrated Solutions Entertainment and Hospitality (Industry)
While everyone's eager to get back in their seats, stadiums will have to make some significant changes in order to ensure the health and safety of live sports audiences.
Read more...
---
Security enhances entertainment
ZKTeco Entertainment and Hospitality (Industry) Asset Management, EAS, RFID Products
It is of utmost importance that the entertainment sector ensures the best possible security measures for visitors to enjoy the premises in comfort and safety.
Read more...
---
Revolving door at uMhlanga Sands
Turnstar Systems Entertainment and Hospitality (Industry)
Located in the sunny town of uMhlanga Rocks near Durban in KwaZulu-Natal, uMhlanga Sands Resort offers beautiful ocean views, great amenities and easy access to the beach-front promenade.
Read more...
---