printer friendly version
Elvey marks successful expo
July 2015
News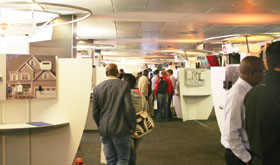 Equipped with a good game plan, a driven team, amazing support from suppliers and customers; Elvey Security Technologies has once again succeeded in promoting customer centricity by bringing quality solutions personally to customers. Set on a backdrop of some of South Africa's most spectacular sporting stadiums; this year's Expo kicked off in Port Elizabeth at the Nelson Mandela Bay stadium, and the finale was held at the FNB Stadium in Johannesburg.
"We believe in providing the market with the most convenient ways of accessing the latest and best in electronic security solutions," says Jack Edery, CEO of Elvey. "We have over 20 branches throughout sub-Saharan Africa that not only serve as our key distribution network in bringing our product offering to our customers, but also go the extra mile in providing premium service."
The Expo created a valuable learning and interactive experience for all involved. It provided a platform where Elvey could listen to customers' needs and begin building tailored solutions for each unique request. Attendees had the opportunity of networking with highly knowledgeable sales staff and product specialists at information sessions that where held throughout the day.
New product launches
At this year's Expo, Elvey launched a new in-house initiative called Blue Label. Blue Label is where Elvey offers additional services or product benefits to customers over and above current value added offerings. Wherever you see the Elvey Blue Label symbol you will find a commitment made to go above even their usual high standards of service and support. It's a pledge that when you see the Elvey Blue Label symbol Elvey has gone above and beyond to deliver you peace of mind. Ultimately, that's what the company strives for.
Intruder detection
Elvey welcomed RISCO to the intruder detection category late last year. 2015 was the brand's début to the Elvey Expo experience. The RISCO Group are producers of high quality, reliable security products for every type of security installation. Their intrusion alarm systems cater for residential and commercial installations (eg financial institutions) including a full range of indoor and outdoor detectors. RISCO also offers a mobile application.
At this year's Expo a Tyco company, ALARM.COM, displayed its new home automation capabilities using Z-Wave devices and easy to use APP to manage one's security and home with full energy management functionality on the DSC Neo alarm panel range. The DSC Neo was on display. RDC showcased its new SMX Unit which demonstrated great programming flexibility and features. Nemtek introduced its new agricultural range and also its pet friendly (low voltage) energiser. Optex and Siemens also represented the Intruder category.
CCTV and IP surveillance
HeiTel joined Elvey for the first time at the 2015 Expo. This is a new brand that was added to Elvey's CCTV range. HeiTel's core competence is with the remote transmission and digital recording of CCTV systems.
VisionLine introduced its new NVR, video platform and great quality analogue camera range. Cathexis exhibited its improved Video Management System and integration opportunities. Dahua launched its new range of HDCVI cameras and visitors were highly impressed with the quality produced by this range.
Arecont Vision, whose cameras have in recent times been praised for the clarity of their video output in identifying a criminal in Texas, was also present at the Expo showcasing its range of high-end products with unique cameras that offer 180- and 360-degree views.
Access control
Elvey Security Technologies recently announced the addition of Suprema's range of biometric security technology to the access control portfolio. Its extensive range of products include biometric access control systems (fingerprint and facial recognition), time and attendance devices.
AccessLine introduced the Gramma Switch at this year's show. This device is intended for use on the Jewish Shabbath and festivals and has been approved by The Tzomet Institute and is endorsed by the Beth Din of Johannesburg.
Impro Technologies played an important role in assisting with registration at all the shows. It showcased its Portal System Controller with touch screen and Visitor Portal Module amongst other technologies. Part of Sherlotronic's impressive display included the new S1, hard wire 1 channel transmitter and GSM programmer for Mimic base.
Leading-class brands such as Fermax also exhibited their access control capabilities remarkably. The GSM unit was popular amongst the visitors.
Fire detection
Elvey welcomed Tyco's FireClass for the first time. FireClass joined Elvey's fire detection category in the latter part of 2014.
Elvey Security Technologies would like to take this opportunity to thank its customers, first time visitors, suppliers, the media and last but not least; its team for the support they have shown at the nationwide Elvey Expo.
Credit(s)
Further reading:
The future of AIoT
Hikvision South Africa News CCTV, Surveillance & Remote Monitoring
Hikvision hosted its 2022 Shaping Intelligence Summit in Bali, Indonesia, on 29-30 November, where the company, its customers, and technology and solution partners, looked into the future of AIoT and explored paths to shared success.
Read more...
---
Top fraud trends to watch in 2023
News Security Services & Risk Management
Even though financial concerns remain a significant obstacle for companies in implementing new anti-fraud technologies, 60% of businesses expect an increase in their anti-fraud technology budgets in the next two years.
Read more...
---
Be cautious when receiving deliveries at home
News Perimeter Security, Alarms & Intruder Detection Security Services & Risk Management
Community reports of residents being held up at their gate when collecting fast food deliveries at home are once again surfacing.
Read more...
---
Securiton and Dallmeier announce partnership
Dallmeier Electronic Southern Africa News
Securiton AG Switzerland is now integrating the Panomera and Domera camera systems from Dallmeier to ensure its customers benefit from the highest standards of privacy and security.
Read more...
---
Future-proofed intrusion detection for retail
Elvey Security Technologies Retail (Industry) Perimeter Security, Alarms & Intruder Detection Products
One of the ongoing challenges that has faced retailers during their adoption of security technology is the issues caused by non-standardisation of technology.
Read more...
---
KPMG 2022 CEO Outlook, South African edition
Editor's Choice News
Mid-November saw the release of the latest KPMG 2022 CEO Outlook, South African edition, aptly sub-titled 'Potential Growth in Uncertain Times'.
Read more...
---
Mending Africa's digital infrastructure gaps
News
inq. Fabric is the first African-developed cloud connectivity, network-as-a-service software for automated provisioning and routing.
Read more...
---
Suprema renews international privacy and security standard certifications
Suprema News Access Control & Identity Management
Suprema has simultaneously renewed two important international standard certifications regarding information security management (ISO/IEC 27001) and privacy information management (ISO/IEC 27701).
Read more...
---
Technoswitch partners with Ciqurix for video fire detection
Technoswitch Fire Detection & Suppression News Fire & Safety
Technoswitch is pleased to announce the signing of an exclusive distribution agreement with Ciqurix (UK), a leading supplier of video fire detection products.
Read more...
---
From the editor's desk: No fond goodbye
Technews Publishing News
      Welcome to the final issue of Hi-Tech Security Solutions for 2022. Personally, I have absolutely no regrets seeing this year ride off into the sunset, or preferably be set on fire. However, it is the ...
Read more...
---