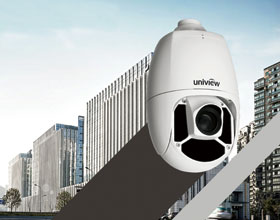 Procam CCTV partners with Uniview
July 2015, News
Uniview is a China-based company boasting a staff complement of over 2000 employees, of which nearly 50% are focused on constant research and development (R&D). Uniview has been pioneering in IP-based video surveillance since 2005 and has grown to be one of the top three leading CCTV manufacturers in China.
In addition, Uniview holds the third-largest domestic market share and is rich in IT experience, as well as innovative designs for products which have been a solid stepping stone into the international market.
During its nine years of experience, Uniview has not only been involved in China, but in many international projects which include public security, traffic monitoring, park monitoring, petrochemical surveillance as well as high-end buildings and many more.
Procam CCTV is looking forward to forging a successful partnership with Uniview, a dynamic and fast growing company that aligns with Procam CCTV's core mission and values of providing quality products at reasonable prices to its customers. Uniview considers research and development key in striving to become a global leader in the video surveillance industry, and therefore invests more than 15% of annual sales into R&D, resulting in the invention of leading technologies and products.
Uniview's product portfolio boasts a top quality and innovative IP range consisting of network cameras, NVRs, IP SAN, DC and VMS. In addition Uniview offers 500 m IR speed domes, NVRs which can handle 1024 cameras and can be used in conjunction with its control room software which is able to control 100 000 cameras simultaneously.
All these factors will only enhance the level of quality of surveillance equipment in South Africa where CCTV equipment has become a must rather than a nice to have. Not only are businesses across South Africa having CCTV installed at a rapid rate, but so are homes and quality has become more important. It is in this arena that Uniview stands out from the many manufacturers in the market.
For more information contact Procam, +27 (0)11 867 5419, tasker@procamcctv.co.za, www.procamcctv.co.za