printer friendly version
Crime is too late
1 July 2015 Security Services & Risk Management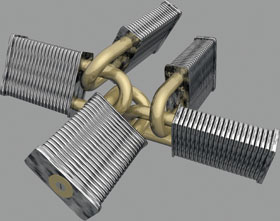 Unfortunately, crime is not a very pleasant topic and is therefore generally avoided by most. Although, being South Africans, we do mostly tend to joke about such things around the water cooler rather than take it too seriously. This results in the true value of security not being fully realised. It's only in hindsight; after trauma, tragedy and substantial loss, that the actual security status of the home, the business or any other property vulnerable to criminal attack, is truly considered, and that is only if you are lucky enough to survive.
Companies, property managers and homeowners believe their security is adequate because they have been fortunate enough to have not been targeted by criminals ... yet. We are all guilty of entertaining the idea, or assuming a false sense of security, when the thought crosses our minds: "But that will never ever happen to me" or "No ways can something like that occur here". Our assumptions are proved false, our tranquillity shattered and a rude awakening is received when we do find ourselves in the unfortunate position of being targeted, either directly or indirectly, by a criminal attack or intrusion of some sorts. As humans this sort of horrific ordeal can shake us to the very core.
Another influencing factor in the usually unintentional neglect of security is that it is viewed as purely expenditure and the funds necessary are not always calculated into our daily costs, company budgets or planned purchases in the future; when in fact, it should rightly be considered as an investment. This notion is strongly supported when reviewed after a crime and this is why it is necessary to consider the tactic of prevention, which is, in this case, far better than cure. Yes, your insurance may cover the loss of the home entertainment system or the office equipment. It may even allow you to upgrade on what you initially had, but can insurance cover the loss of a human life; whether it be a colleague, an employee or a member of your family? This is when crime truly is too late.
Interviews conducted with victims of crime have shown that neither prior to, or after the event, were the majority properly prepared in any manner for the attack. Especially in the case of homeowners, it was further concluded that they were not informed of the best means in which to protect their properties sufficiently either. Additionally, despite the purchase of elaborate security systems and the obvious involved costs, these individuals and entities still found that the criminals were not deterred or prevented in ultimately carrying out their mission.
It is at this point where the benefit of the independent security risk assessment should be noted. By contracting this service in regards to your property, business or home, you will be provided with an in-depth and extensive report in which all the vulnerabilities and weaknesses within your security are identified and explained in a multitude of interconnected layers.
These points create the opportunity for a crime to occur and through the removal of this vital element, proactive crime prevention can be achieved and your security risk can be greatly lessened. Additionally, the tailored security plan will include various workable and viable options to upgrade and expand your security to suit your pocket, as well as the lifestyle of your family or the nature of your business. With your security foundation strongly in place, peace of mind is possible as you would be in control of your security.
For more information contact Alwinco, +27 (0)71 623 6644, dianne@alwinco.co.za, www.alwinco.co.za
Further reading:
Communication in any situation
Issue 8 2020, Elvey Security Technologies , Global Communications , Security Services & Risk Management
Global Communications offers an industry-first with five-year warranty on select Kenwood two-way radios.
Read more...
---
The year resilience paid off
Issue 8 2020 , Editor's Choice, Security Services & Risk Management
Hi-Tech Security Solutions spoke to Michael Davies about business continuity and resilience in a year when everything was put to the test.
Read more...
---
Data generated from smart buildings must be PoPIA-compliant
Issue 4 2021 , Security Services & Risk Management
The Covid-19 pandemic has irrevocably changed the way buildings are being designed, constructed and managed and the amount of data collected on a daily basis.
Read more...
---
Home-grown battery manufacturer secures R20 million investment
Issue 4 2021 , Security Services & Risk Management
I-G3N, the only black empowered female-owned SME to successfully develop lithium-ion batteries specifically for the African continent, has successfully raised R20 million from Edge Growth and the ASISA ESD initiative.
Read more...
---
Top ten reasons to go to the cloud
Issue 4 2021 , Security Services & Risk Management
Streamline operational complexities with modern cloud solutions that have best practices built in to offer a better way of simplifying workflows and process.
Read more...
---
Preparing for the unexpected
Residential Security Handbook 2021: Secure Living, Mantis Security , Residential Estate (Industry), Security Services & Risk Management
In most cases, security is one of our last agenda/strategy items and thoughts, it gets the short stick of the budget.
Read more...
---
Risk assessment vs risk management vs health and safety
Residential Security Handbook 2021: Secure Living, Alwinco , Residential Estate (Industry), Security Services & Risk Management, Products
A security risk assessment is not a risk management report, nor is it a health and safety report.
Read more...
---
PowerBox for secure homes during blackouts
Residential Security Handbook 2021: Secure Living, Technews Publishing , Editor's Choice, Security Services & Risk Management, Residential Estate (Industry)
PowerBox keeps the essential electronics, security systems, Internet (Wi-Fi) connections, PCs and laptops, enabling life and security to continue during electricity blackouts.
Read more...
---
Viewer's bias
Issue 5 2021, Leaderware , Editor's Choice, CCTV, Surveillance & Remote Monitoring, Security Services & Risk Management
There is potential in any situation for different interpretations of behaviour and conditions of interaction and the less that people are trained in their interpretation process, the more potential there is for something to go wrong.
Read more...
---
Securing PoPIA data protection agreements
Issue 5 2021 , Security Services & Risk Management
With the recent enforcement of the Protection of Personal Information Act (PoPIA) in South Africa, many businesses have been struggling with the logistics around getting PoPIA data protection agreements ...
Read more...
---