printer friendly version
Mining integration
June 2015
Mining (Industry)
Mining is one industry, no matter the product or the methods involved in the operations, that need to extract the greatest value from integrated security systems. The results of efficient integration can be measured in the mine's security operations, but also in other areas such as health and safety and human resources.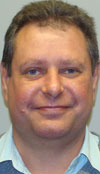 Martin van der Westhuizen, business development manager: Tyco Integrated Fire & Security.
Martin van der Westhuizen, business development manager at Tyco Integrated Fire & Security answers a few questions on integrated solutions in mines, their benefits and the question on everyone's mind – the budget.
What integrated solutions are available to the mining industry?
Integration is available to almost all systems used in safety and security these days. Unfortunately, the term integration is also very loosely used to describe superior performance of a product and doesn't always deliver on the "integration" promise. It can be as simple as a discreet signal from a fire panel to a security system to indicate a fire. Although very useful in the management of the emergency situation, it can hardly be called integration.
Full integration means the inputs and outputs of a system can be used in other systems to drive a resulting action. In true integration, this is through a software interface. These days, Tyco has full integration between access control, CCTV, fire systems, evacuation, public address, intrusion and building automation. Soft integrations would be between security systems and the mine's EPC system, HR, Payroll etc.
How they are being implemented?
Tyco has already implemented integrative systems to provide smart and effective safety and security systems on sites. CCTV can be triggered to react to an intrusion or a normal access event by starting to record the coverage in the triggered area or in full time recording – escalating to higher definition recording. A high-speed dome can also be used to interrogate the exact area of the intrusion automatically by driving the camera view to the area. This technique is very effective in the protection of entry points and perimeters.
We have also used a similar technique to protect a process area using virtual barriers instead of physical doors and barriers. Once a person selects an area to work in, this area is deactivated and all other areas are actively monitored by CCTV motion detection. Should the subject deviate into a protected area, an alarm will be raised on the security system and a video switched to the violated area on the operator monitors.
Non-security integration is also possible. For instance, security video can be used to display in scada (Supervisory Control and Data Acquisition) systems. PLC (Programmable Logic Controller) inputs can be used to trigger security events, such as when a door of a process unit is forced open, the PLC input can then be used as a security input on the security platform. Another example would be dangerous high voltage, blasting or acid areas on mines where the system can be shut down through a process automation integration by using video motion monitoring to protect the person accidentally entering the hazardous area. A biometric reader can be used as a mustering device for time and attendance, and through that payroll and overtime management. Workforce management can also be done from HR, ensuring only those with the correct permissions have access.
In health and safety, the workers' hours on site can be measured and access denied if limits are exceeded. Other entry criteria on site that can be managed are alcohol testing, site medicals, inductions and permits, including expiry and renewal dates.
How do they support and enhance security processes?
By making the safety and security solution part of the production systems on a mine, it becomes more effective as it now takes on a productive roll instead of just policing. It reduces manpower and creates a more efficient operating environment. Modern integrated systems can typically be applied to one workstation instead of the ineffective, large number of workstations and monitors of the past. This reduces the manpower required for monitoring and also improves the response of the operator by prompting him to an area of concern. By involving multiple parties in the different integrated systems (HR, payroll, EHS, process automation) criminals will find it more difficult to hide their activities. Collusion is very difficult when the integrated system is getting input and reacting to information from across the mine.
Budgets are always tight. How can security solutions be implemented in mines effectively without breaking the bank?
Integration is not a huge cost if the systems are selected with integration in mind. Tyco doesn't charge for most of the integration between systems if all the systems are Tyco products. Integration also saves on manpower and infrastructure by reducing the monitoring and response by intelligently combining the results of different systems. Further, if CCTV is shared between process monitoring and security, the cost can be split between security and operations.
It may seem high for the initial investment to integrate security with HR and payroll, but the long term benefits far outweigh the initial investment as it eliminates the additional resources required to load and manage the workforce database. On the payroll front, millions can be saved in automating the payment of salaries and overtime.
For more information contact Tyco South Africa, 086 1212 910, firesystems.za@tyco.com, www.tycosecurity.co.za
Credit(s)
Further reading:
Effectively securing large mines
October 2019, VERACITECH, Technews Publishing, Dallmeier Electronic Southern Africa , Mining (Industry), Integrated Solutions
The vast areas covered by mining operations present security challenges such as the ability to provide effective perimeter protection and surveillance, while maintaining reliable communications between remote areas and control rooms.
Read more...
---
Improving mining safety through technology
September 2019 , Mining (Industry), Integrated Solutions
There is a strong connection between technology, cybersecurity and the physical safety of mineworkers; the more mining operations automate, the higher the cybersecurity risk.
Read more...
---
Enhanced biometric technology for mines
September 2019, ZKTeco , Mining (Industry), Access Control & Identity Management
Biometric identification and authentication are currently used at various mines in South Africa and in the SADC region.
Read more...
---
Multitude of solutions available for mining operations
October 2019, Axis Communications SA , Mining (Industry), CCTV, Surveillance & Remote Monitoring
Mines need to spend money on security just like all businesses do, and the economies of scale that apply to mining operations make some of the most advanced and expensive technologies somewhat more attainable than in many other applications.
Read more...
---
Improving access in mines
October 2019, Astra Fasteners , Mining (Industry), Access Control & Identity Management, Products
The VP1 controller provides full access control and remote monitoring of intelligent locks without having to wire into a network or install, manage and maintain software.
Read more...
---
Perimeter protection in Ghana
October 2019, AcoustAlert , Mining (Industry), Perimeter Security, Alarms & Intruder Detection
A gold mine in Ghana has erected a dual fence with AcoustAlert PIDS fence detection on both inner and outer fence lines.
Read more...
---
Adding value to mining security
October 2019, Cathexis Technologies , Mining (Industry), CCTV, Surveillance & Remote Monitoring
Cathexis offers users the ability to make key-decisions, based on intelligent information processing and take automated actions.
Read more...
---
Keeping guarding personnel on mines safe
October 2018, Betatrac Telematic Solutions, Technews Publishing, Instacom, Active Track , Mining (Industry), Security Services & Risk Management, Products
They patrol your property in the dead of the night, often risking life and limb, but what can mining companies do to offer their security guards some safety while fulfilling their dangerous duties?
Read more...
---
Life-saving mining technology
October 2018 , Mining (Industry), Security Services & Risk Management, Products
Technology is now available in South Africa that includes an early warning device that can notify miners of danger earlier, as well as radios which can be used in places where communication is not possible.
Read more...
---
Controlling visitor access on mines
October 2018, Excellent ID , Mining (Industry), Access Control & Identity Management, Products
Visitors to mining facilities, quarries and processing plants need to be carefully screened to ensure that their entry into the premises is valid.
Read more...
---