printer friendly version
Mobile future for campus credentials
June 2015
Access Control & Identity Management
Now that IDs are going digital and are extending to smartphones and other mobile devices, users will have more options than ever for opening doors and parking gates, paying for products and services, accessing campus VPNs, wireless networks, cloud- and Web-based applications. Plus, because underlying access control systems are now based on interoperable platforms and open standards, we are poised for unprecedented innovation in how campus IDs are created, used and managed.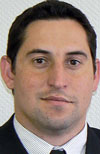 Robbie Truter, area sales manager sub-Saharan Africa, HID Global.
Many universities are already deploying campus IDs on smartphones. With a simple tap of the phone to a mobile-enabled reader, users can open doors, buy meals, check out books and equipment, and pay for parking, transportation and other services.
A recent Vanderbilt University pilot of HID Mobile Access included another 'twist' as well – using the smartphone's Bluetooth connection and gesture technology to open a door or parking gate from a distance by simply rotating the device. Pilot participants particularly appreciated the convenience of not having to roll down their window as they approached a parking gate.
Consider students in wheelchairs, for example, for whom it was previously difficult to tap a card to a reader and then navigate the doorway before the door closed again. This will no longer be a problem with mobile IDs that open doors from a distance using gesture technology.
Phone-free mobility
But mobile convenience doesn't end with smartphones. For instance, those who are willing to relinquish their phone for a hands-free morning workout will soon be able to head out the door with nothing but a digital wristband carrying their campus ID, enabling them to access the campus fitness centre, buy a latte at the coffee shop, or pick up a few necessities from the university convenience store before returning to their dorm room.
As we move forward, campuses will also be authenticating identities for more activities, extending the value of their access control investments while further enhancing the user experience. Identities are not only being used today to open campus doors and purchase items, but are also being used for time and attendance, secure print management and other daily tasks. Future IDs – whether on plastic cards or mobile devices – will do even more, with increasingly important benefits.
For instance, consider the advantages of being able to encode information on a card or mobile ID regarding a student's physical conditions or required medications. This is vital information that can be accessed in an emergency situation by authorised medical personal following an injury or other accident that renders the user unconscious.
Identities will also be used to authenticate students in an increasingly digital campus environment, where virtually everything happens online – assignments, grades, medical results and fees, loan payments and other financial transactions. To ensure identity security and privacy during these transactions, universities will adopt strong authentication solutions that move beyond simple passwords – something the user knows – to something the user has, such as a mobile or Web token.
Cards are here to stay
Despite the growth of mobile identity solutions, don't expect plastic ID cards to go away anytime soon. Some campuses will still want a visible ID badge, which will continue to transition from mag-stripe cards with little or no fraud protection to high-frequency contactless smartcard technology. To optimise badging, universities will select printers, card materials and software that enable them to incorporate both visual and logical anti-tamper elements into their cards for more trustworthy, multi-layered authentication. Inline personalisation will grow in popularity as well, enabling card offices to combine multiple processes into one automated step.
It is difficult to predict all the possible innovations and use cases that will emerge as campus IDs move toward the next decade, 2020 and beyond. But today's technology is enabling universities to offer functions that were not possible, or perhaps not even conceivable, with yesterday's mag-stripe or prox cards. All of the pieces are moving into place in 2015 for unprecedented innovation around the campus credential.
For more information contact HID Global, +27 (0)82 449 9398, rtruter@hidglobal.com, www.hidglobal.com
Credit(s)
Further reading:
Secure vehicle access in residential estates
Issue 2 2020, Protoclea Advanced Image Engineering , Access Control & Identity Management
Can technology offer a cost-effective solution that will provide both secure access control and free-flowing traffic in estates?
Read more...
---
Managing people's attendance and time
Issue 2 2020, Secutel Technologies , Access Control & Identity Management
Managing people's attendance, along with access control is a basic, yet critical challenge for any organisation.
Read more...
---
Modular ANPR camera solution
Issue 2 2020 , Access Control & Identity Management
Videalert has announced the immediate availability of Stingray, a new modular ANPR camera solution designed for use with mobile enforcement vehicles.
Read more...
---
Digital document revolution
Issue 2 2020 , Access Control & Identity Management
A new white paper that examines the implications of the transition from physical to digital security documents has been published by Reconnaissance International.
Read more...
---
Facial access control for ministry
Issue 1 2020, ZKTeco , Access Control & Identity Management
The Ministry of Culture in Saudi Arabia has adopted ZKTeco's facial recognition technology and fingerprint biometrics to manage access control into its building.
Read more...
---
New Door Pilot app from dormakaba
Issue 1 2020, dormakaba South Africa , Access Control & Identity Management
With new dormakaba Door Pilot, automated doors can also now be operated on the basis of remote control technologies. The system, comprising the Door Pilot app for smartphones and a Wi-Fi interface for ...
Read more...
---
Identity lifestyle
Issue 1 2020, Suprema , Access Control & Identity Management
Once the technology of the future, biometrics has quietly snuck into our daily lives through smartphones and access controls into our places of work.
Read more...
---
Securing BP's new head office
Issue 1 2020, ISF SFP , Access Control & Identity Management
ISF SFP was awarded the contract to secure the first development phase for Oxford Parks, the new head office for BP South Africa.
Read more...
---
Combining aesthetics and access control
Issue 1 2020, Turnstar Systems , Access Control & Identity Management
Prestigious law firm Bowman Gilfillan recently upgraded its physical security with the addition of four Turnstar Speedgate Express access control lanes.
Read more...
---
Video doorbells from Ring
Issue 1 2020 , Access Control & Identity Management
Ring has a number of video doorbells available in South Africa that run off batteries or power and enable users to answer their doors from anywhere.
Read more...
---