printer friendly version
Challenges of developing multi-megapixel cameras
June 2015
CCTV, Surveillance & Remote Monitoring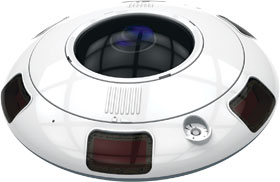 The new generation of IP camera SOC supports coding of more than 4 megapixels, and sensor manufacturers have launched several sensors with good price-to-performance ratios that suit video surveillance. Examples of these are the OV4689 developed by OmniVision featuring 4 megapixels in 16:9 format; the IMX178 by Sony, a half-inch sensor supporting 6 mega­pixels; and the IMX226, another half-inch sensor supporting 12 megapixels.
As it currently stands, the product layout of IP cameras is as follows: 720p and 1080p ­cameras are regarded as being primarily standard products and those supporting 2 megapixels and above are seen to be mid- and high-grade products. Not only are these higher-end products capable of capturing better quality images, but some also come with intelligent analytical abilities.
Control of image noise
The pixels of sensors supporting over 4 megapixels are small, so image signals are not captured well in low illumination. During the design, we should take full account of the power supply noise, ground noise, thermal noise, and equip the sensor module with high signal-to-noise ratio, in order to maintain image quality with the increase in pixels.
However, even with these design considerations, noise is inevitable. If sharpness is increased too much to improve the image details, noise will further be amplified.
On the other hand, if noise is excessively suppressed, image details will be lost, making the image resolution far less than the theoretical resolution of the sensor. Therefore, when designing the image processing algorithm, different sharpness and noise reduction parameters should be selected and compared in various situations with different luminance to select the most appropriate parameters in order to strike a balance between the noise level and the image detail.
Video stream bitrate and H.265
Cameras supporting over 4 megapixels are not dominating the current market, mainly because of high data bitrate, high demand for network bandwidth and storage space, and high price. H.265 is the solution to this, because it offers twice the compression ratio of H.264, reducing the data rate by half.
Hisilicon and Ambrella have launched SOCs supporting H.265. However, things have not gone as planned and three issues persist: First, the algorithm of H.265 is very complicated. SOC will normally implement only an algorithm subset of H.265 and the real data bitrate will be higher than the theoretical data bitrate. In addition, the images under video monitoring are captured in poor luminance, and hence the final compression ratio needs to be verified.
Second, the graphic processing unit (GPU) of many computers installed with CMS do not support the hard decoding of H.265 adequately. CMS clients can only support limited live-video channels. Third, the in-built network video recorders (NVR) already deployed do not support H.265.
However, H.265 is truly a step forward. As the H.265 NVR matures, maybe more H.265 products will enter the market in the coming year. It remains to be seen how fast it will replace H.264.
Material selection and control
The lens window glass and plastic dome cover have a significant effect on the image. Therefore, sufficient testing of the material, its strength and anti-reflective treatment is required so as to find the solution with the best price/performance ratio. The lens is the camera's eye and should be the material whose parameters match the requirements. A camera lens is composed of several optical lens elements, and the assembly deviation of the lens elements plays an important role in a high-resolution camera. The camera manufacturer's quality control department should be equipped with camera lens testing equipment and testing procedures to ensure consistency of the lens.
Production process
To produce a network camera supporting over 4 megapixels, the production process is probably the most critical part. In the production of 720p and 1080p cameras, the common practice for installing the sensor module is to manually fix it to the housing with a few screws. With this assembly method, the sensor and lens target surface have a flatness deviation of 0.2 mm or more, while the optical axis of the lens may not be aligned with the centre of the sensor, and hence could cause the focus to be clear only on one side of the produced camera.
When this problem occurs in 720p and 1080p cameras the visual impact is not obvious because the resolution is not high. It is necessary to solve this problem in cameras supporting over 4 megapixels and so automatic calibration instruments that can calibrate the sensor and lens flatness as well as the optical axis alignment degree should be used.
Conclusion
To sum up, the engineering and process methods for developing a camera supporting over 4 megapixels are different from those for conventional cameras. The manufacturers who fail to realise these problems and make changes may be pushed out of the market. At present, HD-SDI, HD-CVI, HD-TVI and AHD cannot achieve over 4 megapixels. However, it will be interesting to see how IP cameras supporting over 4 megapixels and innovative applications using intelligent algorithms based on high-resolution features will change the video surveillance industry in the future.
For more information contact Sunell SA, +27 (0)11 469 3598, sales@sunellsecurity.com, www.sunellsecurity.com
Further reading:
The importance of correct specifications
Issue 2 2020, Sensor Security Systems , CCTV, Surveillance & Remote Monitoring
To prevent the incorrect specification of CCTV equipment, Sensor Security has a comprehensive checklist to complete.
Read more...
---
Dahua unveils core products for 2020
Issue 2 2020, Dahua Technology South Africa , CCTV, Surveillance & Remote Monitoring
Dahua Technology unveiled its 2020 core products in Intersec Dubai, enabling and accelerating its AIoT transformation.
Read more...
---
Wireless HD CCTV network
Issue 2 2020 , CCTV, Surveillance & Remote Monitoring
Infinet Wireless' wireless solutions have been deployed in Ipswich town centre to improve safety and ensure hassle free HD surveillance.
Read more...
---
Hikvision launches LED display product line
Issue 2 2020, Hikvision South Africa , CCTV, Surveillance & Remote Monitoring
Hikvision has launched a full range of internally manufactured LED displays, providing high-definition colour imaging.
Read more...
---
Reinventing network camera security
Issue 1 2020, Axis Communications SA , CCTV, Surveillance & Remote Monitoring
Now in its seventh generation and celebrating its 20th anniversary, the Axis ARTPEC chip was launched in 1999 designed to optimise network video.
Read more...
---
Cloud-based fleet and driver management
Issue 1 2020, Graphic Image Technologies , CCTV, Surveillance & Remote Monitoring
Graphic Image Technologies (GIT) has announced the availability of a cloud-based dashcam designed to improve on-the-road behaviour and assist in improving fleet management.
Read more...
---
Cathexis specialises in integration
Issue 1 2020, Cathexis Technologies , CCTV, Surveillance & Remote Monitoring
The integration of multiple systems is intrinsic and essential to the goal of creating an effective and efficient operational environment.
Read more...
---
Do wireless networks meet modern surveillance demands?
Issue 1 2020, Duxbury Networking, RADWIN , CCTV, Surveillance & Remote Monitoring
It is predicted that video will account for 15,1 zettabytes (1 zettabyte = 1 trillion gigabytes) of data annually, which is more than any other IoT application.
Read more...
---
Traffic doesn't have to be this way
Issue 1 2020, Dahua Technology South Africa, Axis Communications SA , CCTV, Surveillance & Remote Monitoring
More effective traffic management is something that would save us all a lot of frustration and wasted time, and it's one of the areas where AI and big data can have a significant impact.
Read more...
---
Dahua launches Hunter Series
Issue 1 2020, Dahua Technology South Africa , CCTV, Surveillance & Remote Monitoring
Dahua launches a new dual-PTZ camera that enables flexible and multi-scene panoramic monitoring.
Read more...
---