printer friendly version
Legrand's uninterruptible power supply systems
June 2015
Products
New to Legrand's range of service sector solutions is an uninterruptible power supply (UPS) system, which enhances products – from structured cabling systems for data networks, to control and management of the installation, including trunking and distribution systems.
"Energy efficiency, quality power supply, optimum safety and enhanced aesthetics are critical in the advancement of all Legrand systems," states Luk Ivens, general manager, Legrand SA. "The Legrand UPS system, which ensures continuity of service for installations in diverse industries, provides reliable performance in terms of power and back up time.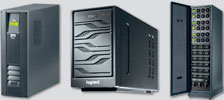 Legrand's new UPS system encompasses three ranges – the Modular series for a power supply up to 120 kVA, the Conventional series up to 10 kVA and the Line Interactive series, which is a UPS system up to 3 kVA.
"Optimum sizing of power stages, the latest electronic components and thorough testing of each unit, ensure dependability and safety of the new Legrand UPS system. High performance batteries and an efficient charging system have extended battery life by up to 50%."
This UPS system encompasses three ranges – the Modular series for a power supply up to 120 kVA, the Conventional series up to 10 kVA and the Line Interactive series, which is a UPS system up to 3 kVA.
The compact and lightweight Modular series, which is easy to transport, install and maintain, is designed for applications requiring easy expansion. This flexible system is made up of standard modules that can be added to existing configurations to increase the power supply or backup time.
When necessary, power is easily expanded inside the cabinet, without having to reconfigure the installation or UPS. The backup time can be extended either by adding battery trays in the same cabinet, or by adding another cabinet, depending on the power of the UPS and the backup time required.
This modular three-phase system consists of individual single-phase modules which are redundant and self-configuring, to enable power to be increased quickly and safely. Different levels of redundancy are easily obtained to ensure maximum continuity of service at all times.
Reliable redundancy
An advantage of a three-phase power supply system with single-phase loads, is that in the event of a failure of one of the modules, there is no loss of power. Power continues to be distributed over the other modules which are still operational. With this system, it is also possible to create redundancy on each individual phase. If one power module fails, the other modules for this phase take over. In a failure of a UPS that includes several control modules, continuity of service is assured by the automatic distribution of lost power over the other modules.
Legrand's Conventional UPS systems are fitted with microprocessors for precise constant control of all measurements and the power factor correction circuit (PFC). This on-line double conversion UPS, which can be used in both tower and rack configurations, is available in three standard sizes, for power up to 10 kVA.
The main parameters of this system and the status of the UPS, including the battery charge level and faults, are displayed on the LCD screen.
The Line Interactive UPS – designed for safe and reliable power supply up to 3 kVA - offers protection for individual workstations, telephone switchboards and home automation applications, as well as for small service sector companies.
This compact system, which is easy to install and configure, is fitted with an electronic voltage regulator, an LED indicator and telephone protection.
Constant communications
A range of communications accessories has been designed for managing and configuring the UPS, as well as for remote control of the system. These devices include network interfaces for real-time control of the UPS and for managing numerous events that include no power, over-loads and by-pass problems. These network interfaces, with a 32-bit processor, do not require any external software.
Other accessories include sensors for monitoring ambient temperature and humidity, smoke detectors and fire safety controls, as well as air conditioning fault and intrusion detectors.
Communication and supervision software for accessing the operating parameters of the UPS and for carrying out full diagnostics and the configuration of specific functions, is also available.
Credit(s)
Further reading:
FaceDepot-7B
Issue 1 2020, ZKTeco , Products
The FaceDepot-7B is an indoor facial recognition station with a slim design and 7-inch display.
Read more...
---
SpeedFace-V5
Issue 1 2020, ZKTeco , Products
The SpeedFace-V5 is a starter facial recognition terminal with a 5-inch touch display, multiple verification options with fingerprint, RFID and facial recognition.
Read more...
---
Walk-through metal detector and turnstile
Issue 1 2020, ZKTeco , Products
The MST150 is a turnstile from ZKTeco, designed with a built-in metal detector which enhances security levels and boosts the efficiency of security checkpoints. By combining inspection and access control, ...
Read more...
---
Duxbury Networking launches Solar Switch
November 2019 , IT infrastructure, Products
Duxbury Networking has launched its Solar Switch with tailored capabilities for applications in less-accessible areas where electricity is not available or not reliable.
Read more...
---
TruVision licence plate cameras
November 2019, UTC Fire & Security SSA , Products, CCTV, Surveillance & Remote Monitoring
TruVision ANPR cameras offer functionality for applications where vehicle access management is required based on licence plate.
Read more...
---
Cable theft detection and alerting system
November 2019, Elvey Security Technologies , Products
Cable theft monitoring and alerting system makes use of Permaconn devices and the Pocket Secure app for real-time alerting.
Read more...
---
IP video intercom system
November 2019, Hikvision South Africa , Products
Hikvision has released its second-generation IP video intercom system designed for door entry communication including video and security access.
Read more...
---
Camera Nest enclosure improves accessibility
November 2019, Elvey Security Technologies , Products
The launch of the South African made Camera Nest fundamentally changes the surveillance mounting and installation method.
Read more...
---
Live vehicle monitoring in estates
November 2019 , Products
The eTrac from BetaTrac allows estates to not only register vehicles as they enter the estate, but track their movements while there.
Read more...
---
Secutel's new bodycam
November 2019, Secutel Technologies , Products
The SecuTraq MP 5 all-in-one bodycam is a workforce tracking and management solution that empowers and protects your workforce.
Read more...
---