printer friendly version
M Series UPS
June 2015
Products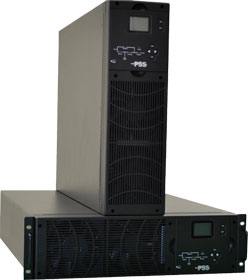 PSS Distributors' M Series UPS comes in two sizes namely a 6 kVA (5400 W) and a 10 kVA (9000 W). With its sleek design, these true on-line UPSs provide the best protection for your expensive electronic equipment. Double Conversion Technology ensures that you at all times receive a constant voltage on the output, cleaning out surges, dips, spikes, high and low voltages.
Should you experience power failures, the unit automatically runs off the batteries. Matching battery packs can be purchased as individual modules, with up to four packs per unit. Should your client require more backup time, PSS Distributors can put together a battery kit that can last up to 8 hours, depending on the load. 16, 18 or 20 batteries can make up a battery bank, this is settable on the front control panel of the UPS.
Pure sine wave is always provided whether it be via the mains or via the batteries. These units can be used on workstations, servers, banks, telecommunication, IT equipment, communication systems, networking equipment, CCTV and large server rooms.
Upsillon software is supplied with the M Series UPS, which provides information such as input/output voltage, battery status, load status, frequency and temperature. The software is connected via an USB cable to a computer; alternatively you can purchase an SNMP card which allows you to connect a network cable directly to the UPS. With the SNMP Adapter, you can remotely test your UPS, look at the log files, shut down the unit or view the status of the unit.
Zero switchover time means no dip in the power when switching from mains to battery. This prevents sensitive equipment switching off when experiencing the initial power loss. Productivity can be kept going until the unit reaches battery low, after which it is recommended that all equipment be switched off.
The PSS M Series UPS is generator compatible and is recommended to smooth out voltage fluctuations from the generator. Because of the Double Conversion Technology, the unit smooths out the power from the generator much better than the usual automatic voltage stabiliser. The 6 kVA and 10 kVA comes with a digital control display panel for your convenience. The panel can be rotated so that it is easier for the client to use if they decide to use the unit in a 19-inch rack or as a tower.
With a power factor of 0.9 the 6 kVA can be loaded up to 5400 W and the 10 kVA 9000 W respectively. Should you activate the ECO function, the unit runs off mains and acts as a line-interactive UPS, when the mains fails it switches to battery.
The units provide full redundant capabilities; up to four units can be used in parallel. If you have two 10 kVA UPSs running in parallel and the one fails, the other will automatically take over the load. This gives you time to remove the faulty one, get the unit repaired, and place the unit back online once repaired. Another alternative is, should your business outgrow your 10 kVA M Series unit originally purchased, you can parallel another 10 kVA to give you 20 kVA.
Credit(s)
Further reading:
Facial recognition in 0.3 seconds
Issue 2 2020, ZKTeco , Products
ProFace X offers a maximum of 50 000 facial templates and facial recognition speed of less than 0.3 sec per face.
Read more...
---
Facial access terminal
Issue 2 2020, ZKTeco , Products
ZKTeco has launched its second-generation facial recognition terminal, the Horus series, named after an Egyptian god who had the legendary 'all-seeing eye'.
Read more...
---
FaceDepot-7B
Issue 1 2020, ZKTeco , Products
The FaceDepot-7B is an indoor facial recognition station with a slim design and 7-inch display.
Read more...
---
SpeedFace-V5
Issue 1 2020, ZKTeco , Products
The SpeedFace-V5 is a starter facial recognition terminal with a 5-inch touch display, multiple verification options with fingerprint, RFID and facial recognition.
Read more...
---
Walk-through metal detector and turnstile
Issue 1 2020, ZKTeco , Products
The MST150 is a turnstile from ZKTeco, designed with a built-in metal detector which enhances security levels and boosts the efficiency of security checkpoints. By combining inspection and access control, ...
Read more...
---
Duxbury Networking launches Solar Switch
November 2019 , IT infrastructure, Products
Duxbury Networking has launched its Solar Switch with tailored capabilities for applications in less-accessible areas where electricity is not available or not reliable.
Read more...
---
TruVision licence plate cameras
November 2019, UTC Fire & Security SSA , Products, CCTV, Surveillance & Remote Monitoring
TruVision ANPR cameras offer functionality for applications where vehicle access management is required based on licence plate.
Read more...
---
Cable theft detection and alerting system
November 2019, Elvey Security Technologies , Products
Cable theft monitoring and alerting system makes use of Permaconn devices and the Pocket Secure app for real-time alerting.
Read more...
---
IP video intercom system
November 2019, Hikvision South Africa , Products
Hikvision has released its second-generation IP video intercom system designed for door entry communication including video and security access.
Read more...
---
Camera Nest enclosure improves accessibility
November 2019, Elvey Security Technologies , Products
The launch of the South African made Camera Nest fundamentally changes the surveillance mounting and installation method.
Read more...
---