printer friendly version
M Series UPS
June 2015
Products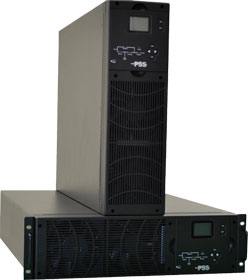 PSS Distributors' M Series UPS comes in two sizes namely a 6 kVA (5400 W) and a 10 kVA (9000 W). With its sleek design, these true on-line UPSs provide the best protection for your expensive electronic equipment. Double Conversion Technology ensures that you at all times receive a constant voltage on the output, cleaning out surges, dips, spikes, high and low voltages.
Should you experience power failures, the unit automatically runs off the batteries. Matching battery packs can be purchased as individual modules, with up to four packs per unit. Should your client require more backup time, PSS Distributors can put together a battery kit that can last up to 8 hours, depending on the load. 16, 18 or 20 batteries can make up a battery bank, this is settable on the front control panel of the UPS.
Pure sine wave is always provided whether it be via the mains or via the batteries. These units can be used on workstations, servers, banks, telecommunication, IT equipment, communication systems, networking equipment, CCTV and large server rooms.
Upsillon software is supplied with the M Series UPS, which provides information such as input/output voltage, battery status, load status, frequency and temperature. The software is connected via an USB cable to a computer; alternatively you can purchase an SNMP card which allows you to connect a network cable directly to the UPS. With the SNMP Adapter, you can remotely test your UPS, look at the log files, shut down the unit or view the status of the unit.
Zero switchover time means no dip in the power when switching from mains to battery. This prevents sensitive equipment switching off when experiencing the initial power loss. Productivity can be kept going until the unit reaches battery low, after which it is recommended that all equipment be switched off.
The PSS M Series UPS is generator compatible and is recommended to smooth out voltage fluctuations from the generator. Because of the Double Conversion Technology, the unit smooths out the power from the generator much better than the usual automatic voltage stabiliser. The 6 kVA and 10 kVA comes with a digital control display panel for your convenience. The panel can be rotated so that it is easier for the client to use if they decide to use the unit in a 19-inch rack or as a tower.
With a power factor of 0.9 the 6 kVA can be loaded up to 5400 W and the 10 kVA 9000 W respectively. Should you activate the ECO function, the unit runs off mains and acts as a line-interactive UPS, when the mains fails it switches to battery.
The units provide full redundant capabilities; up to four units can be used in parallel. If you have two 10 kVA UPSs running in parallel and the one fails, the other will automatically take over the load. This gives you time to remove the faulty one, get the unit repaired, and place the unit back online once repaired. Another alternative is, should your business outgrow your 10 kVA M Series unit originally purchased, you can parallel another 10 kVA to give you 20 kVA.
Credit(s)
Further reading:
A 'step-change' in tracking and monitoring
Issue 8 2020, Dahua Technology South Africa , CCTV, Surveillance & Remote Monitoring, Products
View an overall scene while monitoring a specific person or vehicle, or obtain a panoramic view while being able to zoom in and track particular targets.
Read more...
---
AX PRO wireless alarm solutions
Issue 8 2020, Hikvision South Africa , Perimeter Security, Alarms & Intruder Detection, Products
Hikvision announced its new generation of wireless alarm systems – the AX PRO – delivering comprehensive alarm solutions for both residential and commercial applications.
Read more...
---
Scanning for gold
Issue 8 2020, Saflec , Asset Management, EAS, RFID, Products
The metal detection market is such that customers looking for a specific point solution are becoming a rarity and the primary desire is for a solution.
Read more...
---
CompactPCI Serial peripheral board
Issue 9 2020, Rugged Interconnect Technologies , Products
The SY7-CYCLONE is a compact PCI Serial peripheral board, equipped with a field-programmable gate array (FPGA) and front panel I/O connectors.
Read more...
---
Standalone power supply range
Issue 9 2020, Technoswitch , Products
Technoswitch recently modified and expanded its standalone 100–240 V AC to 24 V DC, 2 A regulated power supply range.
Read more...
---
Smartphone controlled access
Issue 9 2020, dormakaba South Africa , Products
Evolo Smart is a total solution, managed via an app on your smartphone, for smart access for the home or micro-enterprise business.
Read more...
---
Containerised temporary physical security solutions
Issue 9 2020, Turnstar Systems , Products
Turnstar Systems has developed a temporary physical access security solution that provides an affordable mobile solution for controlling access.
Read more...
---
Latest Panomera generation
Issue 9 2020, Dallmeier Electronic Southern Africa , Products
One system replaces up to 24 cameras and saves over 50% on the total cost of ownership.
Read more...
---
JVA radio frequency interface
Issue 9 2020, Stafix , Products
Roboguard has partnered with Pakton Technologies to create a new interface for the Roboguard wireless outdoor detector beam.
Read more...
---
JVA Cloud Router
Issue 9 2020, Stafix , Products
The JVA Cloud Router provides a portal to route communications between the administrators and owners of security electric fences and their devices in the field.
Read more...
---