printer friendly version
Biometric use on mines
June 2015
Mining (Industry)
Mines are often seen as dusty, sweaty places where people do manual labour and the latest technology has no place. While this is true to an extent, mines are also places where the latest technology can form a crucial component of the business's success, as well as a place where technology is tested to extremes.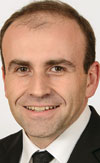 Paul Jeremias, MD, Morpho South Africa.
When it comes to biometrics, mines need to verify identities and locations of people for various reasons, however, the question of whether this technology can and should be used in these environments can evoke different responses. Hi-Tech Security Solutions asked Paul Jeremias, MD of Morpho South Africa to expand on the uptake of biometrics in mining.
Hi-Tech Security Solutions: Is biometric identification and authentication being used on mines in South Africa and Africa? What areas are it being used in and for what reason?
Jeremias: Biometric identification and authentication is currently being utilised at a number of mines in South Africa and in the SADC region. Mining forms a large part of the GDP for the region. So having a well run, profitable mine not only benefits the individuals but the country as a whole. The main reason for the use of biometrics is to ensure the safety of the miners. Biometrics enables management to know exactly where each miner is. In the case of an underground accident, it is used as a tool to keep track of each miner.
The second and equally important reason is to ensure that all safety procedures are consistently followed, including periodic health checkups and skills management.
Hi-Tech Security Solutions: What types of biometrics are being used? Miners are involved in tough work that can damage fingerprints beyond what is easily recognisable by fingerprint readers, and the conditions can even make faces unrecognisable when miners end their shifts. So what biometric forms are reliably in use?
Jeremias: Fingerprint biometrics is still the most widely accepted form of biometrics. However, more mines or large industries are looking at newer technologies. Finger vein / fingerprint devices detect the pattern of the blood vessel under the skin simultaneously with a fingerprint match. This new technology offers an unrivalled secure form of identification.
Another new technology is the 3D facial recognition, which provides a hands-free recognition ideal for a high throughput environment, such as entering or exiting a mineshaft. It analyses the structure of the face using 40 000 data points on each face and is not dependent on optimised lighting conditions.
Hi-Tech Security Solutions: Are multispectral biometrics not perfectly suited for mines as opposed to traditional biometric readers as they read sub-dermal 'fingerprints'?
Jeremias: Multispectral technology has a place, but it has a limitation in investigations requiring fingerprints, which undermines its value. Access control systems need to provide the mine security the ability to investigate a breach and to use the data as undeniable proof if civil or criminal proceedings result from the breach.
In this light, it is vital that the technology used performs according to international standards for management of the fingerprint image. The accepted standard is the FBI PIV (Personal Identity Verification) programme for the certification of technologies and products. The FBI has thus far not certified multispectral technology and it cannot be used as evidence in court.
Hi-Tech Security Solutions: In what areas of mines can biometric access/authentication still play a role to improve efficiencies and security?
Jeremias: As mentioned before, the seamless integration of biometrics into the business processes of the mine can ensure that all safety procedures are followed and this is a strong area of focus for our integrators.
With the new mobile technology one can move around with the device and do an on the spot identification of people on the premises. Mines have a large staff complement and there are a number of employees, contractors, suppliers moving on and off the property all the time. Mobile technology provides the flexibility required with the same trusted technology.
Hi-Tech Security Solutions: How do blue-collar workers react to the installation of biometrics? Do they accept it or see it as an intrusion on their privacy?
Jeremias: Any new technology, product or process will face challenges before acceptance, but the correct process needs to be followed and employees need to be assured that the data will only be used for its intended use.
It is vital to provide training and clear information about the benefits to all workers in terms of their occupational health and safety as well as the responsible management of the personal data in compliance with the POPI legislation in South Africa.
For more information contact Morpho South Africa, +27 (0)11 286 5800, andrina.diedericks@morpho.co.za, www.morpho.co.za
Credit(s)
Further reading:
Enhance video analytics with Augmented Vision
September 2019, IDEMIA , Technews Publishing , CCTV, Surveillance & Remote Monitoring, Integrated Solutions
Augmented Vision is a video analytics application from IDEMIA designed to enhance security in public and private places.
Read more...
---
Effectively securing large mines
October 2019, VERACITECH, Technews Publishing, Dallmeier Electronic Southern Africa , Mining (Industry), Integrated Solutions
The vast areas covered by mining operations present security challenges such as the ability to provide effective perimeter protection and surveillance, while maintaining reliable communications between remote areas and control rooms.
Read more...
---
Improving mining safety through technology
September 2019 , Mining (Industry), Integrated Solutions
There is a strong connection between technology, cybersecurity and the physical safety of mineworkers; the more mining operations automate, the higher the cybersecurity risk.
Read more...
---
Enhanced biometric technology for mines
September 2019, ZKTeco , Mining (Industry), Access Control & Identity Management
Biometric identification and authentication are currently used at various mines in South Africa and in the SADC region.
Read more...
---
Multitude of solutions available for mining operations
October 2019, Axis Communications SA , Mining (Industry), CCTV, Surveillance & Remote Monitoring
Mines need to spend money on security just like all businesses do, and the economies of scale that apply to mining operations make some of the most advanced and expensive technologies somewhat more attainable than in many other applications.
Read more...
---
Improving access in mines
October 2019, Astra Fasteners , Mining (Industry), Access Control & Identity Management, Products
The VP1 controller provides full access control and remote monitoring of intelligent locks without having to wire into a network or install, manage and maintain software.
Read more...
---
Perimeter protection in Ghana
October 2019, AcoustAlert , Mining (Industry), Perimeter Security, Alarms & Intruder Detection
A gold mine in Ghana has erected a dual fence with AcoustAlert PIDS fence detection on both inner and outer fence lines.
Read more...
---
Adding value to mining security
October 2019, Cathexis Technologies , Mining (Industry), CCTV, Surveillance & Remote Monitoring
Cathexis offers users the ability to make key-decisions, based on intelligent information processing and take automated actions.
Read more...
---
Frictionless access with a wave
October 2019, IDEMIA , Access Control & Identity Management, Residential Estate (Industry)
IDEMIA was the Platinum Sponsor for the Residential Estate Security Conference 2019 and set up its MorphoWave Compact frictionless fingerprint biometric scanner at the entrance to the conference.
Read more...
---
MorphoAccess Sigma Extreme
August 2019, IDEMIA , Products, Access Control & Identity Management
MorphoAccess Sigma Extreme from IDEMIA is a touchscreen device with multiple recognition device interfaces (NFC chip reader, PIN and BioPIN codes, contactless card readers).
Read more...
---