printer friendly version
HD surveillance for Sun International Panama
June 2015
Integrated Solutions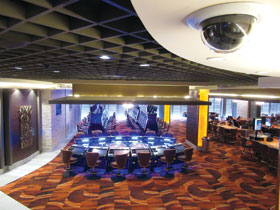 With a number of casinos in South Africa, Africa and South America, Sun International is a high-profile organisation. Casinos are highly regulated and very susceptible to a number of risks including fraud, cheating, theft, robberies and liability claims. For this reason, casinos require state-of-the-art surveillance systems to deal with these matters both proactively and reactively.
Ocean Sun Casino is a brand new Sun International casino located in Panama City, Panama. After conducting thorough research, Sun International selected Avigilon as the most suitable gaming surveillance solution for this project. FutureVid Solutions was chosen as the system integrator, based on extensive gaming surveillance experience, an excellent understanding of Sun International's high standards and the ability to integrate gaming systems such as the Bally Online Slots System, with Avigilon.
Although the casino surveillance department actively manages and uses the gaming surveillance system as a tool, all departments in the casino benefit from an HD surveillance system. Besides the obvious security applications, gaming departments such as slots, tables and cashiering use the system to investigate customer disputes to successfully promote customer satisfaction.
The surveillance system also needs to comply with the high standards set by gaming laws designed to protect casinos and punters alike, promoting fair gaming at all times. An HD surveillance system is an invaluable tool in ensuring the integrity of casino games and the casino in its entirety. Department heads also use the surveillance system to monitor and report on staff performance and behaviour through constant target reporting. Regular punter scans provide facial identification images, used to track and identify known offenders, banned or excluded patrons.
As gaming experts, FutureVid Solutions designed a solution to mitigate known casino risks. Very specific camera positions are required to achieve the perfect gaming views, good enough to be certified by the relevant gaming regulator. These gaming views need to record for a set number of days in accordance with gambling laws. Detailed designs were refined in consultation with Sun International to address all known risks, comply with gaming regulations and offer Sun International the most cost effective solution to achieve these requirements.
The surveillance system is also fitted with microphones to provide audio recordings in predefined high-risk areas such as the cash desks and count room. Panic buttons connected to the surveillance system alert operators to incidents or events when triggered by gaming employees on the casino floor and in high-risk areas. Door alarm contacts connected to the surveillance system alert operators to doors opening to high-risk areas.
The superior image quality of Avigilon's 1, 2 and 3 MP cameras assist greatly in providing the best evidence when recording footage at much higher resolution than standard definition analogue surveillance cameras. Furthermore, the system needed the functionality to integrate with casino systems, such as the Bally Online Slots System. This system informs operators of significant events on the slots floor in real time and provide operators with the opportunity to search stored video footage based on predefined Bally System Significant events, per slot machine. This integration done by FutureVid reduces the time of investigations significantly.
As a result of the product selection, high level of gaming expertise and ability to deliver in remote locations such as LATAM, Sun International awarded FutureVid Solutions the contract to design, supply and install the integrated gaming surveillance solution for their new development, Nao Sun Casino, scheduled to open in Cartagena, Colombia in 2015.
A key component to operate successfully on foreign soil is an emphasis by FutureVid/FireSpec on strategic partnerships with local operators from initiation, with the post-build phase in mind. Sun International signed an SLA with the company's local partners Servicios Tácticos de Seguridad to maintain and support the system. In turn project engineers from South Africa are on 24/7 standby to respond to customer enquiries.
Credit(s)
Further reading:
31 percent of all IoT SIMs managed with third-party IoT CMPs
News Integrated Solutions
Berg Insight recently released new findings about the market for IoT connectivity management platforms (CMPs), a standard component in the value proposition from mobile operators and IoT MVNOs around the world.
Read more...
---
Creating a safe, smart city environment
Integrated Solutions
As more governments around Africa start embracing the smart city concept, significant investments will be required to strengthen the underlying infrastructure essential to keep systems and data safe.
Read more...
---
Smart car parking solution eases traffic flow
Dahua Technology South Africa CCTV, Surveillance & Remote Monitoring Integrated Solutions Products
Ethiopia's first smart parking lot, designed to improve traffic flow and management efficiency, has been built and installed using Dahua Technology's smart parking solutions.
Read more...
---
VMS 7.2 supports the investigation process and adds cloud capabilities
CCTV, Surveillance & Remote Monitoring Integrated Solutions Products
Qognify has launched the second release of its VMS, including extended support for body-worn video, additional functionalities to support investigations, and a new web client architecture. VMS 7.2 addresses the increasing use of body-worn video (BWV) across many sectors.
Read more...
---
Hytera and KZN Police Service roll out digital call handling system
Government and Parastatal (Industry) Asset Management, EAS, RFID Integrated Solutions
Hytera Communications announced that the municipality of Ray Nkonyeni in the KwaZulu-Natal province of South Africa is now using its digital call handling system for the reporting and recording of crimes.
Read more...
---
Cyber resilience is more than cybersecurity
Technews Publishing Editor's Choice Cyber Security Integrated Solutions IT infrastructure
Hi-Tech Security Solutions held a round-table discussion focusing on cyber resilience and found that while the resilience discipline includes cybersecurity, it also goes much further.
Read more...
---
Johnson Controls releases IQ4
Perimeter Security, Alarms & Intruder Detection Integrated Solutions
New lower cost panel leverages Qolsys IQ Platform targeting residential, SMB, builder, MDU/multi-family and wellness market segments.
Read more...
---
SuperVision biometric access control
Integrated Solutions Access Control & Identity Management Products
SuperVision is a time & attendance (T&A) biometric access control system Fourier IT has been developing and enhancing for 18 years.
Read more...
---
Shift to online driving retail transformation
Retail (Industry) Integrated Solutions
There is a growing demand from retail for an end-to-end solution that helps their digitisation process, integrating finance, procurement, warehouse management, pricing, stock management, point of sale and more.
Read more...
---
AI in video analytics
CCTV, Surveillance & Remote Monitoring Integrated Solutions
AI (artificial intelligence), has been developed and debated ever since the first computers were invented, and while the most revolutionary incarnations are not yet here, AI-based technologies are widely used today.
Read more...
---