Rob Anderson appointed as executive director of EES Africa
June 2015, News
Rob Anderson has been appointed an executive director on the board of EES Africa. This move follows the merger between Rob Anderson & Associates (RAA), a Durban-based electrical and integrated security company, and EES Africa, an ISO 9001:2008 certified company providing management, engineering and auditing services throughout Africa. The merger, which took effect from 1 March 2015, will build and grow the synergies between the two organisations. Anderson, a professional electrical engineer, founded RAA 18 years ago.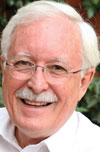 Rob Anderson.
At the start of his career in the electrical construction industry in 1977, Anderson was involved in large industrial projects. He then moved into consulting work and later started his own consulting practice.
As well as continuing with projects in the electrical engineering field, RAA took on the challenge to provide holistic integrated security solutions for a wide variety of clients both local and international.