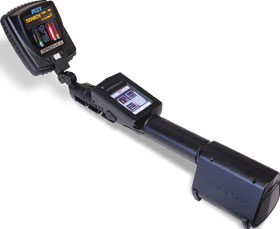 Non-linear junction detector
May 2015, Products

The new Orion 2.4 HX Non-Linear Junction Detector (NLJD) for cyber technical surveillance countermeasures sweeps and surveys, is now available from Eavesdropping Detection Solutions (EDS) in Centurion. With the HX, Research Electronics International (REI) in the USA introduces a new generation of high power NLJDs. The Orion has a maximum power output of 6.6 W making it the most powerful compact non-linear junction detector available on the market.
It can easily detect and locate any hidden electronics regardless whether the device is radiating, hard-wired or turned off. The Orion easily detects eavesdropping devices, recording devices, cell phones and even hidden SIM cards. The Orion 2.4 HX is the first NLJD on the market with a time graph display. The TGD continuously displays the history of the harmonic responses.
The Orion 2.4 HX NLJD has a new polycarbonate body and antenna head which provides many user benefits over traditional NLJDs.
Professional TSCM teams utilise a NLJD during sweep surveys in boardrooms and offices to locate covert surveillance devices. Wardens and custodial personnel utilise them to search for cell phones, SIM cards and other electronic contraband.
For more information, contact EDS, +27 (0)12 665 2109, info@tscm-za.com, www.tscm-za.com