Cloud business adds crucial security expertise
April 2015, News
As part of its strategy to bolster and grow its Cloud Solutions business, WestconGroup Southern Africa has announced the addition of a security specialist to its cloud reseller support team.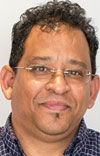 Gerald Meyer.
As the importance of having a cloud strategy comes to fruition locally, the value added distributor is continually looking for ways to provide its resellers with the support they need to position themselves as a force in cloud computing. It is with this that the company is pleased to announce the appointment of Gerald Meyer in the capacity of Security Presales Technical Support.
Meyer brings with him close to 20 years' IT engineering experience, having held senior support, technical and administrative roles previously. Notably, in his previous role at a leading local systems integrator, he worked with customers on developing POCs, managing their security and backup environments, as well as delivering accredited training specifically around the Symantec Backup Exec technology stack.
Meyer will work hand-in-glove with partners, where appropriate, acting as an extension of their team, in order to help them garner a better understanding of their clients' cloud-based security needs.
For more information contact Westcon Security Solutions – Electronic, +27 (0)11 233 3333, marketing@westcon.co.za, www.westcon.co.za