printer friendly version
Identity and access management trends for 2015
April 2015
Access Control & Identity Management
CA Technologies announced five key trends for security and identity and access management (IAM) that will impact organisations and security professionals in 2015 as they compete in the application economy.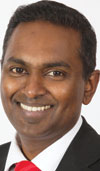 Ugan Naidoo, head of security CA Southern Africa.
"The impact of data breaches in 2014, coupled with the demands of the application economy, will greatly influence the way security professionals view and approach identity and access management in 2015. CA Technologies is prepared to help customers meet the shift in IAM this year and beyond," says Ugan Naidoo, head of security at CA Southern Africa.
What's ahead
Identity dial tone
Identity-aware organisations will adopt an 'identity dial tone': The application economy and increased use of mobile apps is driving a need for a centralised, common way to access identity and entitlement information. Identity-aware organisations need to establish an identity dial tone to act as one source of identity truth to simplify app development, deployment and adoption and spur new innovation. It will encompass all apps, across all channels and be easily available using identity APIs.
Universal authentication
Universal authentication comes to your pocket or bag: Increasingly, the mobile phone or mobile device will be used as a universal authenticator. The increased focus on authentication, driven by factors such as President Obama's executive order (for multi-factor authentication), chip and PIN / signature technology, biometrics and new payment models will drive the demand for simpler and streamlined authentication. Organisations will strive for zero-touch authentication to deliver as frictionless and password-free an experience for their customers and employees as possible, and the mobile device will be a key element.
Identity access security
A shift from identity management to identity access security: A change in emphasis within the identity market will occur, based primarily on the impacts of last year's breaches. The emphasis will shift from basic identity administration to identity security. The majority of 2014 headline breaches hinged on compromised insider identities that opened organisations to data theft and application abuse. Protecting organisations against rogue or compromised insider identities will require new kinds of identity and access security that is intelligent, contextual and verifiable.
Mobility and the Internet of Things
Mobility and the Internet of Things will drive the emergence of API-first architectures: The continued rise of mobile apps and the Internet of Things will drive a move towards lighter-weight, API-first architectures in order to more easily connect into the digital ecosystem. These architectures will be better able to support the large array of user types that need to access apps and data on-premise or in the cloud and across a range of device types. An API-first architecture is what will provide the agility and flexibility that success in the app economy requires.
Increased visibility and involvement
Boards of directors will have increased visibility and involvement into the corporate security strategy: Corporate executives and boards increasingly will be held accountable for breaches that damage their corporate brand. This will increase their level of involvement in security strategy and governance. Security will shift from an IT problem to an executive problem. Concerns over denial of business will drive increased board oversight.
For more information contact Joanne Cawrse, CA Southern Africa,+27 (0)11 417 8645, [email protected]
Credit(s)
Further reading:
Revamping Liberty Life's reception area
Turnstar Systems Access Control & Identity Management Commercial (Industry)
Turnstar supplied and installed four Speedgate Express lanes, each 550 mm wide, as well as two Pulse Special Needs Gates for wheelchair access to Liberty Life.
Read more...
---
Hybrid licence plate recognition
ZKTeco Products Access Control & Identity Management Transport (Industry) Logistics (Industry)
The ZKTeco LPRS2000 is a hybrid-recognition vehicle management terminal that combines the latest high-performance UHF reader.
Read more...
---
Suprema joins FiRa Consortium
Suprema News Access Control & Identity Management
Suprema recently became a member of the FiRa Consortium, a consultative body that establishes standards for ultra-wideband (UWB) technology, the next generation of wireless communication.
Read more...
---
Physical security at distribution centre
Turnstar Systems Transport (Industry) Access Control & Identity Management Products Logistics (Industry)
Turnstar's Velocity Raptors create a high-security physical barrier at Massmart's new 75 000 m2 distribution centre in Riversands, Johannesburg .
Read more...
---
Integrated smart parking management
ZKTeco Access Control & Identity Management Transport (Industry) Products Logistics (Industry)
ZKTeco smart parking management provides a solution for both small parking lots and busy multi-story car parks, providing maximum efficiency, transparency and security.
Read more...
---
UHF RFID standalone terminal
ZKTeco Products Access Control & Identity Management Transport (Industry) Logistics (Industry)
The U2000 increases access control functions and supports TCP/IP communication, Wiegand in/out, two relays, third-party electric locks, door sensors and exit buttons.
Read more...
---
PALMKI palm vein recognition technology
Access Control & Identity Management Products
Tactile Technologies has announced the launch of Palmki, a palm vein recognition solution developed and marketed by PerfectID, a Belgian company.
Read more...
---
ATG Digital launches solution for emergencies
Access Control & Identity Management Asset Management, EAS, RFID
ATG Digital has launched a Roll Call feature on its app to assist SHEQ managers and safety officers who cite attendance records in an emergency as one of their biggest challenges.
Read more...
---
UHF and Bluetooth multi-technology reader
Evolving Management Solutions Products Access Control & Identity Management
The SPECTRE nano offers hands-free identification of the vehicle and/or the driver, as well as interoperable and multi-protocol secure identification.
Read more...
---
Identity proofing allows easy virtual ID checks
Access Control & Identity Management Security Services & Risk Management
The identity verification market is expected to grow from $8 billion in 2021 to reach $17,7 billion in 2026 with a CAGR of 17,1%, and identity proofing in particular is gaining popularity.
Read more...
---