printer friendly version
Securing a cherished landmark
April 2015
CCTV, Surveillance & Remote Monitoring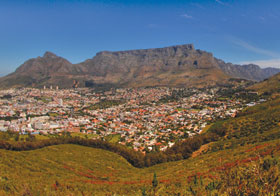 In a country blessed with an abundance of natural beauty, Table Mountain remains one of South Africa's most recognisable and popular tourist destinations. Estimated to be approximately 260-million years old, the flat-topped mountain has become an iconic landmark and the central character in many haunting legends and myths that feature apparitions, magical flutes and even gnome-like spirits with poltergeist tendencies.
The mountain also plays a pivotal role in establishing Cape Town as the ultimate Feng Shui city. According to the ancient Chinese philosophy of Feng Shui, Cape Town's configuration in the shape of an armchair – protection from Table Mountain at the rear, two armrests provided by Lion's Head to the west and Devil's Peak to the east – creates the perfect energy.
For more than 85 years, the TMAC has been providing visitors with a world-class experience. During the past 8.5 decades over 24 million people have made use of the cableway to reach the top of this spectacular mountain.
"The high volume of visitors to the site means that operational management has to be exceptional. Traffic control, parking control, queue management, grounds management, security, retail management and food and beverage management all form part of the daily activities of the cableway," explains Meycom's Andrew Briton (project director of the system upgrade). "The surveillance solution has to support all of these processes in an integrated and reliable manner."
Overcoming disparate weather conditions
"There were significant challenges that we needed to consider regarding the environment in which the cameras were to be installed," says the project's technical director, Roshen Kajie. "Weather conditions at the top station are completely different from the conditions at the lower station. The top station is exposed to both extremely high altitude and the corrosive effect of the salt air. We selected robust network cameras rated for external use for both the exterior and interior of the top station."
The AXIS P3364-VE is an outdoor HDTV fixed dome camera. Its weatherproof and vandal-resistant casing makes it perfectly adapted for harsh environments. It is capable of operating in extreme temperatures that range from -40° to 55°C.
"The top station is 1067 metres above sea level and the weather patterns in Cape Town are notoriously changeable. It is imperative that our solution hinges on high performance products that persistently deliver – even under extreme conditions," says Briton.
Defeating darkness
Yet another trial faced by the project consultants was to provide TMAC technical staff with adequate visuals of a control board that is located in a closed shaft at the top station.
"The AXIS T90C Fixed Dome IR-LED is an infrared illuminator for AXIS P33 Network Cameras. It enables the cameras to deliver quality images in complete darkness," explains Kajie. "Cableway staff now have a live view of the control board and are easily able to monitor the various control indicator lights from the lower station, even in these low light circumstances."
Strategically placed PTZ network cameras assist with security and traffic and visitor control matters, while compact HDTV network cameras are integrated with the point-of-sale software to ensure the integrity of the retail data.
For more information contact Axis Communications, +27 (0)11 548 6780, [email protected], www.axis.com
Credit(s)
Further reading:
Avoiding human error at ports
LD Africa Transport (Industry) CCTV, Surveillance & Remote Monitoring Products Logistics (Industry)
LD Africa introduced a local port to the AxxonSoft Port Security System ,a solution that helps overcome the element of human error and eliminate paperwork.
Read more...
---
Compact, lightweight bullet cameras with support for analytics
Axis Communications SA Products CCTV, Surveillance & Remote Monitoring
Axis Communications announced two new outdoor-ready bullet-style cameras featuring deep-learning processing units for analytics based on deep learning on the edge.
Read more...
---
Numerous challenges for transport and logistics
Transport (Industry) CCTV, Surveillance & Remote Monitoring Security Services & Risk Management Logistics (Industry)
Operators are making significant investments in automation and digitalisation in order to address security concerns, improve loss prevention as well as efficiency, and reduce unit order costs.
Read more...
---
A key to urban transport challenges
Axis Communications SA Transport (Industry) CCTV, Surveillance & Remote Monitoring Integrated Solutions Logistics (Industry)
There are many enabling technologies that can impact transportation in South Africa, but a good place to start is by considering the applications for smart physical technology with the ability to collect and respond to data.
Read more...
---
Hikvision aims for solutions
Technews Publishing Hikvision South Africa Editor's Choice CCTV, Surveillance & Remote Monitoring News Integrated Solutions Conferences & Events
Hikvision recently held a roadshow titled Industry X, where the company highlighted its latest products and solutions, supported by partners and distributors.
Read more...
---
Reliable, low-maintenance video appliances
Technews Publishing Editor's Choice CCTV, Surveillance & Remote Monitoring News IT infrastructure Products
Symetrix, part of the Agera Group, has added the AES range of video recording servers, storage appliances and workstations to its portfolio.
Read more...
---
A new full-colour era
Dahua Technology South Africa CCTV, Surveillance & Remote Monitoring
Traditionally, there have been two options for using surveillance cameras in the dark: flooding the scene with visible light, or alternatively using infrared (IR) illumination.
Read more...
---
AIoT delivers dynamic digital platforms
Hikvision South Africa CCTV, Surveillance & Remote Monitoring
Many stadiums or venues are seeking new, smart solutions that can help venue operators to stay on top of real-time situations dynamically on digitally driven platforms, and to achieve more efficient and sustainable venue management.
Read more...
---
Upgraded security and AI monitoring at upmarket estate
Watcher Surveillance Solutions Editor's Choice CCTV, Surveillance & Remote Monitoring Integrated Solutions Residential Estate (Industry)
Estate upgrades and enhances its security through a partnership between surveillance specialist Watcher and the incumbent guarding company.
Read more...
---
Security solutions that go the distance
Avigilon Logistics (Industry) CCTV, Surveillance & Remote Monitoring Asset Management, EAS, RFID Transport (Industry)
Avigilon self-learning video analytics help detect potentially critical events and issue an alert within the ACC dashboard, allowing officers to then verify event alarms.
Read more...
---