printer friendly version
Integrating surveillance and guards
April 2015
CCTV, Surveillance & Remote Monitoring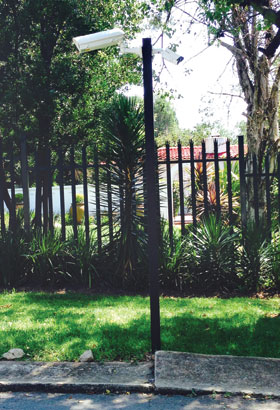 7Arrows Security provides a full suite of security services and products to residential and commercial clients in the greater Johannesburg area. The company specialises in guarding, security systems, monitoring, community safety initiatives and more and uses a combination of sophisticated technology and on-the-ground personnel to detect and deter criminal elements for their clients. When the community of Petervale East in northern Johannesburg became concerned about the increasing rate of crime in their area, they turned to 7Arrows to assist.
7Arrows adopted their signature approach, deploying a highly-trained and well-equipped tactical team to the area as well as implementing proactive CCTV monitoring, analyses and alerting technology from remote CCTV and control room technology specialists, Graphic Image Technologies (GIT).
The SerVision platform deployed enables 7Arrows to feed surveillance footage to their control room for continuous monitoring, while DVTel video analytics alert controllers to suspicious activity for follow-up by guarding personnel.
"Petervale East is not a boomed off area like many suburban communities in Johannesburg, which allows for the free flow of traffic, but also represents a challenge of keeping potential criminals at bay. The key to this is to detect suspicious activity as soon as possible. To this end, we generally implement CCTV surveillance technology with remote monitoring capability to assist our guards. We also rely on the community to be vigilant and report any suspicious activities to our control room," says Sean Jammy, director of 7Arrows.
"However, from a technology perspective our challenge is to get the video surveillance signal back to our control room, as this ­typically requires a lot of bandwidth, which can be expensive and difficult to achieve in areas that do not have fibre connectivity. It is also nearly impossible for the human eye to continually monitor a screen and detect suspicious activity. In order to overcome these issues we are using the SerVision platform, which can operate on very low bandwidth availability on mobile networks, right down to GSM with no requirements for 3G or better coverage, as well as DVTel video analytics, which help to identify activities we have classified as suspicious for follow-up by our guards," he explains.
The SerVision Control Centre enables video streaming over extremely low bandwidth, enabling CCTV footage to be transmitted to the control room from across multiple sites, even in areas where signal may be patchy or connectivity is not widely available. It also integrates site maps to show locations of cameras and sensors in the secured area and supports configurable notifications for sensor-triggered events detected by video gateways. This enables the integration of DVTel video analytics, which analyses video feeds in real-time for specified events and creates alerts, which enables guard personnel to follow-up.
"We use the DVTel analytics to assist us in understanding patterns on the ground and to trigger alerts for controllers so that they can take appropriate action. During the day we look for loitering, slow moving vehicles and groups of people, and actively monitor all foot traffic into the area. In the early hours of the morning, alerts sound for any and all traffic entering the area to ensure the safety and security of the community," Jammy adds.
A combination of sophisticated technology, increased guarding vehicle presence and a more actively involved community have produced outstanding results. Since the system was launched on 01 August 2014, incidents of crime in the area have all but disappeared, with very few reported incidents in the region and none in the specific area the solution is deployed into. This can be attributed to the deterring factor of monitored cameras and armed guards as well as to the increased vigilance of the community as a whole.
"The initial implementation took approximately six weeks to complete. The solution is still in its interim phase, as additional technology is in the process of deployment and a dedicated connectivity network is being put into place. However, SerVision enables 7Arrows to deliver a fully functional solution using the available mobile network. Once the dedicated connectivity network is put into place, the mobile network will then form the failover network to ensure redundancy on the system," says Laurence Smith, executive at GIT.
In addition to decreasing incidents of crime in the area, the surveillance and monitoring solution is also being used to actively address and prevent other undesirable behaviours such as illegal dumping along the fencing of the area. 7Arrows has been able to review the footage of the incidents and work with the police service to identify and apprehend the perpetrators.
As part of on-going efforts to continually reduce crime, 7Arrows is also in the process of integrated automated number plate recognition, which will trigger alerts if specific number plates on a hot list, such as stolen vehicles, enter the area. The SerVision platform allows for the integration of this solution into the central control centre solution. This solution has been rolled out in a number of areas including boomed areas in Sandton and Bryanston, with excellent results in all instances.
"GIT is always a pleasure to deal with. As a distributor, they are excellent on all fronts, from assisting with specifications and implementation, to delivering superior after-sales service and support. If we ever have any problems, such as lightning strikes or equipment failures, they are quick to turn around repairs or replacements, enabling us to continue to provide high levels of service and security to our customers," adds Jammy.
For more information contact Graphic Image Technologies, +27 (0)11 483 0333, [email protected], www.git.co.za
Credit(s)
Further reading:
Avoiding human error at ports
LD Africa Transport (Industry) CCTV, Surveillance & Remote Monitoring Products Logistics (Industry)
LD Africa introduced a local port to the AxxonSoft Port Security System ,a solution that helps overcome the element of human error and eliminate paperwork.
Read more...
---
Compact, lightweight bullet cameras with support for analytics
Axis Communications SA Products CCTV, Surveillance & Remote Monitoring
Axis Communications announced two new outdoor-ready bullet-style cameras featuring deep-learning processing units for analytics based on deep learning on the edge.
Read more...
---
Numerous challenges for transport and logistics
Transport (Industry) CCTV, Surveillance & Remote Monitoring Security Services & Risk Management Logistics (Industry)
Operators are making significant investments in automation and digitalisation in order to address security concerns, improve loss prevention as well as efficiency, and reduce unit order costs.
Read more...
---
A key to urban transport challenges
Axis Communications SA Transport (Industry) CCTV, Surveillance & Remote Monitoring Integrated Solutions Logistics (Industry)
There are many enabling technologies that can impact transportation in South Africa, but a good place to start is by considering the applications for smart physical technology with the ability to collect and respond to data.
Read more...
---
Hikvision aims for solutions
Technews Publishing Hikvision South Africa Editor's Choice CCTV, Surveillance & Remote Monitoring News Integrated Solutions Conferences & Events
Hikvision recently held a roadshow titled Industry X, where the company highlighted its latest products and solutions, supported by partners and distributors.
Read more...
---
Reliable, low-maintenance video appliances
Technews Publishing Editor's Choice CCTV, Surveillance & Remote Monitoring News IT infrastructure Products
Symetrix, part of the Agera Group, has added the AES range of video recording servers, storage appliances and workstations to its portfolio.
Read more...
---
A new full-colour era
Dahua Technology South Africa CCTV, Surveillance & Remote Monitoring
Traditionally, there have been two options for using surveillance cameras in the dark: flooding the scene with visible light, or alternatively using infrared (IR) illumination.
Read more...
---
AIoT delivers dynamic digital platforms
Hikvision South Africa CCTV, Surveillance & Remote Monitoring
Many stadiums or venues are seeking new, smart solutions that can help venue operators to stay on top of real-time situations dynamically on digitally driven platforms, and to achieve more efficient and sustainable venue management.
Read more...
---
Upgraded security and AI monitoring at upmarket estate
Watcher Surveillance Solutions Editor's Choice CCTV, Surveillance & Remote Monitoring Integrated Solutions Residential Estate (Industry)
Estate upgrades and enhances its security through a partnership between surveillance specialist Watcher and the incumbent guarding company.
Read more...
---
Security solutions that go the distance
Avigilon Logistics (Industry) CCTV, Surveillance & Remote Monitoring Asset Management, EAS, RFID Transport (Industry)
Avigilon self-learning video analytics help detect potentially critical events and issue an alert within the ACC dashboard, allowing officers to then verify event alarms.
Read more...
---