printer friendly version
Anticipate, adapt, activate
April 2015
Cyber Security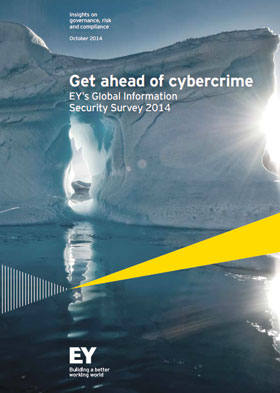 Most organisations (67%) are facing rising threats in their information security risk environment, but over a third (37%) have no real-time insight on cyber risks necessary to combat these threats. This is one of the topline findings of EY's annual Global Information Security survey, Get Ahead of Cybercrime, which this year surveys 1825 organisations in 60 countries.
"Cybercrime costs the South African economy billions of rand a year, making EY's findings highly relevant to business and government in our country," said Raghuvansh Swami, director, cyber security, EY Africa. "Additionally, fewer than half of all South African companies see cybercrime as a risk, raising concerns that they may not be equipped to deal with the rapidly changing threat landscape."
This is confirmed by the results of the survey, which found that companies lack the agility, the budget and the skills to mitigate known vulnerabilities and successfully prepare for and proactively manage cyber security risks. Forty-three percent of respondents say that their organisation's total information security budget will stay approximately the same in the coming 12 months despite increasing threats, which is only a marginal improvement to 2013 when 46% said budgets would not change.
Over half (53%) say that a lack of skilled resources is one of the main obstacles challenging their information security programme and only 5% of responding companies have a threat intelligence team with dedicated analysts. These figures also represent no material difference to 2013, when 50% highlighted a lack of skilled resources and 4% said they had a threat intelligence team with dedicated analysts.
'Careless or unaware employees' is revealed as the number one vulnerability companies face, with 38% of respondents saying it is their first priority, and 'outdated information security controls or architecture' and 'cloud computing use' are second and third respectively (35% and 17%). 'Stealing financial information,' 'disrupting or defacing the organisation' and 'stealing intellectual property or data' are the top three threats (28%, 25% and 20% respectively say it is their first priority).
This year's survey finds that organisations need to do a better job of anticipating attacks in an environment where it is no longer possible to prevent all cyber breaches, and where threats come from ever more resourceful and well-funded sources.
Paul van Kessel, EY's global risk leader, says: "Organisations will only develop a risk strategy of the future if they understand how to anticipate cybercrime. Cyber attacks have the potential to be far-reaching – not only financially, but also in terms of brand and reputation damage, the loss of competitive advantage and regulatory non-compliance. Organisations must undertake a journey from a reactive to a proactive posture, transforming themselves from easy targets for cybercriminals into more formidable adversaries.
"Too many organisations still fall short in mastering the foundational components of cyber security. In addition to a lack of focus at the top of the organisation and a lack of well-defined procedures and practices, too many of the organisations we surveyed reveal they do not have a security operations centre. This is a major cause for concern."
The report encourages organisations to embrace cyber security as a core competitive capability. This requires keeping the organis­ation in a constant state of readiness, anticipating where new threats may arise and shedding the victim mindset of operating in a perpetual state of anxiety. To reach this state, the report recommends:
• Remaining alert to new threats: Leadership should address cyber threats/risks as a core business issue, and put in place a dynamic decision process that enables quick preventative action.
• Understanding the threat landscape: Organisations should have a comprehensive, yet targeted, awareness of the wider threat landscape and how it relates to the organisation, and invest in cyber threat intelligence.
• Knowing your 'crown jewels': There should be a common understanding across the organisation of the assets that are of greatest value to the business, and how they can be prioritised and protected.
• Focusing on incident and crisis response: Organisations should regularly test the organisation's capabilities.
• Learning and evolving: Cyber security forensics is a critical piece of the puzzle. Organisations should closely study data from incidents and attacks, maintain and explore new collaborative relationships and refresh their strategy regularly.
Ken Allan, EY's global cyber security leader, says: "Beyond internal threats, organisations also need to think broadly about their business ecosystem and how relationships with third parties and vendors can impact their security posture. It's only by reaching an advanced stage of cyber security readiness that an organisation can start to reap the real benefits of its cyber security investments. By putting the building blocks in place and ensuring that the programme is able to adapt to change, companies can start to get ahead of cybercrime, adding capabilities before they are needed and preparing for threats before they arise."
In a nutshell
• Over a third (37%) of organisations have no real-time insight on cyber risks, lacking agility, budget and skills to combat rising cybercrime.
• #1 vulnerability to cybercrime revealed as careless or unaware employees, while #1 threat is the theft of financial information.
• Organisations need to be in a constant state of readiness, anticipating where new threats may arise.
For more information, download the full publication at www.ow.ly/H014P
Further reading:
Cyber resilience is more than cybersecurity
Technews Publishing Cyber Security Integrated Solutions IT infrastructure
Hi-Tech Security Solutions held a round-table discussion focusing on cyber resilience and found that while the resilience discipline includes cybersecurity, it also goes much further.
Read more...
---
Defining the resilience of cybersecurity
Cyber Security Security Services & Risk Management
Cyber resilience is less buzzword and more critical business strategy as the cybercrime landscape grows in intent and intensity.
Read more...
---
How to stay cybersafe on business trips
Cyber Security
No matter where you are in the world, tech-savvy criminals are looking for ways to exploit email addresses, social media profiles, passwords, financial data and stored files.
Read more...
---
The challenge of data safety and availability
Technews Publishing Editor's Choice Cyber Security
Veeam offers backup and recovery software that presents the user with one interface to manage backups to and from almost any platform.
Read more...
---
How safe are your backups?
Technews Publishing Cyber Security
Immutable backups prevent malware from compromising your data and ensure the right data is restored in an emergency when following a four-step backup process.
Read more...
---
Growing cyber resilience portfolio
Technews Publishing Cyber Security
Hi-Tech Security Solutions spoke to Richard Frost, who heads up Armata, to find out what the company offers in terms of cyber resilience.
Read more...
---
Adopting a cyber-secure mindset
Security Services & Risk Management Cyber Security
Adopting a cybersecure mindset is the key to mitigating the risk of falling victim to the growing cybercrime pandemic.
Read more...
---
Advanced technologies to curb corruption
News Cyber Security IT infrastructure
The use of advanced technology to curb fraud, corruption and cyber-related crimes received a massive boost as the Council for Scientific and Industrial Research (CSIR) and Special Investigation Unit (SIU) agreed to work together.
Read more...
---
Reversing the hidden risk of permission creep
Cyber Security
Employees can collect a range of access rights to business systems throughout their tenure. It's a phenomenon called 'permission creep': one of the biggest cybersecurity risks for organisations today.
Read more...
---
Mitigating the risk of zero-day attacks against Microsoft 365
J2 Software Cyber Security
Microsoft 365 servers contain extremely sensitive information and most organisations simply cannot do without it for an extended period of time.
Read more...
---