printer friendly version
Technology secures estate and surrounds
April 2015
Integrated Solutions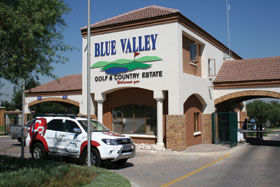 C3, specialists in intelligent video, fire and perimeter security solutions, have had a long and successful relationship with Blue Valley Golf and Country Estate situated in Midrand, Gauteng. C3 began this relationship eight years ago by winning a competitive shootout between companies and technologies to provide the estate with an intelligent perimeter security system.
C3 provided Blue Valley Golf and Country Estate with an intelligent video and thermal perimeter security system that was implemented in four phases. Phase one consisted of an intelligent IP and surveillance system, designed and installed by C3. Phase two consisted of further cameras and an access control system which was integrated onto the IP surveillance system. Additional intelligent thermal PTZ cameras were installed as part of phase 3.
C3 has just completed phase four of the strategic part of the estate's formidable perimeter security solution. Phase four consisted of an upgrade of the estate's 7 km electric fence, which has been upgraded to run on fibre optics and has been integrated onto the IP surveillance system. New energisers have been installed which are synchronised and able to communicate back to the control room via the fibre optic network.
Should an alarm be triggered on the electric fence, this alarm is displayed on a GUI in the control room, which commands the thermal PTZ cameras to face in the direction of the alarm, thus allowing the control room operator see what is causing the alarm. The electric fence has also been divided into 56 zones to provide greater accuracy with regard to intrusion detection and the exact location of the alarm condition.
Nick Grange, technical director for C3 says: "The result of this upgraded electric fence, able to communicate on a fibre optic backbone, has provided the estate with a fully integrated surveillance system. If I had to give any advice to estates in the development phase, I would suggest that they look at the big picture and adopt an holistic approach when designing the development. For example, a fibre optic network in the estate can provide advantages down the line when the security system is implemented and if this network is considered in the initial design phase, it results in a more efficient development with all parts of the estate being able to communicate with each other."
Blue Valley's security system is so efficient at this point that it has been instrumental in providing security to surrounding areas too. The sub-station down the road from the estate was having problems with copper cables being stolen and each time a theft occurred it would adversely affect the power in the area. Blue Valley's perimeter system has detected theft at the substation and the control room operators were able to contact the necessary security team to apprehend the thieves.
Fritz Pauley, Blue Valley's estate manager says: "Looking after the security of valuable lives is hard work. Keeping up with technology and implementing strong security measures are one of Blue Valley's fundamental elements to sustain a safe environment for all. Not only has C3 implemented the original project, they have kept the system well maintained for minimum downtime. I cannot emphasise the value of preventative maintenance enough as this is one of the main reasons for our system's integrity. C3 is at the forefront when it comes to customised solutions, implementations and new technology and they are our service provider of choice because of their excellence, commitment and professional service offering."
Blue Valley Golf and Country Estate now has a state of the art, reliable and effective security system that can be expanded and upgraded to include further technologies as time moves on. C3 designed the system with the final goal in mind which is a safe and secure estate offering peace of mind to its residents.
For more information contact C3 Shared Services, +27 (011) 312 2041, marketing@c3ss.com, www.c3ss.com
Credit(s)
Further reading:
Managing staff effectively
September 2019, dormakaba South Africa, iPulse Systems , Integrated Solutions, Access Control & Identity Management
Workforce management solutions allow organisations to track the relationship between productivity and the cost of employment, incorporating issues such as health and safety, T&A, rostering and more.
Read more...
---
Increase security efficiency, decrease costs
September 2019 , Security Services & Risk Management, Integrated Solutions
Trackforce offers customisable mobile and web applications to increase security operational efficiency and lower costs.
Read more...
---
Augmented security with drones
August 2019, Drone Guards , Editor's Choice, Integrated Solutions
Drone Guards is moving into an untapped market of using drones to secure residential estates and other high-value assets such as mines, farms and commercial properties.
Read more...
---
10 things to consider when shopping for a VMS
August 2019, Genetec , CCTV, Surveillance & Remote Monitoring, Integrated Solutions
Today's video management systems (VMS) provide a wide range of tools and capabilities that help make security personnel more efficient by allowing them to focus on what really matters.
Read more...
---
Residential security – caveat emptor
August 2019, Stafix , Integrated Solutions, Security Services & Risk Management
When it comes to improving your property's security, make sure you take all the options into account as you build a layered approach to keeping people safe and assets secured.
Read more...
---
End-to-end security solutions for residential estates
August 2019, Elvey Security Technologies , Integrated Solutions, Residential Estate (Industry), Products
While there are a multitude of security options available for residential estate body corporates, unfortunately the solutions are not always able to integrate seamlessly, resulting in a hotchpotch of disparate systems.
Read more...
---
Integrated residential estate surveillance
August 2019, Forbatt SA , Integrated Solutions, CCTV, Surveillance & Remote Monitoring, Residential Estate (Industry)
Integrated solutions bring the best-of-breed out of each technology to give personnel all the tools they need for access control management and security.
Read more...
---
From fog to foxes
August 2019, Axis Communications SA , Perimeter Security, Alarms & Intruder Detection, CCTV, Surveillance & Remote Monitoring, Integrated Solutions
What makes radar devices so valuable is the fact that they can provide a high range of accurate data while barely relying on external factors, such as weather or light.
Read more...
---
Communications management within your security platform
August 2019, Genetec , Integrated Solutions, Residential Estate (Industry)
In the physical security industry, communications management systems, such as intercom solutions, are becoming an integral part of developing effective and comprehensive security strategies.
Read more...
---
The hidden claws of proof of concept
August 2019 , Editor's Choice, Integrated Solutions
Proof of concept is a proven methodology for testing new technologies, but it isn't perfect, and it can be more of a hindrance than a help.
Read more...
---