printer friendly version
CCTV data as information
April 2015 CCTV, Surveillance & Remote Monitoring, Editor's Choice
A few years ago I was sitting in a meeting in London with an 'international expert' who was assuring me that metadata analysis, which allowed tagging of anything from clothing and car types and colours as well as other information about people, was six months away from full release.
I questioned this statement and, while metadata research has been ticking along, his prediction was a dismal failure. Automated recognition of video features is still limited in scope and application and I have seen no system capable of genuine automated metadata analysis for real-world applications. What we have seen in the last few years though, is an increasing move to seeing CCTV as information and data which promises its own benefits. Being treated as information and being able to interact with other forms of data promises a number of advantages that can be realised relatively quickly.
The raw data provided by IP cameras provides a basis for video analytics and interrogation techniques that are increasingly going to turn data into information. We can look for certain electronic features of objects in data, can cross reference with time and location details, and can electronically track and detect changes in scenes more than ever before. We can superimpose data, do compressed time reviews where we can view hours of video into a few minutes, and associate other information and our own descriptions or classifications with stored data. We can also link and store audio related information with video data.
For me, one of the major emerging points from the digitisation of data is the importance of the electronic occurrence book. In the past I've seen cupboards with piles of papers profiling people or activities that never get looked at again because they are just too difficult to handle. But recording things electronically and being able to reference them to specific video data on your system starts making establishing trends and meaningful cross referencing within your data much simpler.
We will be able to establish connections and patterns between things far more easily, and our predictive ability to pick up events or incidents is likely to improve based on such analysis. Of course, this means that the design of the types of information to be captured, and the skills of operators who do this will also need to become significantly more advanced.
We are seeing an increase in the digitisation of all aspects of life, including production and operational issues within organisations. One of the functions of investigations is to start highlighting inconsistencies or anomalies within operational data which will point to unusual events or influences. By examining, for example, losses on a casino table at a particular time with the ability to view associated video at exactly the same time can contribute significantly to detection of incident conditions or responsible factors. Given the extent to which we can already see something like Gmail addresses from computers being linked to phone systems as well as everything they produce like location information, contacts, and messaging, linking of systems to a greater surveillance system can provide a huge scope for investigations and analysis.
If Google already knows where your home is, where you are now, the best route and the likely time to get there, and your meeting points or favourite places on that route, what happens when we combine that with the ability to access CCTV footage and watch people along the way and who they are with. This is going to raise a range of privacy and human rights issues that we are going to have to seriously consider.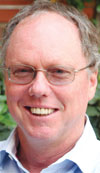 Data also brings with it an increased threat of hacking which implies a set of responsibilities that IT is used to, but which security are increasingly having to face. In the meantime, though, we are starting to see the next potential jump in CCTV technology application through the generation and the interaction with other information technology.
Dr Craig Donald is a human factors specialist in security and CCTV. He is a director of Leaderware which provides instruments for the selection of CCTV operators, X-ray screeners and other security personnel in major operations around the world. He also runs CCTV Surveillance Skills and Body Language, and Advanced Surveillance Body Language courses for CCTV operators, supervisors and managers internationally, and consults on CCTV management. He can be contacted on +27 (0)11 787 7811 or craig.donald@leaderware.com
Credit(s)
Further reading:
Social media and intelligence-led surveillance
July 2019, Leaderware , Editor's Choice, Integrated Solutions, Security Services & Risk Management
Social media has become a major feature of most people's lives in the last few years and they can be invaluable as a source of information for companies and security organisations.
Read more...
---
Advanced integration and performance with NUUO
July 2019, Forbatt SA , CCTV, Surveillance & Remote Monitoring
Established in 2004, NUUO is a global security industry leader specialising in the manufacturing of open architecture video surveillance products, with deployments worldwide and an ever-growing base of professional industry-experienced staff.
Read more...
---
The 4th Industrial Revolution
July 2019, Wolfpack Information Risk , Editor's Choice, Cyber Security, Security Services & Risk Management, Industrial (Industry)
Most major industries have turned to and are reliant on technology to run their operations. This is a time of great promise, but also one of frightening peril.
Read more...
---
Data protection more challenging
July 2019 , Editor's Choice, IT infrastructure
The number of businesses unable to recover data after an incident nearly doubled from 2016, according to the Global Data Protection Index surveying 2 200 IT decision makers from 18 countries.
Read more...
---
Dallmeier integrates facial recognition
July 2019, Dallmeier Electronic Southern Africa , CCTV, Surveillance & Remote Monitoring, Products
German manufacturer Dallmeier has announced a development partnership to integrate AnyVision's facial recognition technology into Dallmeier's Hemisphere platform.
Read more...
---
Transom Capital Group Acquires Pelco
July 2019 , News, CCTV, Surveillance & Remote Monitoring
Transom Capital Group (Transom), an operations-focused middle market private equity firm, announced it has acquired Pelco from Schneider Electric.
Read more...
---
Milestone appoints new VP for research and development
July 2019, Milestone Systems , Editor's Choice, CCTV, Surveillance & Remote Monitoring, News
Milestone Systems has appointed Tom Bjerre as its new VP for research and development. He will oversee planning, development, testing and release of Milestone Systems' video management software.
Read more...
---
NIST recommends ONVIF as new standard for FBI
July 2019 , Editor's Choice, CCTV, Surveillance & Remote Monitoring, News
ONVIF's Export File Format is the new standard recommended by the National Institute of Standards and Technology (NIST) for the exporting and playback of video surveillance recordings.
Read more...
---
A smart Industry 4.0 solution
July 2019, Bosch Building Technologies , Industrial (Industry), CCTV, Surveillance & Remote Monitoring, Integrated Solutions
A new customised Industry 4.0 solution consists of the integration between video analytics and warehouse management software which prevents theft, heightens efficiency and improves shipment tracking.
Read more...
---
High standard of safety at printing plant
July 2019, Bosch Building Technologies , Fire & Safety, CCTV, Surveillance & Remote Monitoring, Industrial (Industry)
Bosch implements a networked solution with video-based fire detection for the Mohn Media printing company.
Read more...
---