printer friendly version
CCTV data as information
April 2015 CCTV, Surveillance & Remote Monitoring, Editor's Choice
A few years ago I was sitting in a meeting in London with an 'international expert' who was assuring me that metadata analysis, which allowed tagging of anything from clothing and car types and colours as well as other information about people, was six months away from full release.
I questioned this statement and, while metadata research has been ticking along, his prediction was a dismal failure. Automated recognition of video features is still limited in scope and application and I have seen no system capable of genuine automated metadata analysis for real-world applications. What we have seen in the last few years though, is an increasing move to seeing CCTV as information and data which promises its own benefits. Being treated as information and being able to interact with other forms of data promises a number of advantages that can be realised relatively quickly.
The raw data provided by IP cameras provides a basis for video analytics and interrogation techniques that are increasingly going to turn data into information. We can look for certain electronic features of objects in data, can cross reference with time and location details, and can electronically track and detect changes in scenes more than ever before. We can superimpose data, do compressed time reviews where we can view hours of video into a few minutes, and associate other information and our own descriptions or classifications with stored data. We can also link and store audio related information with video data.
For me, one of the major emerging points from the digitisation of data is the importance of the electronic occurrence book. In the past I've seen cupboards with piles of papers profiling people or activities that never get looked at again because they are just too difficult to handle. But recording things electronically and being able to reference them to specific video data on your system starts making establishing trends and meaningful cross referencing within your data much simpler.
We will be able to establish connections and patterns between things far more easily, and our predictive ability to pick up events or incidents is likely to improve based on such analysis. Of course, this means that the design of the types of information to be captured, and the skills of operators who do this will also need to become significantly more advanced.
We are seeing an increase in the digitisation of all aspects of life, including production and operational issues within organisations. One of the functions of investigations is to start highlighting inconsistencies or anomalies within operational data which will point to unusual events or influences. By examining, for example, losses on a casino table at a particular time with the ability to view associated video at exactly the same time can contribute significantly to detection of incident conditions or responsible factors. Given the extent to which we can already see something like Gmail addresses from computers being linked to phone systems as well as everything they produce like location information, contacts, and messaging, linking of systems to a greater surveillance system can provide a huge scope for investigations and analysis.
If Google already knows where your home is, where you are now, the best route and the likely time to get there, and your meeting points or favourite places on that route, what happens when we combine that with the ability to access CCTV footage and watch people along the way and who they are with. This is going to raise a range of privacy and human rights issues that we are going to have to seriously consider.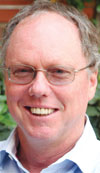 Data also brings with it an increased threat of hacking which implies a set of responsibilities that IT is used to, but which security are increasingly having to face. In the meantime, though, we are starting to see the next potential jump in CCTV technology application through the generation and the interaction with other information technology.
Dr Craig Donald is a human factors specialist in security and CCTV. He is a director of Leaderware which provides instruments for the selection of CCTV operators, X-ray screeners and other security personnel in major operations around the world. He also runs CCTV Surveillance Skills and Body Language, and Advanced Surveillance Body Language courses for CCTV operators, supervisors and managers internationally, and consults on CCTV management. He can be contacted on +27 (0)11 787 7811 or [email protected]
Credit(s)
Further reading:
Avoiding human error at ports
LD Africa Transport (Industry) CCTV, Surveillance & Remote Monitoring Products Logistics (Industry)
LD Africa introduced a local port to the AxxonSoft Port Security System ,a solution that helps overcome the element of human error and eliminate paperwork.
Read more...
---
Compact, lightweight bullet cameras with support for analytics
Axis Communications SA Products CCTV, Surveillance & Remote Monitoring
Axis Communications announced two new outdoor-ready bullet-style cameras featuring deep-learning processing units for analytics based on deep learning on the edge.
Read more...
---
Numerous challenges for transport and logistics
Transport (Industry) CCTV, Surveillance & Remote Monitoring Security Services & Risk Management Logistics (Industry)
Operators are making significant investments in automation and digitalisation in order to address security concerns, improve loss prevention as well as efficiency, and reduce unit order costs.
Read more...
---
A key to urban transport challenges
Axis Communications SA Transport (Industry) CCTV, Surveillance & Remote Monitoring Integrated Solutions Logistics (Industry)
There are many enabling technologies that can impact transportation in South Africa, but a good place to start is by considering the applications for smart physical technology with the ability to collect and respond to data.
Read more...
---
Hikvision aims for solutions
Technews Publishing Hikvision South Africa Editor's Choice CCTV, Surveillance & Remote Monitoring News Integrated Solutions Conferences & Events
Hikvision recently held a roadshow titled Industry X, where the company highlighted its latest products and solutions, supported by partners and distributors.
Read more...
---
Reliable, low-maintenance video appliances
Technews Publishing Editor's Choice CCTV, Surveillance & Remote Monitoring News IT infrastructure Products
Symetrix, part of the Agera Group, has added the AES range of video recording servers, storage appliances and workstations to its portfolio.
Read more...
---
A new full-colour era
Dahua Technology South Africa CCTV, Surveillance & Remote Monitoring
Traditionally, there have been two options for using surveillance cameras in the dark: flooding the scene with visible light, or alternatively using infrared (IR) illumination.
Read more...
---
AIoT delivers dynamic digital platforms
Hikvision South Africa CCTV, Surveillance & Remote Monitoring
Many stadiums or venues are seeking new, smart solutions that can help venue operators to stay on top of real-time situations dynamically on digitally driven platforms, and to achieve more efficient and sustainable venue management.
Read more...
---
Upgraded security and AI monitoring at upmarket estate
Watcher Surveillance Solutions Editor's Choice CCTV, Surveillance & Remote Monitoring Integrated Solutions Residential Estate (Industry)
Estate upgrades and enhances its security through a partnership between surveillance specialist Watcher and the incumbent guarding company.
Read more...
---
The technology wave implications for staff mismatches in control rooms
Leaderware Editor's Choice Security Services & Risk Management
An industry habit of looking at control rooms through a physical security lens has increasingly left clients and staff at a disadvantage in keeping up with control room technology and demands.
Read more...
---