printer friendly version
Schneider Electric CEO visits SA
April 2015
News
Energy management solutions and efficiency technologies are a means to end the energy crises experienced worldwide, highlighted Jean-Pascal Tricoire, chairman and CEO of Schneider Electric, during his visit and tour of the new Midrand Schneider Electric Campus in Gauteng.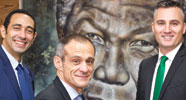 Left to right: Mohamed Saad, senior vice president for Africa and the Caribbean; Jean-Pascal Tricoire, chairman and CEO of Schneider Electric; Eric Leger, country president for southern Africa at Schneider Electric.
"The convergence of IT and energy technologies, the Internet of things applied to energy, allows increasing control and anticipation in the use of energy and resources. Schneider Electric's technology and expertise is therefore focused on safety, reliability, efficiency and the grid, encompassing both industrial and green automation innovation," he added.
Representatives from the French Development Agency, Angolan Trade Commission, the French Embassies in Botswana and South Africa, and members of the local media, were invited to join Tricoire and Mohamed Saad, senior vice president for Africa and the Caribbean, on a 360-degree Schneider Electric experience at its new 12 000-square-metre site.
The site houses the company's manufacturing operation and is also the new home of its mining team, which services the whole of Africa, its Sustainability Development business unit and Low Voltage Electrical Distribution division, as well as the Schneider Electric Academy and the company's data centre consolidation initiatives. Employees from the Capital Hill, Bartlett and Germiston sites, as well as certain personnel from its nearby headquarters, have relocated to this site.
According to Schneider Electric, the new building shows a major commitment to the organisation's long-term investment in southern Africa and provides it with more local capabilities, in particular, when it comes to fully servicing its customers by being closer to their needs. The collocation of all employees on the site is envisioned to assist in greater collaboration.
The Midrand site also forms part of the company's global 'Cool Sites' programme, which focuses on designing workplaces that are attractive, inspiring and energising for employees, enabling better employee engagement, productivity and satisfaction levels.
"It is an inviting space for our valuable customers. It perfectly mirrors our brand promise as a global specialist in energy management, with its state-of-the-art elements reflecting our central message of efficiency and energy saving," added Eric Leger, country president for southern Africa at Schneider Electric.
"Schneider Electric believes in the long-term," emphasised Tricoire, saying that the decisions the company makes today, be it business or technology development, are for the future. "Africa is an economy of resources. The continent offers a growing population, and numerous young people wanting to learn and build competencies. We are committed to Africa."
He added that "if your technology is the best, you must be everywhere in the world", and demonstrating this, delegates were given an overview of Schneider Electric's BipBop programme (Business, Innovation, and People at the Base of the Pyramid), which develops collective solutions for comprehensive rural electrification, domestic solutions for energy-related needs, and the business models that make these solutions sustainable. This means that it offers reliable, affordable, and clean solutions; training; and business innovation support to help close energy gaps worldwide. Within this programme, Schneider Electric has created access to energy for 43 837 people worldwide.
For more information contact Schneider Electric, Ntombi Mhangwani, +27 (0) 11 254 6400, [email protected]
Further reading:
Johnny Aucamp joins iPulse exco
News
Johnny Aucamp has joined iPulse Systems as its chief sales officer (CSO), adding a massive boost to the executive team.
Read more...
---
From the editor's desk: Security and resilience
Technews Publishing News
It's often said that South Africans are a resilient bunch, and history has proven this correct. When it comes to security, both cyber and physical, resilience is key to an effective defensive plan. ...
Read more...
---
Hikvision aims for solutions
Technews Publishing Hikvision South Africa Editor's Choice CCTV, Surveillance & Remote Monitoring News Integrated Solutions Conferences & Events
Hikvision recently held a roadshow titled Industry X, where the company highlighted its latest products and solutions, supported by partners and distributors.
Read more...
---
Olarm launches PRO 4G communicator
Olarm News Perimeter Security, Alarms & Intruder Detection Products
Olarm has announced an additional 4G/LTE version of its Olarm PRO smart communicator. It is aimed at areas suffering from poor connectivity by providing support for 4G, 2G and Wi-Fi networks.
Read more...
---
ADI Expo returns to South Africa
Technews Publishing ADI Global Distribution News
September saw the return of the ADI Expo to South Africa. The Johannesburg event was held at the Focus Rooms and the Durban event, two days later, at the Southern Sun Elangeni & Maharani.
Read more...
---
Technoswitch Awards dinner for 2022
Technews Publishing News Fire & Safety
Technoswitch hosted its fifth awards dinner at Montecasino in September, where customers and suppliers celebrated a year of success.
Read more...
---
Suprema joins FiRa Consortium
Suprema News Access Control & Identity Management
Suprema recently became a member of the FiRa Consortium, a consultative body that establishes standards for ultra-wideband (UWB) technology, the next generation of wireless communication.
Read more...
---
Reliable, low-maintenance video appliances
Technews Publishing Editor's Choice CCTV, Surveillance & Remote Monitoring News IT infrastructure Products
Symetrix, part of the Agera Group, has added the AES range of video recording servers, storage appliances and workstations to its portfolio.
Read more...
---
ZYTEQ Fire Engineering Summit 2022
ZYTEQ Fire Fire & Safety News
Cape Town-based ZYTEQ Fire hosted its inaugural Engineering Summit at the Commodore Hotel in Cape Town and the Leonardo Hotel in Sandton, Johannesburg.
Read more...
---
Nomad launches early adopter programme
Editor's Choice News Integrated Solutions Smart Home Automation
Participants in Nomad's Early Adopter Programme will receive 10% of their volume order to facilitate testing before the commercial launch later this year.
Read more...
---