New analytics offering from Vivotek
March 2015, CCTV, Surveillance & Remote Monitoring
Vivotek, locally distributed through Westcon Security Solutions, has released its first video content analysis (VCA) application package, following the début of the Vivotek Application Development Platform (VADP), an open platform that integrates video analytic within its cameras.
The VCA package includes three key functions, namely: field detection; line crossing detection, and object counting. With this new technology, data is analysed directly on-camera to provide solutions for business applications in addition to traditional security use cases.
Advanced field detection allows users of VCA to define a zone in the field of view for automated monitoring. Whenever a person or object enters or leaves this zone, movement is automatically detected and a notification is sent to the video management server or other back-end infrastructure.
Line crossing functionality sets up a virtual line within the camera's field of view. Any crossing of the line is immediately detected, regardless of the direction from which the line is crossed. Field detection and line crossing detection can also be used to demarcate a zone in the field of view corresponding to an area in physical space where access is restricted.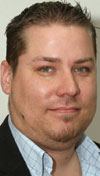 Gert Byleveldt
"The object counting feature is particularly valuable for retail applications, providing quantitative data on variables like in-store traffic and shopper behaviour, as well as for transport-related applications, to track the number of passengers and vehicles," says Gert Byleveldt, business practice lead at Westcon Security Solutions.
Software that accesses the precise numerical data provided by the object counting algorithm means that users of VCA will have a basis on which to make reliable business decisions, improve service, increase operational efficiency and perform in-depth analysis.
In the business sector, VCA's three key functions aid to improve the customer experience by shedding light on areas within the business that can be improved upon. This gives organisations the opportunity to adjust staffing levels, or determine sales conversion rates along with many other possibilities.
"The use of surveillance cameras is expanding from the traditional security role and into business applications. Vivotek offers a platform for developers to create powerful software plug-ins that will benefit retailers and customers with the combination of VCA and the Application Development Platform," Byleveldt concludes.
For more information contact Westcon Security Solutions – Electronic, +27 (0)11 233 3333, marketing@westcon.co.za, www.westcon.co.za