printer friendly version
New range of control panels
March 2015
Perimeter Security, Alarms & Intruder Detection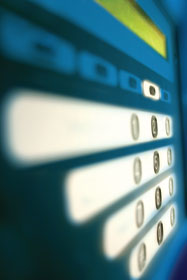 With decades of experience protecting the assets and facilities of some of the largest financial institutions in North and South America, Digital Monitoring Products (DMP), has earned recognition as a leader in advanced, easy to use and powerful electronic security technology for any type of application from banking, commercial, retail to residential installations. DMP had its beginnings as a monitoring station service provider, helping the company to clearly understand security requirements from all sides.
Compared to its largest competitors, DMP has the most on-network systems installed, and the most system success, in North America. A notable system conversion using DMP network-capable panels was undertaken by one of the largest financial institutions in the US beginning in 1995. The existing panels were removed and replaced with DMP network panels at 1800 locations in the first wave and 2600 in the second wave. Today DMP equipment continues to protect the people and assets at a total of 4400 locations for this institution.
In all the markets it serves, DMP is known for listening to its customers and responding quickly with practical, innovative solutions. While the XR550 panel directly addressed the real-world needs of the people charged with protecting financial, commercial and retail institutions the XT30 will cover domestic applications.
All DMP systems are designed with the following objectives in mind.
Technology that works
Organisations that rely on security systems need technology that combines simple installation, uncomplicated operation, desirable features and, most importantly, reliable protection. These are all traits readily identified in DMP technology.
True two-way wireless security technology offers many benefits, including faster and easier installation. DMP has a large and growing selection of wireless technology. Freed from the need to run wires to each device, installations require less time and sensors can be placed where they can provide the greatest protection with no concern for the need to run wires to them. DMP systems are true hybrid systems offering wired and wireless options.
Operation
DMP keypads integrate credential readers in the form of cards or fobs. These electronic credentials provide codeless system control to arm/disarm the system. Additionally, they serve as keys that not only enable employees to enter or exit the branch, but can also be used to control or monitor employee movement within the facility. Separate areas and zones can be identified, and each one individually secured or monitored. DMP System Link software enables supervisors and managers to quickly review each employee's arrival, departure and other activity within the branch.
DMP panels are programmable with up to 99 different user profiles. These profiles define the level of system or facility access available to employees, contractors, cleaners, cash handlers or other service providers.
Once the profiles are established, each person or group can be assigned to one of the user-defined profiles, automating security management.
Features
False alarms are a major concern. Eighty percent of false alarms are caused by user error. Institutions realise a major reduction in false alarms by relying on the codeless, simple-to-use proximity cards and fobs that can be used with DMP keypads. Additional false alarm reductions are achieved thanks to the intuitive operation of DMP user interfaces.
Protection
Unlike most other systems, DMP brings together electronic security and access control in a single, integrated system. Integrated protection means fewer components, simpler and faster installation, and more efficient operation and management. Overall, it provides a higher level of protection at a lower total cost.
Communication and monitoring
A hallmark of DMP technology is its focus on maintaining and optimising communications between installed systems and the monitoring and response centre. When those links are broken, whether due to weather, natural events or deliberate attacks, alerts and alarms can go unheard.
DMP offers up to eight paths of communication for disaster recovery protection. If the primary dial-up, GSM/GPRS or network connection is lost, the DMP system can be programmed to revert to an additional seven remaining paths of communication, either simultaneously or sequentially. When the primary communication link again becomes available, the panel returns to normal.
Technology that lasts
DMP goes to great lengths to ensure that its equipment is completely tested, resulting in a consistently low out-of-box failure rate. But the most reliable security equipment is of little value if it fails to keep pace with new technology developments.
The company engineers its products for the highest levels of forward and backward compatibility. DMP components will work with both existing and future equipment.
One of the ways DMP ensures long technology life is through flash memory. Rather than replacing boards to update a system, the features and functions can be updated through programming downloads. With DMP Remote Link software these updates can be done on site or remotely from a PC at any time of the day or night.
DMP will be distributed through Regal's 22 branches and a sub-Saharan export division.
Credit(s)
Further reading:
Utility outages: Are you looking at the big picture?
October 2019 , Perimeter Security, Alarms & Intruder Detection
We have to start thinking about, and laying plans for, the real possibility that the whole grid is somehow compromised.
Read more...
---
Perimeter protection in Ghana
October 2019, AcoustAlert , Mining (Industry), Perimeter Security, Alarms & Intruder Detection
A gold mine in Ghana has erected a dual fence with AcoustAlert PIDS fence detection on both inner and outer fence lines.
Read more...
---
A committed service provider
October 2019, Elf Rentals - Electronic Security Solutions , Perimeter Security, Alarms & Intruder Detection, Residential Estate (Industry)
The theme Elf promoted through its sponsorship was that it offers clients its own financial commitment and willingness to accept the risk of equipment failure.
Read more...
---
Thermal cameras with artificial intelligence
October 2019, Dahua Technology South Africa , Perimeter Security, Alarms & Intruder Detection, CCTV, Surveillance & Remote Monitoring, Residential Estate (Industry)
Dahua Technology showcased solutions that are important to residential estates, namely perimeter protection.
Read more...
---
Securing estate perimeters
October 2019, Nemtek Electric Fencing Products , Perimeter Security, Alarms & Intruder Detection, Residential Estate (Industry)
Nemtek has a range of products designed to secure the perimeters of estates, however its display at the conference focused on its Network Energizer and its Dual-Action Tension Sensor.
Read more...
---
Using home security to provide home automation
October 2019, TPA Security Distributors , Perimeter Security, Alarms & Intruder Detection, Products
Making outdoor intrusion detection sensors an integral part of the security/home automation system is a reality with Texecom Connect and Ricochet technology.
Read more...
---
Not just intruder detection systems
October 2019, Elvey Security Technologies , Perimeter Security, Alarms & Intruder Detection, Products
The market is clamouring for the integration of traditional intruder detection systems with home automation, surveillance and access control solutions.
Read more...
---
Perimeter security in high EMF environments
October 2019, AcoustAlert , Perimeter Security, Alarms & Intruder Detection
Testing AcoustAlert PIDS on extra high tension sites like power stations and power generating gas turbine plants.
Read more...
---
Intelligent intruder detection
October 2019, Secutel Technologies , Perimeter Security, Alarms & Intruder Detection, Products
Imagine a system that integrates all your security and business systems and can interpret people, actions and events, and help you and your employees to become more efficient.
Read more...
---
Dual energy X-ray inspection system
September 2019, Regal Distributors SA , Products, Access Control & Identity Management
The ZKX6550 X-ray inspection system increases the operator's ability to identify potential threats; the device is designed to scan briefcases, carry-on baggage, small cargo parcels.
Read more...
---