printer friendly version
Biometrics secure retail environments
March 2015
Retail (Industry)
When we think of security technology to use in the retail environment, the ideas that spring to mind include anything from RFID to CCTV, access control to alarms and intruder detection. Traditionally, biometrics was not one of the key security technologies for the retails space. Has this changed?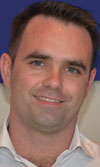 Nicolas Garcia, sales manager at Morpho South Africa.
Hi-Tech Security Solutions spoke to Morpho South Africa's Nicolas Garcia about the role biometrics can and should play in the retail market.
When people think of retail security, we generally think of shoplifting and goods being stolen in transit, and it doesn't seem that biometrics would be of much use in these environments. So where could retail organisations benefit in terms of security by using biometrics or other forms of access and identity management?
Garcia says biometrics can benefit retailers in many ways and at different levels. "From an access control point of view, biometrics can be used to secure high value items by locking the items in a safe room and accurately controlling who enters and exits the room.
"From an identity management point of view, retailers can take advantage of biometrics at an employment level. During the vetting process, employers can ensure that the candidate is really the person he/she claims to be and determine if he or she has criminal records."
And finally, he notes that securing financial transactions with biometrics at the point of sale (POS) is a growing trend.
With many people still doubting the viability of biometrics, especially in an environment like retail where people are always moving around and things can get quite dirty, will biometrics offer a reliable means of identification and authentication? Can a biometric be read after a worker has just been stocking shelves with flour?
Garcia says, "As always with biometrics, there are a number of different solutions to suit the needs of the end user. In that regard, fingerprint technology has been used successfully for over a decade in many environments, including mining, which can get quite dirty and busy. It can therefore be considered a viable solution for retail."
In addition, we must remember that fingerprints are not the only form of biometrics usable today. Technologies such as facial recognition, vein readers etc. are also used successfully in different areas, depending on specific needs.
Selling cans of baked beans
In a previous Retail Risk conference, Spar's Keith Alexander (now retired) mentioned that retailers are a difficult sale for security companies as they are more concerned with how many cans of baked beans they sold today and how many they can sell tomorrow. Talking about security technologies, especially biometrics seems to be asking them to take their eye off their core business.
While Garcia admits this is true, he also explains that studies all over the world show that theft and fraud are often committed by internal forces (by staff or sub-contractors, for instance). Using biometrics during the vetting process can ensure retailers hire the appropriate people to do the job. "It won't eliminate the risk 100%, but it definitely reduces it."
Furthermore, by securing entrance and exit points with biometrics, one is not only sure who is taking the goods in or out, but also at what time and where. Should the time, place and individual not match as per business policies, the system should be able to send alarms and/or prevent the operation from going ahead.
Even on the logistics side of the business, Garcia believes biometrics can play an important role. The technology is relatively easily integrated into the workflows and IT systems used in warehousing, logistics, etc. One can therefore add checkpoints in the system where people need to validate transactions with their biometrics or confirm the transfer of goods to them. They are then responsible until they transfer it to somebody else or deliver them to the place the goods are supposed to be.
Hacking biometrics
Recently there was a press report that the German Minister of Defence had her biometrics copied from pictures taken of her finger while she was out on official business. If true, this must surely pose a problem to companies using biometrics – the security solutions retailers want must be easy to use and seamless, allowing them to get on with their business.
"A lot of things have been said about copying a biometric feature and TV series like NCIS is feeding the fantasy," says Garcia. "The reality is that in security there is no golden bullet and it is always a race between the manufacturer and hackers. MiFare was cracked some years ago and a new version came out correcting the issues of the first one. At Morpho, we offer a full range of products adapted to all levels of security, but that are user-friendly and offer no compromises on performance."
For more information contact Morpho South Africa, +27 (0)11 286 5800, nicolas.garcia@morpho.com, www.morpho.com
Credit(s)
Further reading:
Enhance video analytics with Augmented Vision
CCTV Handbook 2019, IDEMIA , Technews Publishing , CCTV, Surveillance & Remote Monitoring, Integrated Solutions
Augmented Vision is a video analytics application from IDEMIA designed to enhance security in public and private places.
Read more...
---
Frictionless access with a wave
October 2019, IDEMIA , Access Control & Identity Management, Residential Estate (Industry)
IDEMIA was the Platinum Sponsor for the Residential Estate Security Conference 2019 and set up its MorphoWave Compact frictionless fingerprint biometric scanner at the entrance to the conference.
Read more...
---
Shorten your checkout lines to enhance customer experience
September 2019, Hikvision South Africa , Retail (Industry), CCTV, Surveillance & Remote Monitoring
Hikvision's queue detection technology is purpose-built to offer cutting-edge flow analysis to retail outlets and any situation where waiting to pay is required.
Read more...
---
Coffee by IoT
September 2019 , Home Security, Retail (Industry)
Costa Coffee selects Eseye to help transform the global retail coffee experience by deploying IOT coffee machines to deliver premium quality drinks.
Read more...
---
MorphoAccess Sigma Extreme
Residential Estate Security Handbook 2019, IDEMIA , Products, Access Control & Identity Management
MorphoAccess Sigma Extreme from IDEMIA is a touchscreen device with multiple recognition device interfaces (NFC chip reader, PIN and BioPIN codes, contactless card readers).
Read more...
---
MorphoWave Compact
Residential Estate Security Handbook 2019, IDEMIA , Products, Access Control & Identity Management
The MorphoWave Compact captures and matches four fingerprints on either the right or left hand in any direction. It is robust to environmental factors such as extreme light or dust.
Read more...
---
MorphoAccess Sigma Lite
Residential Estate Security Handbook 2019, IDEMIA , Products, Access Control & Identity Management
IDEMIA's MorphoAccess Sigma Lite and Lite + are fingerprint access control terminals, offering time and attendance in and out function keys.
Read more...
---
Intelligent queue detection
August 2019, Hikvision South Africa , CCTV, Surveillance & Remote Monitoring, Retail (Industry)
How do you keep waiting times to a minimum, and react quickly to growing checkout lines? Intelligent queue detection technology could be the answer.
Read more...
---
Ingo Mutinelli moves to IDEMIA
July 2019, Technews Publishing, IDEMIA , Editor's Choice, News
IDEMIA, the security and identity management company has announced that Ingo Mutinelli will be taking on the post of regional sales director for the southern Africa region.
Read more...
---
People counting for retail success
July 2019, Hikvision South Africa , CCTV, Surveillance & Remote Monitoring, Retail (Industry)
How counting the people who enter your mall or store can help you improve customer experiences and boost your revenues.
Read more...
---