printer friendly version
Real HD with TecSec and Avigilon
March 2015 Retail (Industry), Conferences & Events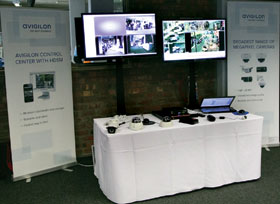 TecSec was another exhibitor at the retail event. TecSec is a specialist, single-brand value-added distributor of both video surveillance and access control equipment from Avigilon in the southern African market. Its administration offices and distribution centre is located in KwaZulu-Natal, but it has a national footprint of sales and technical support services.
Brent Cary, sales director for TecSec, says the company's table was staffed by two key staff members and a support engineer to ensure it was able to answer everyone's questions. Cary says the event went very well for TecSec, the company's exhibition was busy and a high calibre of attendees were present.
As a company focused on the Avigilon product range, a series of cameras that offer very high resolution images, TecSec was able to demonstrate how its cameras can assist retailers in better managing their locations as well as the effective POS integration. All too often retailers find that they want to query a POS transaction, but can't get the video footage that is clear and precise.
Since the Avigilon camera range starts at a 1 megapixel resolution and can rise to as much as 29 megapixels in the top-of-the-range camera, image clarity is not a problem – even when digitally zooming on live or recorded footage.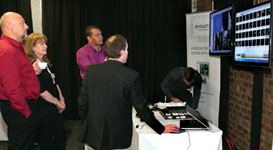 Cary says most surveillance manufacturers don't stray too far above the 5 megapixel resolution range because of the bandwidth required to transmit the video; even with compression it still requires substantial network resources. Avigilon's higher megapixel cameras use the JPEG2000 video compression standard and Avigilon's own High Definition Stream Management (HDSM) to manage the compression and transmission process, allowing for clear images at higher resolutions.
One of the cameras on display that works well in retail POS environments was the HD Micro Dome. These are golf-ball sized devices that can be placed above the POS station and be integrated with the POS system to link each transaction with a video segment. This not only prevents staff fraud, but also protects the retailer from dishonest customers.
Apart from its surveillance solutions, which includes a video management system (VMS) and video analytics (the company bought VideoIQ recently), Avigilon also provides access control solutions as a result of its acquisition of RedCloud. TecSec supports all Avigilon product lines.
For more information contact TecSec Distribution, +27 (0)31 539 4921, brent@tecsec.co.za, www.tecsec.co.za
Further reading:
Surveillance augmented by technology and people
November 2019, Technews Publishing , CCTV, Surveillance & Remote Monitoring, Conferences & Events
iLegal 2019 examined how the surveillance industry is being enhanced through the intelligent integration of the latest technology and the best people have to offer.
Read more...
---
Ten compliance trends in financial institutions
November 2019 , Security Services & Risk Management, Retail (Industry)
Regulatory reporting has grown in profile over the last number of years, with more budget and more employees dedicated to compliance activities than ever before.
Read more...
---
Residential Estate Security Conference 2019
October 2019, Technews Publishing , Editor's Choice, Residential Estate (Industry), Conferences & Events
Hi-Tech Security Solutions hosted the Residential Estate Security Conference in August, focusing on the people, technology and processes involved in an effective security solution for estates.
Read more...
---
IFSEC Europe launches to extend the IFSEC brand
October 2019 , News, Conferences & Events
IFSEC will extend into mainland Europe with the launch of IFSEC Europe, a new biennial security event taking place for the first time on 20-22 September 2021 at RAI Amsterdam Convention Centre.
Read more...
---
Drones and Digital Aviation Conference
October 2019 , News, Conferences & Events
Drones have opened airspaces for everyone in ways that humans had not imagined; to the extent that there is a drone to almost every kind of problem on earth. Drones already have the ability to increase ...
Read more...
---
Shorten your checkout lines to enhance customer experience
September 2019, Hikvision South Africa , Retail (Industry), CCTV, Surveillance & Remote Monitoring
Hikvision's queue detection technology is purpose-built to offer cutting-edge flow analysis to retail outlets and any situation where waiting to pay is required.
Read more...
---
Coffee by IoT
September 2019 , Retail (Industry)
Costa Coffee selects Eseye to help transform the global retail coffee experience by deploying IOT coffee machines to deliver premium quality drinks.
Read more...
---
iLegal 2019: Enhancing and empowering your control rooms
July 2019, Technews Publishing , News, Conferences & Events
iLegal 2019 will be held on 12 September 2019 at The Rosebank Crowne Plaza in Johannesburg. iLegal is the surveillance industry's premier one-day conference hosted jointly by Hi-Tech Security Solutions and Dr Craig Donald.
Read more...
---
Residential Estate Security Conference 2019: Managing for efficiency
July 2019, Technews Publishing , News, Conferences & Events
The Residential Estate Security Conference 2019 will be held on 20 August 2019, once again at the Indaba Hotel in Fourways, Johannesburg.
Read more...
---
Growth for IFSEC International 2019
August 2019 , News, Conferences & Events
Informa Markets announced further growth for the 2019 edition of IFSEC International, FIREX International, Safety & Health Expo and Facilities Show.
Read more...
---