printer friendly version
Integrated risk solutions
March 2015
Integrated Solutions
Established in 2010 by Vince Botha (MD), his sons Jason and Dale, and Robert Kgatle, Ringmaster Security provides integrated electronic, risk, safety and security solutions to medium and large enterprises.
The company is staffed by 14 technicians and engineers and three sales/administration employees, operating out of the company's facilities in Fairlands, Johannesburg. The company offers a quality turnkey security service to the commercial, industrial, retail, residential estates, educational, hospitality and allied industries.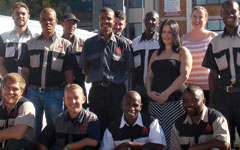 By handling all work in-house, the company is able to attain higher levels of quality management, a philosophy that has seen the business grow and achieve a high degree of customer retention and repeat business. Each member of the team is well versed in their specific areas of responsibility and as needs in the market change, employees are subjected to intensive training to ensure that they are up to date on current trends.
Operational and projects director Jason Botha says that to ensure that all products used by the company on its projects are hand-picked for their specific application, employees receive ongoing product training at supplier facilities. This is complemented by in-house training on design and installation methodologies, which involved exposing the trainees to live test situations to establish their competency levels. Possible shortcomings are identified and addressed immediately.
Botha attributes the company's success to a strict adherence to customer centricity, which sees each project handled in an individualised manner. Comprehensive site visits establish risk identification and this is followed by a design process that encapsulates all possible scenarios within the client environment. Products are selected from a number of reputable suppliers specifically for their ability to achieve maximised operability and sustainability in the given application.
Ringmaster Security has partnered with leading suppliers in South Africa to provide best-of-breed technology suitable for fit-for-purpose solutions. Suppliers include Honeywell-ADI CCTV, access control, fire detection and intrusion detection products; fire and CCTV systems from Bosch SA; access control systems from Impro Technologies; electronics from Regal and Boom Gate Systems access control products. The company is an authorised dealer for Mustek, Pinnsec/Devtrade, Elvey Security Technologies, Graphic Image Technologies and Nemtek as well as a channel partner for Gallagher Security Systems.
The company's fibre division has been incorporated into the overall security offering and demand has increased for the fibre optic backbone provision provided.
The company carries certification for all its major partnerships including Bosch, Impro, Honeywell, Reditron as well as with the FDIA training course for FST10/10139 parts 1 and 2.
"Ringmaster Security takes pride in having developed, documented, and implemented a set of installation and maintenance standards and procedures that ensure our service delivery represents industry best practice," says Botha.
After commissioning is completed the company takes relevant client employees through an extensive training process to ensure that all eventualities are catered for. Troubleshooting of possible future issues are identified and discussed in great detail to ensure that maintenance is minimised.
Maintenance of projects forms a large part of Ringmaster's offering with a standard one-year warranty in place for all clients. Thereafter, a service level agreement is compiled for a further period of time and generally entails quarterly checking and servicing of all installed equipment. As a result of the success of this element of the company's portfolio, the service division is currently in a growth phase.
For more information, contact Ringmaster Security, Jason Botha, +27 (0)11 476 3381, jason@ringmastersecurity.com
Further reading:
Vox expands managed services with Mimecast
October 2019, Vox Telecom , Integrated Solutions
Vox has added Managed Mimecast to its suite of managed service offerings to provide customers with a more effective way of safeguarding their emails against spam and malicious attacks.
Read more...
---
Digitising Maslow's Hierarchy of Needs
October 2019 , Integrated Solutions, IT infrastructure
Mobile technology has the potential to change how Africa approaches patient and healthcare, says Phathizwe Malinga, managing director, SqwidNet.
Read more...
---
Intelligent analytics and the brains to match
September 2019, Bosch Building Technologies , CCTV, Surveillance & Remote Monitoring, Integrated Solutions
What if the brains behind our security cameras could be trained to improve their cognitive ability to pay attention, learn, and problem-solve according to specific rules and situations?
Read more...
---
AI-powered autonomous Drone-in-a-Box
September 2019 , CCTV, Surveillance & Remote Monitoring, Integrated Solutions
Organisations in the mining, energy and industrial, oil and gas, ports and terminals sectors can optimise security and business operations, whilst reducing risks and operational costs
Read more...
---
A platform approach to innovation and value
CCTV Handbook 2019, Technews Publishing , Editor's Choice, CCTV, Surveillance & Remote Monitoring, Integrated Solutions, IT infrastructure
Moving to the platform model of doing business holds tremendous advantages for end users and smaller developers, but also for the whole technology supply chain.
Read more...
---
Open does not always mean easy integration
CCTV Handbook 2019, VERACITECH, Technews Publishing , Editor's Choice, CCTV, Surveillance & Remote Monitoring, Integrated Solutions
Customers who opt for best-of-breed solutions will have to rely on their integrators to develop customised integrated solutions for them.
Read more...
---
Video analytics and AI
CCTV Handbook 2019, Axis Communications SA, Dallmeier Electronic Southern Africa , Hikvision South Africa, Technews Publishing, Dahua Technology South Africa , Editor's Choice, CCTV, Surveillance & Remote Monitoring, Integrated Solutions
Artificial intelligence has the potential to deliver real benefits in the world of video analytics and many companies are already delivering customer benefits.
Read more...
---
Cloudy with a chance of AI
CCTV Handbook 2019 , Editor's Choice, CCTV, Surveillance & Remote Monitoring, Integrated Solutions
One local company has developed an AI solution that can be added to existing surveillance installations, offering 24-hour intelligence.
Read more...
---
Integration insights
CCTV Handbook 2019, Gijima Electronic and Security Systems (GESS), Technews Publishing, neaMetrics , Integrated Solutions
The security industry would be a vastly different place if installers and integrators were not able to make a range of different products work together.
Read more...
---
Video and audio analytics
CCTV Handbook 2019, Wisenet CCTV - Hanwha Techwin , CCTV, Surveillance & Remote Monitoring, Integrated Solutions
Viewing many monitors and cameras simultaneously can lead to an increased probability of missing critical situations due to viewing fatigue. Analytics has the answer.
Read more...
---