printer friendly version
Guard management solutions
1 March 2015 Perimeter Security, Alarms & Intruder Detection, Asset Management, EAS, RFID, News, Products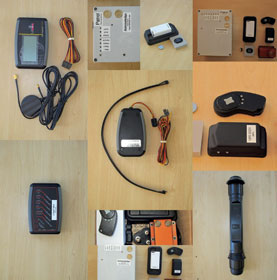 UTrackIT has released a number of products aimed at the perimeter and guard monitoring markets, empowering the 24x7 tracking and monitoring of guards.
MobiGuard
This entry-level tracking module logs all movements of the guard. The MobiGuard device is robust and waterproof. It offers a straightforward, industry-standard tracking solution recording current position and route.
While moving, GPS data is recorded continuously and logged based on speed of travel, as well as having each stop and start logged. Frequent (within the minute) transmission of GPS data allow the route travelled to be followed over the Internet using a PC or mobile phone. Each MobiGuard device has a unique serial number chip to identify each guard. GPS (position) data is stored against this ID so past patrol logs can be accurately reviewed.
When there is no GPS possible (for example when the guard is in a building), the GPS can be complemented by placing RF 'Canaries' at strategic locations. The MobiGuard+ has an embedded reader that reads the canary identity and includes the time the guard passed this physical beacon in the normal patrol logs.
Patrol reports can be configured to provide a 1-page summary of beacon visits and the time spent at each during each patrol. Beacons can be virtual (GPS locations) or physical (canaries).
MobiAlert
MobiAlert is a black box that is pre-programmed with the site patrol schedule and includes a canary RF beacon. The beacon is there to confirm the guard has left the guardhouse, and the schedule sounds an alarm to prompt the guard to go on patrol (first a buzzer, and then a siren if the guard does not acknowledge). MobiAlert has been developed in response to client requests for a prompt to remind the guard to go on patrol, and to act as a dead-man's switch that will sound the siren should the guard be unable to press the acknowledge button.
MobiAlert can be extended to receive motion signals from wireless proximity beams and this allows the guard to be notified of someone approaching when he is not watching – eg. vehicle approaching the gate. It has arm times that allow the siren to be on longer at night (in case he is on patrol), and short (or off entirely) during the day when there will be more traffic. If the use of a siren that could disturb the neighbours is undesirable, then the MobiAlert can switch on a strobe light to bring attention to an alert.
It can be further extended to include a modem that reports if the guard does not press the acknowledge button – a feature included in case he is indisposed (tied up) – and will notify the control room to take action.
For site and perimeter guarding, a visual grid representing patrol points visited by the guard simplifies the analysis of whether patrols have been performed correctly. Activities that require a person to be at a specified location on schedule can be complemented by an optional No-Show SMS to line managers and the control centre, thus freeing up resources as exceptions are highlighted timeously.
The Lithium-Ion rechargeable cell provides for 10 to 14 hours of continuous operation between charging. The unit is sealed at manufacture, a feature made possible by the new 'Qi' charging standard that offers highly efficient, wireless recharging within approximately four hours.
MobiGuard is standard with GPS for satellite positioning and GPRS for data transmission to your UTrackIT asset mapping and route review account.
MobiMinder
The portable MobiMinder has both a canary RF beacon and a panic button. The canaries may be programmed to 'sing' in several instances:
• If the guard presses the button (panic situation).
• If two or more guards are near each other (the MobiMinder will report on both MobiGuards' IDs).
The MobiMinder works hand-in-hand with MobiGuard+ using the communication of the MobiGuard to receive instructions and send reports, proximity, and button-presses. MobiMinder cannot operate without a MobiGuard.
MobiAlert can be programmed depending on customer requirements. These settings include:
• Pre-programmable intervals for guard check-ins.
• Patrol start times (alerts).
• The ability to trigger / switch on a sound bomb to the guard should he have ignored, or be unable, to check in on schedule.
• Be used as an anti-snooze device.
• Interface to wireless infrared motion sensors and set to sing when anyone approaches a location.
• Can also be fitted with a modem that reports every event, providing a complete record in the control centre.
For more information, contact Robert Austin, UTrackIT, 0860 887 225, robert@utrackit.net, www.utrackit.com
Further reading:
Watch your perimeter
Access & Identity Management Handbook 2020 , Perimeter Security, Alarms & Intruder Detection
SqwidNet collaborated with Teqcon, a South African mechanical and electronic design company, to address the problem of perimeter security in remote locations.
Read more...
---
Compact outdoor PIRs
Issue 4 2020 , Perimeter Security, Alarms & Intruder Detection
OPTEX launches ITS QXI series of double-layered, compact outdoor, high-mount PIRs in EMEA.
Read more...
---
In memoriam: Vivienne Caroline Dorrington
Issue 4 2020, Technews Publishing , Editor's Choice, News
19 June 1958 – 21 April 2020
Read more...
---
The end of blind alarms
Issue 3 2020 , Security Services & Risk Management, Perimeter Security, Alarms & Intruder Detection
Today's alarms should be supplemented by visual verification to ensure that guards are not dispatched to false alarms, wasting time and money.
Read more...
---
Pima's Force Series
Issue 3 2020, Technews Publishing , Perimeter Security, Alarms & Intruder Detection
Pima recently launched its latest alarm system, the Force Series into the South African market.
Read more...
---
Thermal products for perimeter protection
Issue 3 2020, Hikvision South Africa , Perimeter Security, Alarms & Intruder Detection
The latest generation of thermal cameras from Hikvision make it faster and easier for small and medium businesses to secure their perimeter.
Read more...
---
MotionProtect outdoor security
Issue 3 2020, Powell Tronics , Perimeter Security, Alarms & Intruder Detection
JAX offers outdoor security through its MotionProtect Outdoor, a motion detector with a two-phase algorithm for protection against false triggering and pet immunity.
Read more...
---
New alarm solutions
Issue 2 2020, Hikvision South Africa , Perimeter Security, Alarms & Intruder Detection
Hikvision has created a broad portfolio of alarm solutions that are sophisticated, automated, and fit for purpose.
Read more...
---
Video and audio convergence
Issue 1 2020, Hikvision South Africa , Perimeter Security, Alarms & Intruder Detection
Hikvision has introduced its video and audio convergence solution to the market, featuring an innovative real-time intrusion deterrent feature.
Read more...
---
Securing perimeters of secure locations
November 2019, Axis Communications SA, Modular Communications, Hikvision South Africa, Nemtek Electric Fencing Products, Technews Publishing, Stafix , Government and Parastatal (Industry), Perimeter Security, Alarms & Intruder Detection, Integrated Solutions
Hi-Tech Security Solutions asked a number of companies offering perimeter security solutions for their insights into protecting the boundaries of national key points.
Read more...
---