printer friendly version
Guard management solutions
1 March 2015 Perimeter Security, Alarms & Intruder Detection, Asset Management, EAS, RFID, News, Products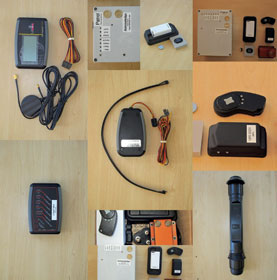 UTrackIT has released a number of products aimed at the perimeter and guard monitoring markets, empowering the 24x7 tracking and monitoring of guards.
MobiGuard
This entry-level tracking module logs all movements of the guard. The MobiGuard device is robust and waterproof. It offers a straightforward, industry-standard tracking solution recording current position and route.
While moving, GPS data is recorded continuously and logged based on speed of travel, as well as having each stop and start logged. Frequent (within the minute) transmission of GPS data allow the route travelled to be followed over the Internet using a PC or mobile phone. Each MobiGuard device has a unique serial number chip to identify each guard. GPS (position) data is stored against this ID so past patrol logs can be accurately reviewed.
When there is no GPS possible (for example when the guard is in a building), the GPS can be complemented by placing RF 'Canaries' at strategic locations. The MobiGuard+ has an embedded reader that reads the canary identity and includes the time the guard passed this physical beacon in the normal patrol logs.
Patrol reports can be configured to provide a 1-page summary of beacon visits and the time spent at each during each patrol. Beacons can be virtual (GPS locations) or physical (canaries).
MobiAlert
MobiAlert is a black box that is pre-programmed with the site patrol schedule and includes a canary RF beacon. The beacon is there to confirm the guard has left the guardhouse, and the schedule sounds an alarm to prompt the guard to go on patrol (first a buzzer, and then a siren if the guard does not acknowledge). MobiAlert has been developed in response to client requests for a prompt to remind the guard to go on patrol, and to act as a dead-man's switch that will sound the siren should the guard be unable to press the acknowledge button.
MobiAlert can be extended to receive motion signals from wireless proximity beams and this allows the guard to be notified of someone approaching when he is not watching – eg. vehicle approaching the gate. It has arm times that allow the siren to be on longer at night (in case he is on patrol), and short (or off entirely) during the day when there will be more traffic. If the use of a siren that could disturb the neighbours is undesirable, then the MobiAlert can switch on a strobe light to bring attention to an alert.
It can be further extended to include a modem that reports if the guard does not press the acknowledge button – a feature included in case he is indisposed (tied up) – and will notify the control room to take action.
For site and perimeter guarding, a visual grid representing patrol points visited by the guard simplifies the analysis of whether patrols have been performed correctly. Activities that require a person to be at a specified location on schedule can be complemented by an optional No-Show SMS to line managers and the control centre, thus freeing up resources as exceptions are highlighted timeously.
The Lithium-Ion rechargeable cell provides for 10 to 14 hours of continuous operation between charging. The unit is sealed at manufacture, a feature made possible by the new 'Qi' charging standard that offers highly efficient, wireless recharging within approximately four hours.
MobiGuard is standard with GPS for satellite positioning and GPRS for data transmission to your UTrackIT asset mapping and route review account.
MobiMinder
The portable MobiMinder has both a canary RF beacon and a panic button. The canaries may be programmed to 'sing' in several instances:
• If the guard presses the button (panic situation).
• If two or more guards are near each other (the MobiMinder will report on both MobiGuards' IDs).
The MobiMinder works hand-in-hand with MobiGuard+ using the communication of the MobiGuard to receive instructions and send reports, proximity, and button-presses. MobiMinder cannot operate without a MobiGuard.
MobiAlert can be programmed depending on customer requirements. These settings include:
• Pre-programmable intervals for guard check-ins.
• Patrol start times (alerts).
• The ability to trigger / switch on a sound bomb to the guard should he have ignored, or be unable, to check in on schedule.
• Be used as an anti-snooze device.
• Interface to wireless infrared motion sensors and set to sing when anyone approaches a location.
• Can also be fitted with a modem that reports every event, providing a complete record in the control centre.
For more information, contact Robert Austin, UTrackIT, 0860 887 225, robert@utrackit.net, www.utrackit.com
Further reading:
Sensing technology powered by NVIDIA
Perimeter Security, Alarms & Intruder Detection
Fotech raises customer confidence and increases accuracy of sensing technology powered by NVIDIA Jetson edge AI platform and TensorRT software.
Read more...
---
AI Box for retail
Retail (Industry) CCTV, Surveillance & Remote Monitoring Products
IDIS AI Box for retail delivers advanced video intelligence, even for smaller stores. The simple add-on gives retailers powerful business insights without the price tag.
Read more...
---
D-TECT 60 external motion detector
Perimeter Security, Alarms & Intruder Detection
New wired detector, which delivers precise and reliable presence detection, furthering GJD's aim to provide reliable human detection systems and intelligent deterrent solutions for the global security market.
Read more...
---
Self-learning AI for existing CCTV systems
Iris AI Editor's Choice CCTV, Surveillance & Remote Monitoring News
Snap Guard is a cloud application that integrates into a property owner's live CCTV feed, working with existing hardware and software, adding an additional layer of security.
Read more...
---
Perimeter and fire protection
Hikvision South Africa CCTV, Surveillance & Remote Monitoring Fire & Safety Perimeter Security, Alarms & Intruder Detection
Hikvision's HeatPro is a new series of thermal cameras designed to provide affordable all-weather deterrent and alerts, aimed at perimeter protection and fire prevention applications.
Read more...
---
Touchless school access control
neaMetrics Suprema Editor's Choice Access Control & Identity Management Integrated Solutions Education (Industry) Products
Wolverhampton Grammar School deployed a Suprema access control solution, integrated with Paxton to resolve its legacy access control challenges.
Read more...
---
Qognify launches Qognify VMS
CCTV, Surveillance & Remote Monitoring Products
Qognify VMS combines enterprise-class video management with advanced cloud capabilities as well as flexible deployment options to meet the specific physical security needs of organisations around the globe.
Read more...
---
The battle of AI and ML in the cybersecurity world
Cyber Security Products
The security industry is using ML/AI in various applications such as tackling huge volumes of malware, detecting spam and business email compromises, analysing network traffic, using facial recognition and more.
Read more...
---
EZVIZ cameras deliver with Ajax
Regal Distributors SA Perimeter Security, Alarms & Intruder Detection
Combined with the Ajax app, EZVIZ cameras give a clear, live view of everything happening in and around the property and are accessible any time, from anywhere.
Read more...
---
Suppression solutions by Technoswitch
Technoswitch Fire Detection & Suppression Fire & Safety Products
Technoswitch supplies an extensive range of trusted fire suppression solutions for various applications.
Read more...
---