printer friendly version
Guard management solutions
1 March 2015 Perimeter Security, Alarms & Intruder Detection, Asset Management, EAS, RFID, News, Products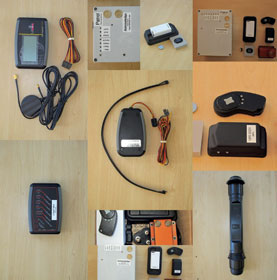 UTrackIT has released a number of products aimed at the perimeter and guard monitoring markets, empowering the 24x7 tracking and monitoring of guards.
MobiGuard
This entry-level tracking module logs all movements of the guard. The MobiGuard device is robust and waterproof. It offers a straightforward, industry-standard tracking solution recording current position and route.
While moving, GPS data is recorded continuously and logged based on speed of travel, as well as having each stop and start logged. Frequent (within the minute) transmission of GPS data allow the route travelled to be followed over the Internet using a PC or mobile phone. Each MobiGuard device has a unique serial number chip to identify each guard. GPS (position) data is stored against this ID so past patrol logs can be accurately reviewed.
When there is no GPS possible (for example when the guard is in a building), the GPS can be complemented by placing RF 'Canaries' at strategic locations. The MobiGuard+ has an embedded reader that reads the canary identity and includes the time the guard passed this physical beacon in the normal patrol logs.
Patrol reports can be configured to provide a 1-page summary of beacon visits and the time spent at each during each patrol. Beacons can be virtual (GPS locations) or physical (canaries).
MobiAlert
MobiAlert is a black box that is pre-programmed with the site patrol schedule and includes a canary RF beacon. The beacon is there to confirm the guard has left the guardhouse, and the schedule sounds an alarm to prompt the guard to go on patrol (first a buzzer, and then a siren if the guard does not acknowledge). MobiAlert has been developed in response to client requests for a prompt to remind the guard to go on patrol, and to act as a dead-man's switch that will sound the siren should the guard be unable to press the acknowledge button.
MobiAlert can be extended to receive motion signals from wireless proximity beams and this allows the guard to be notified of someone approaching when he is not watching – eg. vehicle approaching the gate. It has arm times that allow the siren to be on longer at night (in case he is on patrol), and short (or off entirely) during the day when there will be more traffic. If the use of a siren that could disturb the neighbours is undesirable, then the MobiAlert can switch on a strobe light to bring attention to an alert.
It can be further extended to include a modem that reports if the guard does not press the acknowledge button – a feature included in case he is indisposed (tied up) – and will notify the control room to take action.
For site and perimeter guarding, a visual grid representing patrol points visited by the guard simplifies the analysis of whether patrols have been performed correctly. Activities that require a person to be at a specified location on schedule can be complemented by an optional No-Show SMS to line managers and the control centre, thus freeing up resources as exceptions are highlighted timeously.
The Lithium-Ion rechargeable cell provides for 10 to 14 hours of continuous operation between charging. The unit is sealed at manufacture, a feature made possible by the new 'Qi' charging standard that offers highly efficient, wireless recharging within approximately four hours.
MobiGuard is standard with GPS for satellite positioning and GPRS for data transmission to your UTrackIT asset mapping and route review account.
MobiMinder
The portable MobiMinder has both a canary RF beacon and a panic button. The canaries may be programmed to 'sing' in several instances:
• If the guard presses the button (panic situation).
• If two or more guards are near each other (the MobiMinder will report on both MobiGuards' IDs).
The MobiMinder works hand-in-hand with MobiGuard+ using the communication of the MobiGuard to receive instructions and send reports, proximity, and button-presses. MobiMinder cannot operate without a MobiGuard.
MobiAlert can be programmed depending on customer requirements. These settings include:
• Pre-programmable intervals for guard check-ins.
• Patrol start times (alerts).
• The ability to trigger / switch on a sound bomb to the guard should he have ignored, or be unable, to check in on schedule.
• Be used as an anti-snooze device.
• Interface to wireless infrared motion sensors and set to sing when anyone approaches a location.
• Can also be fitted with a modem that reports every event, providing a complete record in the control centre.
For more information, contact Robert Austin, UTrackIT, 0860 887 225, [email protected], www.utrackit.com
Further reading:
Minimising fire risks in automotive logistics
Hikvision South Africa CCTV, Surveillance & Remote Monitoring Products Logistics (Industry)
Automotive logistics company uses thermal imaging solution from Hikvision to ensure its stores of lithium batteries for electric vehicles never overheat and cause a fire.
Read more...
---
Olarm product highlights for 2022
Olarm Perimeter Security, Alarms & Intruder Detection Products
Olarm rapidly expanded its ecosystem in 2022 with several new products, the launch of its training academy, and a presence in Gauteng.
Read more...
---
Smart home security
Olarm Smart Home Automation Perimeter Security, Alarms & Intruder Detection Products
The applied use of smart technology within the Olarm ecosystem, through smart features coupled with existing systems, extends the benefits of technology into different spheres.
Read more...
---
Smart car parking solution eases traffic flow
Dahua Technology South Africa CCTV, Surveillance & Remote Monitoring Integrated Solutions Products
Ethiopia's first smart parking lot, designed to improve traffic flow and management efficiency, has been built and installed using Dahua Technology's smart parking solutions.
Read more...
---
Deposita's Digitisor SmartPOS devices can grow your business
Deposita Financial (Industry) Asset Management, EAS, RFID
The Digitisor N910 Pro and N700 SmartPOS devices are suited for SMME retailers and suppliers looking to enhance their customer payment experience.
Read more...
---
VMS 7.2 supports the investigation process and adds cloud capabilities
CCTV, Surveillance & Remote Monitoring Integrated Solutions Products
Qognify has launched the second release of its VMS, including extended support for body-worn video, additional functionalities to support investigations, and a new web client architecture. VMS 7.2 addresses the increasing use of body-worn video (BWV) across many sectors.
Read more...
---
Be cautious when receiving deliveries at home
News Perimeter Security, Alarms & Intruder Detection Security Services & Risk Management
Community reports of residents being held up at their gate when collecting fast food deliveries at home are once again surfacing.
Read more...
---
Banks move to lithium battery technology for intruder systems
Uniross Batteries Perimeter Security, Alarms & Intruder Detection
With advances in battery technology, lithium batteries now include a built-in Battery Management System (BMS) to monitor the battery and shut it down should there be a risk of a failure or overheating.
Read more...
---
Future-proofed intrusion detection for retail
Elvey Security Technologies Retail (Industry) Perimeter Security, Alarms & Intruder Detection Products
One of the ongoing challenges that has faced retailers during their adoption of security technology is the issues caused by non-standardisation of technology.
Read more...
---
HS 6040 security X-ray inspection system
Asset Management, EAS, RFID Products
Hissco's HS 6040 DE is a compact, versatile security X-ray machine used in a wide range of applications, and manufactured under strictest ISO 9001:2015 and CE standards.
Read more...
---