printer friendly version
Hikvision protects Indian university
February 2015
CCTV, Surveillance & Remote Monitoring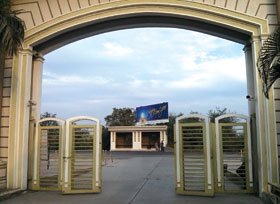 Recently, Hikvision's assistance was enlisted to secure Uka Tarsadia University's newer Maliba Campus in India. First and foremost, the university wanted a solution that would provide a secure environment for the 4200 students and 200 faculty members on campus.
Uka Tarsadia University is located in India's northwestern coastal state of Gujarat. Due to the location, historical footnotes, and other environmental factors, Gujarat is one of India's primary economic hubs. Since Uka Tarsadia University is considered one of this state's élite centres of learning, it was vital for this facility to be safe.
In this vein, Indian-based installer, Master's Mind Technologies, was contacted to help the university:
• Build a state-of-the-art CCTV system.
• Future-proof the solution.
• Provide an easy learning curve for university IT administrators.
• Provide top-shelf support for the solution.
Starting from scratch
Ketan Patel, owner of Master's Mind Technologies, noted, "This solution was unique in the sense that the Maliba Campus was a blank slate – the campus did not have any existing CCTV solution when we began."
Patel explained that generally in large-scale projects such as this, it is often a case of upgrading an existing solution – not building one from scratch. "This presented both opportunities in the calibre of solution we could offer, as well as potential drawbacks. Namely, the costs associated with building a solution from the ground-up and cost of hardware provided."
Ultimately, both Patel and the university's IT department determined that, despite the size, instead of a more economical analogue CCTV system, an IP solution would better serve the university's overall needs. Additionally, it would help future-proof the solution in coming years.
High-Tech components and performance
Due to the massive distances between academic departments and outdoor surveillance points, fibre-optics were run between these locations and connected to each other using PoE switches. While fibre-optics are expensive, multiple PoE switches helped reduce the costs associated with installation. Importantly, this setup allows state-of-the-art video transmission, as well as providing an easy platform for any future upgrades that the university may request.
The lynchpin of the solution is a pair of Hikvision camera models: the DS-2CD2112-I 1.3 MP IP66 Network Mini Dome Camera and the DS-2CD2012-I 1.3 MP IR Mini Bullet Camera.
The DS-2CD2112-I IP66 Network Mini Dome Camera was primarily tasked with the interior of the campus. Patel stated, "This camera's 720p real-time video is much better than analogue, which obviously serves the school's security goals to a higher degree. Furthermore, Hikvision's support really allowed us to customise this camera to our specific needs."
Patel was referring to Hikvision's ability to help modify the camera's lens. Out-of-the-box, the DS-2CD2112-I is equipped with a 4 mm standard lens. This 4 mm lens provides 75° of coverage. However, due to the specific dynamics of many of the school's classrooms, a wider field of coverage was needed. In conjunction with Hikvision engineers, Patel instead placed a 2.8 lens on the DS-2CD2112 to provide 90° of coverage – enough for the entire classroom.
Furthermore, while some indoor facilities are illuminated overnight, the majority of classrooms are not. In this instance, "the up-to 30 m of IR visibility is invaluable for proper surveillance in off-hours," added Patel.
Ironically, outdoors, the vast majority of the environment is illuminated, thus reducing the need for the DS-2CD2012-I 1.3 MP IR Mini Bullet Camera's identical 30 m IR range. However, the unit's 1.3 megapixel high resolution is vital for university IT personnel to quickly identify a possible threat, regardless of time of day. Additionally, the DS-2CD2012-I's IP66 rating is critical to withstand India's notoriously punishing weather conditions.
Citing a need to both reduce the learning curve for the university's IT department (the operators of the CCTV system), as well as reduce costs, Patel used Hikvision's iVMS software to create a PC-based solution. Instead of NVRs, IT administrators are able to view up-to 135 cameras per PC, allowing the entire network to be fully viewed on four PCs.
For more information contact Hikvision, +86 571 8700 6060, wulin@hikvision.com, www.hikvision.com
Credit(s)
Further reading:
Efficient storage for security
Issue 7 2020, Dell EMC , CCTV, Surveillance & Remote Monitoring
There is a dramatic increase in the amount of storage and computing power required to support today's safety and security systems.
Read more...
---
Safe restaurant reopening technology
Issue 7 2020, Dahua Technology South Africa , CCTV, Surveillance & Remote Monitoring
Denmark's Arkaden Food Hall makes use of Dahua People Counting and Flow Control solution for safe reopening.
Read more...
---
Forbatt SA invests in South Africa's security industry
Issue 7 2020, Forbatt SA , CCTV, Surveillance & Remote Monitoring
Forbatt SA is set to offer an improved service to the industry by making sure it has the products and solutions the industry needs, as well as a new showroom.
Read more...
---
Professional device management for the installer/service provider
Issue 7 2020, Hikvision South Africa , Products
Hik-ProConnect is a convergent, cloud-based security solution that helps manage services for your customers and expand your business though subscription services.
Read more...
---
New Hikvision AcuSense solution
Issue 7 2020, Hikvision South Africa , Products
AcuSense series products are aimed to be the ideal choice for accessible and intelligent security systems.
Read more...
---
Cost-effective face recognition terminal
Issue 7 2020, Hikvision South Africa , Products
New face recognition terminal is an access control device integrated with a temperature screening function.
Read more...
---
Analytics with your existing cameras
Issue 7 2020, Secutel Technologies , CCTV, Surveillance & Remote Monitoring
With SecuVue from Secutel Technologies, it is possible for any business to monitor their offices, warehouses or stores remotely, from any part of the world.
Read more...
---
Consolidating control rooms and service delivery within a COVID-19 environment
Issue 6 2020, Leaderware , CCTV, Surveillance & Remote Monitoring
It is essential to have informed, coordinated and professional responses within control rooms at this time of increasing turmoil.
Read more...
---
Technology driving the healthcare industry
Issue 6 2020, Duxbury Networking , CCTV, Surveillance & Remote Monitoring
Seeing cameras as sensors opens up new possibilities, and each one of them responds to typical demands inside a hospital, clinic or nursing home.
Read more...
---
Turn cameras into traffic sensors
Issue 6 2020, Duxbury Networking , CCTV, Surveillance & Remote Monitoring
Safer communities and cities are achieved through a mixture of technology and human resources, working together in a holistic manner.
Read more...
---