printer friendly version
3M passive fire protection
February 2015
Fire & Safety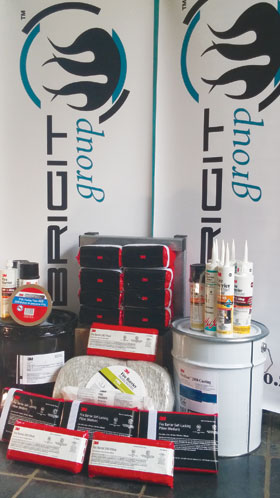 Every year, building fires kill or injure thousands of people, damage vital equipment and destroy billions of rands worth of property. The purpose of passive fire protection/firestopping is to help contain a fire where it originates by preventing the spread of flames, smoke and toxic gases, in order to save lives and protect property.
75% of all fire related deaths are caused by smoke inhalation and approximately 57% of people killed in fires are not in the room of the fire's origin. A balanced approach to fire protection uses all available tools to improve fire safety. Education, containment, detection and suppression, used together, help to provide a fire safe environment.
There are three main reasons why passive fire protection is so important in today's growing industries:
1. To protect the lives of people.
2. Protection of valuable equipment and property.
3. To minimise downtime and ensure continuity of operations, limiting the impact on business operations when fire does occur.
Fire will always travel through the path of least resistance, such as an unprotected opening in a floor or wall. Proper installation of passive fire protection helps to restrict the movement of fire, smoke and toxic gases into adjacent areas and ensures that the integrity of the room stays intact, especially in areas protected by gas suppression systems. All fire rated construction types are designed for a specific hourly rating (F-Rating). In general, when choosing a firestop system, its hourly rating must be equal to that of the fire rated construction type.
Passive fire protection has three main types of application.
• Through Penetration Systems – Openings in walls, floors or floor/ceilings through which a penetrating (eg, pipe or cable) item is passed.
• Construction Joint Treatment Systems – Linear openings in or between adjacent fire-rated assemblies (typically Joints designed to allow independent movement of the building).
• Flexible Wrap Systems – Used to protect grease, chemical and ventilation air ducts, plenums, structural steel and electrical circuitry.
As the distributor of all 3M fire containment products, Brigit Group of Companies offers a wide range of fire rated sealants, putties, penetration and cast-in devices, pillows, paints and flexible wraps for all types of passive fire protection requirements. Many of the sealants are silicone based and offer additional resistance form water and moisture.
The 3M passive fire protection products use the latest technologies when it comes to firestopping. The intumescent products (sealants, putties, pillows, paints etc.) are designed to expand when exposed to heat, (as much as 25 times in volume) forming a high-strength, insulating, fire-resistive char. The 3M Interam E-Mat uses endothermic technology, designed to release chemically bound molecules of water when exposed to heat. Ablative technology (materials designed to absorb heat and form a hard char with thermal insulation characteristics to help seal voids when exposed to heat) as well as insulative technology (provides a barrier against heat and fire, thus helping to maintain and protect the assembly) is used in all 3M flexible wrap systems.
For more information contact Brigit Fire, +27 (0)87 754 5323, [email protected]
Credit(s)
Further reading:
Workplace fire detection: early warning is key
Fire & Safety
Workplace fire detection systems should be correctly installed and regularly tested to ensure they provide proper cover and are able to assist staff members to safely escape and alert you before a fire becomes an inferno.
Read more...
---
Fire safety in financial organisations
Financial (Industry) Fire & Safety
The data that drives modern finance is physically stored and processed by banks of equipment in cabinets where they give off a significant amount of heat as a side effect to their furious electronic activity.
Read more...
---
ZYTEQ Fire offers EN54 certified range
ZYTEQ Fire Fire & Safety
Cape Town-based ZYTEQ Fire, a manufacturer and supplier of electronic fire detection equipment, offers a range of addressable, conventional and extinguishing equipment that is certified in Europe to the EN54 standards.
Read more...
---
Technoswitch appointed as FST distributor
Technoswitch Fire Detection & Suppression News Fire & Safety
Technoswitch's appointment as a distributor for the Fire & Security Techniques (FST) range of fire suppression solutions forms part of the company's strategic plan to expand its range of suppression solutions.
Read more...
---
Perimeter and fire protection
Hikvision South Africa CCTV, Surveillance & Remote Monitoring Fire & Safety Perimeter Security, Alarms & Intruder Detection
Hikvision's HeatPro is a new series of thermal cameras designed to provide affordable all-weather deterrent and alerts, aimed at perimeter protection and fire prevention applications.
Read more...
---
Integrated fire protection for mines
FS Systems Fire & Safety
A recent installation of the latest fire detection and gas suppression technologies with custom integrations into the Mining Fire Control Network, was completed by the FS Group in 14 E-Houses for a mining client in West Africa.
Read more...
---
Suppression solutions by Technoswitch
Technoswitch Fire Detection & Suppression Fire & Safety Products
Technoswitch supplies an extensive range of trusted fire suppression solutions for various applications.
Read more...
---
ORYX conventional fire panel range update
Technoswitch Fire Detection & Suppression Fire & Safety
Technoswitch recently added the redesigned ORYX repeater panel range to its second-generation ORYX conventional fire panel range. The repeater panels offer control functionality with silence buzzer, silence alarm, sound alarm and reset buttons.
Read more...
---
EN54-4 certified power supplies
Technoswitch Fire Detection & Suppression Fire & Safety
The Technoswitch EN54-4 certified range of power supplies deliver additional built-in performance features that most others fail to provide. These features ensure that the PSUs provide reliable power and continuously monitor total performance.
Read more...
---
Five things you can do for workplace fire safety
Fidelity Services Group Fire & Safety
Any responsible business owner or office manager should be concerned about workplace fire safety and whether or not there are enough preventative measures to avoid an emergency.
Read more...
---