printer friendly version
3M passive fire protection
February 2015
Fire & Safety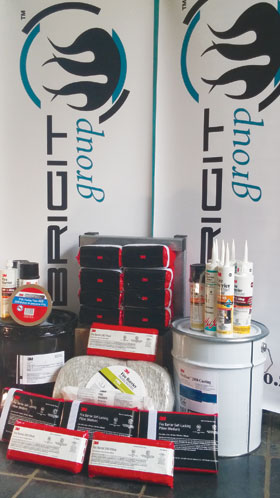 Every year, building fires kill or injure thousands of people, damage vital equipment and destroy billions of rands worth of property. The purpose of passive fire protection/firestopping is to help contain a fire where it originates by preventing the spread of flames, smoke and toxic gases, in order to save lives and protect property.
75% of all fire related deaths are caused by smoke inhalation and approximately 57% of people killed in fires are not in the room of the fire's origin. A balanced approach to fire protection uses all available tools to improve fire safety. Education, containment, detection and suppression, used together, help to provide a fire safe environment.
There are three main reasons why passive fire protection is so important in today's growing industries:
1. To protect the lives of people.
2. Protection of valuable equipment and property.
3. To minimise downtime and ensure continuity of operations, limiting the impact on business operations when fire does occur.
Fire will always travel through the path of least resistance, such as an unprotected opening in a floor or wall. Proper installation of passive fire protection helps to restrict the movement of fire, smoke and toxic gases into adjacent areas and ensures that the integrity of the room stays intact, especially in areas protected by gas suppression systems. All fire rated construction types are designed for a specific hourly rating (F-Rating). In general, when choosing a firestop system, its hourly rating must be equal to that of the fire rated construction type.
Passive fire protection has three main types of application.
• Through Penetration Systems – Openings in walls, floors or floor/ceilings through which a penetrating (eg, pipe or cable) item is passed.
• Construction Joint Treatment Systems – Linear openings in or between adjacent fire-rated assemblies (typically Joints designed to allow independent movement of the building).
• Flexible Wrap Systems – Used to protect grease, chemical and ventilation air ducts, plenums, structural steel and electrical circuitry.
As the distributor of all 3M fire containment products, Brigit Group of Companies offers a wide range of fire rated sealants, putties, penetration and cast-in devices, pillows, paints and flexible wraps for all types of passive fire protection requirements. Many of the sealants are silicone based and offer additional resistance form water and moisture.
The 3M passive fire protection products use the latest technologies when it comes to firestopping. The intumescent products (sealants, putties, pillows, paints etc.) are designed to expand when exposed to heat, (as much as 25 times in volume) forming a high-strength, insulating, fire-resistive char. The 3M Interam E-Mat uses endothermic technology, designed to release chemically bound molecules of water when exposed to heat. Ablative technology (materials designed to absorb heat and form a hard char with thermal insulation characteristics to help seal voids when exposed to heat) as well as insulative technology (provides a barrier against heat and fire, thus helping to maintain and protect the assembly) is used in all 3M flexible wrap systems.
For more information contact Brigit Fire, +27 (0)87 754 5323, deon@brigit.co.za
Credit(s)
Further reading:
Avenar fire alarm panels
Issue 7 2020, Bosch Building Technologies , Fire & Safety
Avenar panel 2000 and 8000 are new fire alarm panel platforms offer connectivity and scalability from small to large-sized installations.
Read more...
---
Linear heat detection under difficult conditions
Issue 5 2020, Technoswitch , Fire & Safety
Securiton's SecuriHeat ADW535 linear heat detector prevails where conventional fire detectors reach their physical limits.
Read more...
---
High-precision aspirating smoke detectors
Issue 5 2020, Technoswitch , Fire & Safety
The SecuriSmoke ASD range by Securiton offers three VdS approved models and makes the lightning-fast detection of fires both scalable and cost-effective for any area.
Read more...
---
Competency in the fire industry
Issue 5 2020, FDIA (Fire Detection Installers Association) , Fire & Safety
Persons who design, commission, install or service fire protection equipment or systems should have the required level of competence for the task they perform.
Read more...
---
Public address/voice alarm partnership
Issue 5 2020, Johnson Controls Global Products , Fire & Safety
Johnson Controls customers now have single-source access to a complete line of fire detection products, including high-quality PA/VA systems.
Read more...
---
Hochiki Europe's L@titude system distributed by XtraVision
Issue 5 2020, XtraVision , Fire & Safety
Hochiki Europe's L@titude range of fire alarm control is both sophisticated, yet simple to use.
Read more...
---
Hochiki shines a light on luxury
Issue 5 2020, XtraVision , Fire & Safety
Luxury hotel chooses fire safety equipment from Hochiki as part of extension and restructuring works.
Read more...
---
Self-test for fire alarms
Issue 4 2020, Johnson Controls Global Products , Fire & Safety
Johnson Controls notification appliance self-test technology receives UL Verification Mark.
Read more...
---
New FireClass addressable fire alarm panels
Issue 4 2020, Johnson Controls Global Products , Fire & Safety
Johnson Controls has introduced two new FireClass addressable fire alarm panels, the FC702 and FC708, to its range of fire detection solutions.
Read more...
---
University of Sudan tackles heat and dust with life safety solutions
Issue 4 2020, Hochiki Europe , Fire & Safety
To guarantee the safety of students, staff and visitors, Sudan University chose fire safety devices from Hochiki with the ability to withstand the harsh Sudanese environment.
Read more...
---