printer friendly version
Counterfeit credentials are killing our country
February 2015
Security Services & Risk Management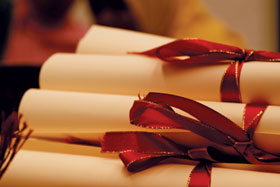 The fish rots from the head, declares that ancient Chinese proverb. If it's true that the buck starts and ends in the boardroom, it's little wonder that more shameful revelations have emerged from deep within the seemingly shameless public broadcaster.
Hlaudi Motsoeneng just can't seem to shake off that pesky bunch at the DA, who seem hell-bent on having him permanently dethroned as chief operating officer at the SABC. He's still fighting that potential suspension tooth-and-nail. This is after the formation of a Hlaudi Motsoeneng Coalition earlier this year, which cited Public Prosecutor Thuli Madonsela as a messenger of the DA, contracted to spearhead its "mischievous political agendas".
The latest in a scandal, with more twists and turns than a Hollywood thriller, is the emergence of a former SABC HR employee, who was allegedly offered two million big ones, if she agreed to testify that she knew nothing of his non-existent matric certificate. If you've managed to keep up with the drama, you may recall that Motsoeneng has been accused of improper conduct, abuse of power and maladministration – all topped with a whopping annual salary increase just shy of R1 million. Then in September, the DA exposed SABC board chairperson, Ellen Tshabalala, after she was unable to produce her BCom and Post Graduate Degrees, which she never obtained from the University of South Africa (UNISA).
While the bosses do as they please, so do the minions. An SABC HR officer has just pleaded guilty to fraud after being found with her hand in the biscuit tin. This sassy swindler managed to fake the signatures of more than 30 of her fellow colleagues, who were all meant to receive Kruger Rands from the SABC as rewards for long service. Rather than hand over the coins, she became a handwriting expert, signed for their receipt and sold the gold for cash. Apparently the SABC is "delighted" by the guilty plea and hopes to get its money back.
We've seen a deluge of these cases, as well as the fake qualification scandals involving so-called high profile individuals, play out over the past year. It almost seems as if it's been overlooked that someone who has lied about their qualifications is due to receive a charge of fraud. This type of lie is indeed perjury – a criminal offence.
There's even an entire underground industry, dedicated to supplying fake qualification documents. Just last week I almost obtained a professional engineering qualification. All I needed to do was pay some 300 dollars to receive my certificate, signed by Dr Al Abaji and bestowed by the Gulf Engineering Association.
While we can do little but watch in horror as some of our most troubled parastatals face collapse, in no small part due to a cascade of fraud and corruption, we do not have to accept the same type of unacceptable behaviour in the private sector.
The debate rages on about the validity of experience versus qualifications. No one is going to dispute that an employee who has spent many years in the trenches may be just as much, if not in some cases, even more competent than a fresh-faced graduate. But that's not really the point. An employer has every right to set the requirements of the position, to see the physical qualifications that an applicant claims to have, and every right to verify the authenticity of these documents. There's just been far too much evidence of what can happen when power gets into the wrong and woefully unqualified hands.
Credit(s)
Further reading:
Industrialisation or imperialism?
Issue 7 2020 , Security Services & Risk Management
4IR has to be a matter of national agenda; national economic and political sovereignty and national security - necessitating commensurate prioritisation.
Read more...
---
PCI DSS can be your PoPIA security blueprint
Issue 6 2020, Galix Group , Security Services & Risk Management
Some of the requirements of PCI DSS can also be used to comply with PoPIA, South Africa's data privacy law.
Read more...
---
Monopoly: AI edition
Issue 6 2020 , Security Services & Risk Management
Due to the inherent nature of artificial intelligence (AI), AI-powered industries naturally tend towards monopolisation.
Read more...
---
eVisa solutions for Botswana
Issue 6 2020 , Security Services & Risk Management
Travelers to Botswana will soon be able to complete visa applications online and ease their entry into the country.
Read more...
---
Three steps to kick-start POPIA compliance
Issue 6 2020 , Security Services & Risk Management
Complying with data privacy, security laws and regulations can be a daunting task for any organisation.
Read more...
---
Leaders in risk and security: As long as there are people, there will be risk
Issue 5 2020, iFacts, Technews Publishing , Editor's Choice
Jenny Reid is a self-made success, focusing on people, the risks they create and the potential they have.
Read more...
---
Mitigating the human risk
Issue 5 2020, Managed Integrity Evaluation, Technews Publishing, iFacts , CCTV, Surveillance & Remote Monitoring
Hi-Tech Security Solutions asked Jennifer Barkhuizen and Jenny Reid for some information around background screening and vetting of potential new hires.
Read more...
---
Digital evidence handling in the cloud
Issue 5 2020 , Security Services & Risk Management
Investigate Xpress is a free, cloud-based digital evidence management solution designed to make police forces more efficient and productive.
Read more...
---
The evolution of security in residential estates
Residential Estate Security Handbook 2020 , Editor's Choice, Integrated Solutions, Security Services & Risk Management
Two large estates discuss their security processes and the ever-expanding scope of responsibilities they need to fulfil.
Read more...
---
Bang for your security buck(s)
Residential Estate Security Handbook 2020, Alwinco , Editor's Choice, Security Services & Risk Management
Hi-Tech Security Solutions asks how estates can maintain a good security posture in the time of the ever-shrinking budget.
Read more...
---