printer friendly version
The changing face of security threats
February 2015
CCTV, Surveillance & Remote Monitoring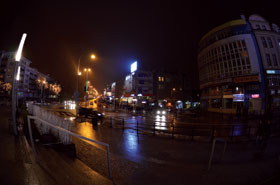 The United Nations estimates that the urban population of emerging economies will surpass the rural population in 2020, and that around 70% of the world's population will live in cities by 2050.
This concentration of people and critical infrastructure creates new demands, and presents new challenges on how to maintain an acceptable level of security and public safety. Technology and experience are critical in meeting these demands, as well as the challenges that lie ahead.
Our view on how to make society safer, changed dramatically based on the terror that occurred around the world during the first decade of the 21st century. We realised that modern day threats tend to be less obvious than before and are constantly changing. We also learned that societies are sometimes not agile enough to prevent or respond to situations that can seriously affect our communities. In order to counter these threats, we need integrated solutions that cut across all stakeholder groups to dramatically enhance and improve response time and actions in security and safety incidents. These solutions need to be reliable, scalable and flexible, and should facilitate both centralised and remote control of operations. This concept is referred to as Safe Cities.
Safe Cities improves the safety and security of citizens and protects critical infrastructure by having the right resources in the right place in time. This is achieved through optimised operations and improved coordination between police, ambulance, fire, disaster management and traffic management services. Paramount to this is the exchange of mission-critical information between the various stakeholders to ensure a common operational picture.
Saab Grintek Defence (SGD) offers two advanced integration platforms that support the concept of Safe Cities, namely SAFE (Situational Awareness For Enhanced security) and TactiCall. These technologies can be used to integrate existing as well as new security systems, into one coherent system that offers maximum flexibility and a future-proof solution. The service oriented architecture of SAFE and TactiCall makes the solution scalable and independent of any vendor, product or technology.
SAFE is a command, control and communication system for mission-critical operations. The solution is designed to provide superior situational awareness, managing both day-to-day tasks, as well as major incidents. It connects the various systems and resources, making sure that all necessary information is accessible at all times, through the entire workflow. A SAFE-based system enables any type of operation to optimise the use of resources and time, whilst increasing the level of security and safety. It allows for all areas of public safety or other parts of society, to work together seamlessly and in a controlled manner.
TactiCall is built on Voice over Internet Protocol (VoIP) technology and connects all voice and data communication platforms and networks into one, easy to operate communication solution. The system gives security personnel complete control of, and fast access to, all communication networks so that joint operations between the various stakeholders can be facilitated. It allows everybody to reach each other, regardless of the equipment being used.
SAFE and TactiCall are deployed in various configurations, including applications running on mobile devices (e.g. smart phones, touchpads, etc.); first responder vehicles with video surveillance; and command & control capabilities, mobile command centres and operations centres. Through this it is possible to manage fixed and mobile resources, either centrally or remotely. This capability can be further enhanced through the addition of a Skeldar Unmanned Aerial System (UAS).
The Skeldar UAS is a short- to medium-range rotary-wing solution that provides real-time video footage to operations centres. The advantages of a rotary wing design over a fixed wing design is that it can take off and land vertically, manoeuvre with accuracy in tight airspace, hover in the air for hours and avoid dead angles. Since its operation is fully autonomous, the Skeldar UAS enables the police, emergency management services, disaster management services and traffic management services to survey larger areas and gather the vital information they need – without putting their crew at risk.
For more information contact Anne Lewis-Olsson, Saab Grintek Defence, +27 (0)71 681 0429, www.saabgroup.com
Further reading:
Efficient storage for security
Issue 7 2020, Dell EMC , CCTV, Surveillance & Remote Monitoring
There is a dramatic increase in the amount of storage and computing power required to support today's safety and security systems.
Read more...
---
Safe restaurant reopening technology
Issue 7 2020, Dahua Technology South Africa , CCTV, Surveillance & Remote Monitoring
Denmark's Arkaden Food Hall makes use of Dahua People Counting and Flow Control solution for safe reopening.
Read more...
---
Forbatt SA invests in South Africa's security industry
Issue 7 2020, Forbatt SA , CCTV, Surveillance & Remote Monitoring
Forbatt SA is set to offer an improved service to the industry by making sure it has the products and solutions the industry needs, as well as a new showroom.
Read more...
---
Analytics with your existing cameras
Issue 7 2020, Secutel Technologies , CCTV, Surveillance & Remote Monitoring
With SecuVue from Secutel Technologies, it is possible for any business to monitor their offices, warehouses or stores remotely, from any part of the world.
Read more...
---
Consolidating control rooms and service delivery within a COVID-19 environment
Issue 6 2020, Leaderware , CCTV, Surveillance & Remote Monitoring
It is essential to have informed, coordinated and professional responses within control rooms at this time of increasing turmoil.
Read more...
---
Technology driving the healthcare industry
Issue 6 2020, Duxbury Networking , CCTV, Surveillance & Remote Monitoring
Seeing cameras as sensors opens up new possibilities, and each one of them responds to typical demands inside a hospital, clinic or nursing home.
Read more...
---
Turn cameras into traffic sensors
Issue 6 2020, Duxbury Networking , CCTV, Surveillance & Remote Monitoring
Safer communities and cities are achieved through a mixture of technology and human resources, working together in a holistic manner.
Read more...
---
Mobotix thermal technology increases security
Issue 6 2020, Duxbury Networking , CCTV, Surveillance & Remote Monitoring
Installations, machinery, equipment and material available on company premises require effective and cost-efficient protection. In addition, operational safety, optimisation of workflows and protection ...
Read more...
---
Getting a visual on Covid-19 screening
Issue 6 2020, Graphic Image Technologies , CCTV, Surveillance & Remote Monitoring
Should organisations be investing in thermal camera technology to simply contain and limit the spread of the virus?
Read more...
---
Flexible temperature screening options for challenging times
Issue 6 2020, Hikvision South Africa , CCTV, Surveillance & Remote Monitoring
A thermal imaging camera is an effective screening device for detecting individuals with elevated skin temperature. This type of monitoring can provide a rapid screening approach in high-traffic areas.
Read more...
---