printer friendly version
CBD surveillance requires effective storage
February 2015
CCTV, Surveillance & Remote Monitoring
The increasing crime rates in South Africa as highlighted with the recent 2014 report on South African Crime Statistics has made closed circuit television (CCTV) a crucial component to combating crime in many of the major city and central business districts (CBD). Digital recording has become the new recording standard and IP-based CCTV networks are now the platform for many of these surveillance solutions. However, if security personnel are unable to retrieve recorded footage in order to review incidents, these initiatives can fall flat and perpetrators potentially walk free.
While making use of CCTV surveillance to deal with crime in its many forms, one aspect of the solution is often overlooked. The users often invest much time in researching the best cameras and digital video recorders (DVRs) or network video recorders (NVRs) without considering the need for an appropriate hard drive that is engineered to work in a surveillance environment. The hard drive is a core component of the DVR or the NVR and can render a surveillance solution useless if it fails. A standard desktop drive is simply not designed to handle a surveillance environment, and could cause failure and a number of other reliability-related problems. Using the right hard drive for the job is therefore critical.
Desktop drives just aren't enough
Standard desktop hard drives are designed to work with standard desktops and as such, are manufactured to operate for approximately eight to ten hours a day, five days a week – standard office hours. CCTV solutions, in particular CBD surveillance systems need to run 24 hours a day, seven days a week, 365 days a year, and must record multiple simultaneous video streams from multiple cameras. A standard desktop hard drive will not suffice. If the drive fails, this usually results in the brand name being unfairly tarnished.
Premature failure of the drive is the most common problem with using a desktop drive in a high-demand environment such as CCTV. This means that crucial footage is not available to review and renders the solution useless. For CBD surveillance, this could result in the perpetrator of the crime not being caught or convicted.
In addition, using the incorrect hard drive in a CCTV solution can cause a number of performance issues. These include missing video during playback, slow or jittery playback, and numerous problems with the DVR or NVR including failure to operate correctly and random restarting. In a CBD surveillance environment, hard drives need to run cooler and more quietly, and they must incorporate advanced technology designed specifically for a demanding, always-on environment.
The right hard drive for the job
Fortunately, new developments in hard drive technology have resulted in the enhancement of tailor-made, fit-for-purpose surveillance system hard drives that are optimised for video surveillance applications. These drives – built for the purpose of recording multiple surveillance feeds – deliver consistent processing 24 hours a day, without losing valuable footage, or being affected by temperature changes or equipment vibrations.
They also tend to last for a longer period of time than desktop drives that have been retrofitted into a surveillance system. Some of the very latest innovations in this field feature capabilities that temporarily cache video feeds – to further ensure excellent dataflow and playback performance. No more lost frames or jittery performance issues.
What this ultimately means, is that the DVR or NVR unit can consistently and reliably record the surveillance footage from multiple cameras, without even a second of the video being lost. This is critical when considering that frame losses and jitters can mean the difference between finding and convicting perpetrators in the case of theft, and them walking free.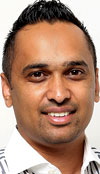 Kalvin Subbadu
Furthermore, with the uptake of high definition (HD) cameras, we are seeing higher capacities becoming available. This is necessary when we consider that four HD cameras require at least 16.5 terabytes (TB) of capacity on order to save footage for approximately 30 days. This is more than six times greater than the requirements of four standard-definition cameras.
Specially-designed surveillance hard drives of course make it possible to process and record high-definition video feeds. Again, in cases where one needs the right forensic evidence to secure a conviction against a perpetrator, having a higher resolution video becomes an invaluable tool. Finally, there are other advantages inherent in some surveillance drives such as reduced power and cooling requirements, acoustics (quietness), and portability.
Choosing the right video surveillance hardware and systems means investing in the protection of one's home, one's family, or keeping the streets of your city safe. As users tend to add more cameras, and higher-quality resolution feeds, it becomes important to choose the drive that will last for a number of years.
For more information contact WD, +27 (0)83 277 7634, kalvin.subbadu@wdc.com
Further reading:
Efficient storage for security
Issue 7 2020, Dell EMC , CCTV, Surveillance & Remote Monitoring
There is a dramatic increase in the amount of storage and computing power required to support today's safety and security systems.
Read more...
---
Safe restaurant reopening technology
Issue 7 2020, Dahua Technology South Africa , CCTV, Surveillance & Remote Monitoring
Denmark's Arkaden Food Hall makes use of Dahua People Counting and Flow Control solution for safe reopening.
Read more...
---
Forbatt SA invests in South Africa's security industry
Issue 7 2020, Forbatt SA , CCTV, Surveillance & Remote Monitoring
Forbatt SA is set to offer an improved service to the industry by making sure it has the products and solutions the industry needs, as well as a new showroom.
Read more...
---
Analytics with your existing cameras
Issue 7 2020, Secutel Technologies , CCTV, Surveillance & Remote Monitoring
With SecuVue from Secutel Technologies, it is possible for any business to monitor their offices, warehouses or stores remotely, from any part of the world.
Read more...
---
Consolidating control rooms and service delivery within a COVID-19 environment
Issue 6 2020, Leaderware , CCTV, Surveillance & Remote Monitoring
It is essential to have informed, coordinated and professional responses within control rooms at this time of increasing turmoil.
Read more...
---
Technology driving the healthcare industry
Issue 6 2020, Duxbury Networking , CCTV, Surveillance & Remote Monitoring
Seeing cameras as sensors opens up new possibilities, and each one of them responds to typical demands inside a hospital, clinic or nursing home.
Read more...
---
Turn cameras into traffic sensors
Issue 6 2020, Duxbury Networking , CCTV, Surveillance & Remote Monitoring
Safer communities and cities are achieved through a mixture of technology and human resources, working together in a holistic manner.
Read more...
---
Mobotix thermal technology increases security
Issue 6 2020, Duxbury Networking , CCTV, Surveillance & Remote Monitoring
Installations, machinery, equipment and material available on company premises require effective and cost-efficient protection. In addition, operational safety, optimisation of workflows and protection ...
Read more...
---
Getting a visual on Covid-19 screening
Issue 6 2020, Graphic Image Technologies , CCTV, Surveillance & Remote Monitoring
Should organisations be investing in thermal camera technology to simply contain and limit the spread of the virus?
Read more...
---
Flexible temperature screening options for challenging times
Issue 6 2020, Hikvision South Africa , CCTV, Surveillance & Remote Monitoring
A thermal imaging camera is an effective screening device for detecting individuals with elevated skin temperature. This type of monitoring can provide a rapid screening approach in high-traffic areas.
Read more...
---