printer friendly version
Paxton donates IT equipment to Computers 4 Africa
February 2015
News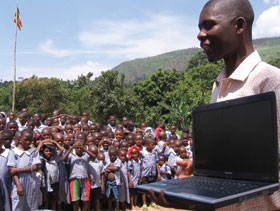 The Paxton Group, the electronic access control and door entry solutions company, now donates IT equipment to Computers 4 Africa, a charity that equips children with the necessary skills to work in a global environment. It does this by supplying computers to those that would otherwise not have the opportunity to use, or access a computer whilst at school.
The company hopes that by donating unused IT equipment it is supporting the charity's drive of making a very real difference to the lives of African school children. At this exact moment there are 345 500 children in Africa using a PC donated by the charity and 1.45 million children in over 23 African countries, including Tanzania, Ethiopia and Zimbabwe, who have access to IT thanks to Computers 4 Africa.
Paxton launched in South Africa earlier this year. Education is strongly ingrained in Paxton's ethos; it invests significantly in the free training and education of its installers worldwide. Having spent time integrating and immersing in the country, the company decided to give something back so sought a pro-active and relevant approach to engage with the community.
The process for donating couldn't be simpler. Computers 4 Africa receive working computers through collections and local donations from around the UK. The donated equipment is then data-wiped and refurbished, before being sent to schools, colleges and selected community projects across Africa.
Sharon Roberts, head of marketing at Computers 4 Africa, said, "To have Paxton's support and ongoing relationship is highly encouraging; the equipment donated to date will be life changing to over 1464 children who will benefit from these computers and IT equipment. This impressive display of reuse and repurposed computers will be used to empower students and young people, increasing their options for careers with the opportunity to earn in excess of three times the national average, lives will be changed forever."
Dan Drayton, Paxton sales manager, said, "After a year in South Africa we really wanted to give something back to the community. At Paxton education is key and Computers 4 Africa has provided us with the opportunity to donate IT equipment to those with limited or no access to computers during their education. It is a brilliant charity with a valuable mission, and it is our pleasure to support them."
To find out more about donating to Computers 4 Africa please visit www.computers4africa.org.uk
Further reading:
New hires at iPulse
Issue 7 2020, iPulse Systems , News
iPulse has welcomed two new employees into its ranks. Shai Weil has been appointed as operations director, while Corneli Botha is the new customer sales liaison.
Read more...
---
HID Global acquires Access-IS
Issue 7 2020, HID Global , News
HID Global acquires provider of miniaturised reader devices that combine key technologies for mission-critical markets.
Read more...
---
Securing digital transformation
Issue 7 2020 , News
Schneider Electric partners with Fortinet to strengthen ability to secure operations across the business lifecycle and unlock the advantages of a secure IIoT.
Read more...
---
Suprema integrates with Paxton's Net2 access control
Issue 7 2020, Suprema , News
Suprema has announced it has integrated its devices with Paxton's access control system, Net2.
Read more...
---
Free cybersecurity courses
Issue 7 2020 , News
Check Point Software partners with Harvard and MIT-founded edX to deliver free online courses to help close the cybersecurity skills gap.
Read more...
---
Fidelity partners with Auto & General Insurance
Issue 7 2020, Fidelity Security Group , News
Fidelity Services Group in partnership with Auto & General Insurance has launched Fidelity InSure, a comprehensive vehicle, home, and building insurance offering.
Read more...
---
More apps for open camera OS
Issue 7 2020 , News
The App Challenge will result in 21 new apps running on the Security & Safety Things' camera OS, based on the Android Open Source Project.
Read more...
---
Milestone Systems announces Thomas Jensen as new CEO
Issue 7 2020, Milestone Systems , News
Milestone Systems announced that its board of directors has appointed Thomas Jensen as chief executive officer. Jensen will assume the role on October 1, 2020.
Read more...
---
Suprema announces its first virtual event
Issue 7 2020, Suprema , News
Suprema will be hosting its first virtual event, Suprema Connect 2020, which is scheduled to take place over one month from September 15.
Read more...
---
From the editor's desk: Waiting for PoPI
Issue 7 2020, Technews Publishing , News
A while ago we heard of yet another cyber breach, this time from Experian.
Read more...
---