printer friendly version
Local barrier cuts cost without cutting security
February 2015
News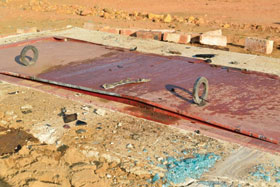 While most people are focused on the technology aspects of security, the latest cameras and other technologies, there is still a need for security equipment that physically prevents intrusions and acts of violence and terrorism.
Many businesses and government organisations are equipped with barriers of various kinds that act as measures to keep unwanted vehicles out – or in, as is the case with spikes we often see at paid-for parking locations. Bollards are also becoming a common site in many cities, especially to protect embassies and so forth from vehicular attacks.
Anti-ram barriers are not as commonly seen, but these are also used in sensitive sites and are able to stop cars and trucks travelling at high speeds. The problem with these barriers is their cost. There are no cheap solutions if your installation needs barrier protection.
A South African company, Spider Wire, has come up with a locally designed and developed solution that reduces the cost of anti-ram barrier protection substantially. Dean Lazarus, director of Spider Wire explains that the barrier costs up to 80% less than traditional barriers. It can be installed at control points at embassies, shopping centres, casinos, high security infrastructure, police stations, military and naval facilities, power grids etc.
The reason for the lower cost is that the Spider Wire barrier is raised and lowered using a pulley system, with a maximum of three seconds required to raise the barrier in the event of an alarm. It can also be installed and operational in only 48 hours, cutting the time and cost of installation, and requires only a 360 mm foundation, with no reinforcement needed.
As proof of the barrier's effectiveness, Spider Wire provided a video of a test when a car travelling at 70 kmph hits the barrier. A selection of videos highlighting this test can be seen at http://spiderwire.co.za/videos/
As the pictures demonstrate, the barrier effectively stops the vehicle, destroying it in the process. The damage done to the barrier was minimal with the only sign of damage being the top of the barrier (see image) which is no longer flush with the ground – but still operational. When in use, the barrier is flush with the ground, ensuring there is no hindrance to normal, legitimate day-to-day operations.
Lazarus says the system was designed in cooperation with some of the world's most experienced anti-terror and anti-crime experts, as are the other products in the company's range. In the event of an armed attack, the raised barrier also provides cover for security operatives.
For more information, contact Dean Lazarus, Spider Wire, +27 (0)78 088 5245, director@spiderwire.co.za, www.spiderwire.co.za
Further reading:
New hires at iPulse
Issue 7 2020, iPulse Systems , News
iPulse has welcomed two new employees into its ranks. Shai Weil has been appointed as operations director, while Corneli Botha is the new customer sales liaison.
Read more...
---
HID Global acquires Access-IS
Issue 7 2020, HID Global , News
HID Global acquires provider of miniaturised reader devices that combine key technologies for mission-critical markets.
Read more...
---
Securing digital transformation
Issue 7 2020 , News
Schneider Electric partners with Fortinet to strengthen ability to secure operations across the business lifecycle and unlock the advantages of a secure IIoT.
Read more...
---
Suprema integrates with Paxton's Net2 access control
Issue 7 2020, Suprema , News
Suprema has announced it has integrated its devices with Paxton's access control system, Net2.
Read more...
---
Free cybersecurity courses
Issue 7 2020 , News
Check Point Software partners with Harvard and MIT-founded edX to deliver free online courses to help close the cybersecurity skills gap.
Read more...
---
Fidelity partners with Auto & General Insurance
Issue 7 2020, Fidelity Security Group , News
Fidelity Services Group in partnership with Auto & General Insurance has launched Fidelity InSure, a comprehensive vehicle, home, and building insurance offering.
Read more...
---
More apps for open camera OS
Issue 7 2020 , News
The App Challenge will result in 21 new apps running on the Security & Safety Things' camera OS, based on the Android Open Source Project.
Read more...
---
Milestone Systems announces Thomas Jensen as new CEO
Issue 7 2020, Milestone Systems , News
Milestone Systems announced that its board of directors has appointed Thomas Jensen as chief executive officer. Jensen will assume the role on October 1, 2020.
Read more...
---
Suprema announces its first virtual event
Issue 7 2020, Suprema , News
Suprema will be hosting its first virtual event, Suprema Connect 2020, which is scheduled to take place over one month from September 15.
Read more...
---
From the editor's desk: Waiting for PoPI
Issue 7 2020, Technews Publishing , News
A while ago we heard of yet another cyber breach, this time from Experian.
Read more...
---