printer friendly version
Securex 2015 offers residential risk solutions
January 2015
Residential Estate (Industry)
In most instances, residents pay a high premium to live in secure residential estates. Their investment is driven by the need to reside in an environment that ensures unwanted visitors are kept out of the property and any interlopers are apprehended quickly and effectively.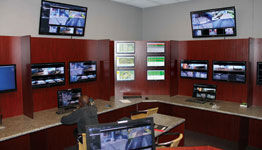 Remote monitoring of residential estate security installation.
While many estates employ some form of security, often the system is fallible for a number of reasons. "Feedback from Securex exhibitors indicates that two predominant factors come into play: inadequate technology for the application at hand; and the inefficiency or ineffectiveness of the personnel monitoring the security systems," says Joshua Low, Securex event director at show organiser Specialised Exhibitions Montgomery.
Securex 2015, being held between 12 and 14 May at the Gallagher Convention Centre, will provide visitors with the ideal opportunity to discuss residential estate security issues with experienced specialists who have successfully designed and implemented solutions for this market sector.
While recognising the need for boom gates and other access control technology, along with surveillance and licence plate recognition, perimeter security remains the primary point of contact at residential estates. Dean Sichelschmidt of Arteco says that estate perimeters are often neglected. He adds that it is impossible to deploy sufficient, well-trained security personnel to patrol these perimeters effectively, so the reliance on intelligent perimeter security is vital.
A secure perimeter wall could be a single brick and mortar with electric fencing type structure, or a more modern anti-climb/anti-cut type fence. It may even include a double perimeter boundary with a no-man's land. Recognising that this will only delay, rather than completely stop the intrusion of any determined criminal, it is imperative to enhance this physical barrier with technologies that are intelligent and offer the security personnel the tools to effectively detect, deter and react to an event.
Arteco offers intelligent video solutions that integrate with access control systems, licence plate recognition systems, electric fencing, lighting, perimeter intruder detection and intruder detection.
Maurice Williamson of Stafix Electric Fence and Security Systems says that to understand the difference between perimeter fencing zoning and sectorisation, one needs to consult the latest legislation and the definitions contained in the SANS 10222-3-2012 Edition 4 regulatory document. In non-professional terms, a zone is simply a portion of fence powered by a single energiser, while sectors are partitions of that zone into smaller sections.
In an effort to reduce costs installers often only install one energiser on a lengthy perimeter fence and then partition this zone into numerous sectors using one of the many different systems available for sectorisation. Generally, the problem with these systems is that a short created on a zone effectively neutralises the whole zone so that when a second or third short occurs, the system cannot detect them. In effect, this means that in many instances the whole of the perimeter security system is compromised and an intruder can, by simply creating a short on one sector, create a diversion and then enter through a breach at another location.
It is therefore advisable to install multiple zones and Williamson suggests using a product like the JVA Perimeter Patrol Management System installed on a fibre optic backbone.
Suppliers or manufacturers who would like to build their brand and increase their exposure to the market can book exhibition space through Sven Riddle and Zelda Zordaan on +27 (0)11 835 1565 or email svenr@specialised.com or zeldaj@specialised.com
Further reading:
Reliable access management for famous film location
Paxton Access Control & Identity Management Residential Estate (Industry)
The Royal Connaught Park features a private swimming pool, health and fitness suite, outdoor tennis court and onsite parking, with over 100 residents coming and going every day.
Read more...
---
Ring announces second generation indoor camera
Smart Home Automation Surveillance Residential Estate (Industry)
Introducing a removable manual privacy cover, Ring's latest indoor camera provides customers with increased privacy, control and peace of mind when it comes to home security.
Read more...
---
Securing a luxurious estate
Access Control & Identity Management Residential Estate (Industry) Products & Solutions
Turnstar Systems recently partnered with Balwin Munyaka Residential Estate to secure the entrance to its Crystal Lagoon, ensuring only authorised residents and guests can access the site.
Read more...
---
Body-worn evidence
Technews Publishing Forbatt SA Betatrac Telematic Solutions Secutel Technologies Surveillance Residential Estate (Industry) Products & Solutions
Body-worn cameras are no longer just a good idea or a luxury item; in fact, they are gaining popularity and finding use in various situations, one of these being in residential estates.
Read more...
---
Integrating control rooms and response
WatchManager Integrated Solutions Residential Estate (Industry)
Control rooms have become a standard in large estates, and remote control rooms are finding a home even in smaller estates due to cost efficiencies and the increasing reliability of analytics and artificial intelligence.
Read more...
---
The difference between a SOP and a SOP
Residential Estate (Industry) Integrated Solutions Security Services & Risk Management Risk Management & Resilience
SOPs are a touchy issue that need careful attention and automation to ensure they deliver the desired security results. Beyond design and automation, implementation is the ultimate road to success.
Read more...
---
Entrance security for residential buildings
Paxton Access Control & Identity Management Residential Estate (Industry) Products & Solutions
Home is where people should feel safe and relax. Installing a reliable access control system is vital to track and prevent non-residents from entering private areas.
Read more...
---
Security without the skin
Alwinco Editor's Choice Security Services & Risk Management Residential Estate (Industry) Risk Management & Resilience
We all know about the layers of security required to form a comprehensive solution, but the layers go deeper than most consider. Andre Mundell dissects security in this article to start the journey into what is under the covers.
Read more...
---
Touchless vehicle access control
Technews Publishing Techsolutions ZKTeco Impro Technologies Editor's Choice Access Control & Identity Management Residential Estate (Industry) Products & Solutions
RFID access for vehicles is a growing market, and many estates (residential and business) have opted for this approach to speed up the process of moving vehicles through access control points.
Read more...
---
Ensuring peace of mind
Fang Fences & Guards Editor's Choice Integrated Solutions Residential Estate (Industry)
With the rapid advance of technology and artificial intelligence, electronic security systems are not only extremely reliable in safeguarding properties, but a well-designed, implemented and maintained system will prevent crimes before they can happen.
Read more...
---