printer friendly version
Risk assessment with flair
November 2014
Security Services & Risk Management
Dianne Ayres, co-owner at Alwinco, is one of many women involved in the security industry, she specialises in the risk assessment sector and is about to publish a book based on her experience and research on this sector. Her position at Alwinco is a rather complex one as she has various responsibilities that have to do with the daily running and promotion of the business.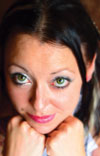 Dianne Ayres
Her main goal in writing the book is to make security risk assessments better understood by everyone as the concept is new, often misinterpreted and mainly ignored. "I have found that people are more open to the idea once they have a better comprehension and more knowledge of what an assessment actually entails."
Traditionally, the security industry has been the male dominated industry. However, that didn't deter her from breaking into the industry and finding a comfort zone amongst her male counterparts. "Luckily, up to now, I have received no adverse reaction to me being female, although at some training seminars this has been the reason for me to be made the butt of some well-natured jokes as I am usually the only female present. If written examinations are required I prefer to do that with a pink pen," Ayres says.
"From the assessment point of view, many clients find it reassuring that I am a female and tend to be more open when discussing their security routines or fears, and are therefore more at ease. Other females are more susceptible to listening to advice in some instances. It has actually been beneficial that I am of the fairer sex in some senses during an assessment because it is easier for me to gain access into restricted areas as I am not always suspected and I am able to uncover more information during a discussion with relevant parties."
She says she has faith in the concept of security risk assessments and would like to see it grow in South Africa. "I believe my art background and studies have made it possible for me, as a more visually orientated individual, to be able to see risks and weaknesses within physical security, not only hardware, but in the attitude and approach of people to security. Too many business owners tend to confuse an assessment with their health and safety reports.
"These two principles are completely different and are at loggerheads with each other most of the time. It is unfortunate that often the position of the health and safety manager and the security manager are filled by one individual which results in security taking a backseat because of the laws. An assessment also cannot be conducted from a checklist or be rated in levels of high to low risk. This practice has been adapted from health and safety directly and actually does not offer an accurate or even unbiased view of one's security status. It is also important that the general public realise the difference between a product assessment and an independent security risk assessment."
Asked if she thinks that there are sufficient female representatives in the security industry in South Africa, she says, "It is becoming more commonplace nowadays to find women in positions that were previously only filled by our male counterparts. Times have changed significantly and so has the attitude of everyone, not only women, but also men. Most of our clients are female security managers and it is no longer as rare as it was before. I think that the inherent nurturing nature of a woman can also assist in when it comes to proactively protecting one's loved ones, property, assets and employees," she says.
Further reading:
30 years of business continuity
May 2019, ContinuitySA, Technews Publishing , Editor's Choice, Security Services & Risk Management
ContinuitySA is celebrating its 30th anniversary this year and Hi-Tech Security Solutions spoke to CEO Michael Davies about the changes he has seen in the business continuity and disaster recovery markets.
Read more...
---
The benefits of background screening
May 2019, iFacts, Managed Integrity Evaluation , Editor's Choice, Security Services & Risk Management
Companies need to be more vigilant about the people they employ by making sure comprehensive background screening checks are conducted.
Read more...
---
Simplifying fire detection system installations
May 2019, Elvey Security Technologies , Editor's Choice, Fire & Safety, Security Services & Risk Management
A fire detection system needs to be selected with extreme care, as is selecting an installer that not only understands the various technologies employed in fire detection, but that also has the necessary accreditations and certifications.
Read more...
---
Security workforce management platform
May 2019, Secutel Technologies , CCTV, Surveillance & Remote Monitoring, Integrated Solutions, Security Services & Risk Management
Secutel Technologies says the South African market is excited about body-cam technology and clearly sees the potential benefits.
Read more...
---
Solar energy storage systems
May 2019, Specialised Battery Systems , Products, Security Services & Risk Management
Specialised Battery Systems has a range of Energy Storage Systems (ESS) available, both standard and custom designed to suit customer requirements.
Read more...
---
Lightning protection insurance for thatched roofs
May 2019, DEHN Africa , Security Services & Risk Management
DEHNinsure offers surge and lightning protection insurance for thatched roofed buildings using its high-voltage-resistant insulated (HVI) technology.
Read more...
---
MIE background screening findings
May 2019, Managed Integrity Evaluation , Security Services & Risk Management
Candidate and supplier screening prioritised amidst murky market risks in MIE Background Screening Index Report for 2018.
Read more...
---
Control room software selection
May 2019, Intelligent Monitoring , CCTV, Surveillance & Remote Monitoring, Security Services & Risk Management
Wolfgang Kirsch discusses what customers should look for when selecting a control room management platform.
Read more...
---
Insiders: who are they?
May 2019 , Security Services & Risk Management, Cyber Security
The 2018 Insider Threat Report by Cybersecurity Insiders reports that more than 51% of companies are concerned about unintentional insider attacks.
Read more...
---
Are background checks worth the cost?
May 2019, LexisNexis , Security Services & Risk Management
Often, the added cost and effort serve as an understandable deterrent to business owners who should consider skipping the background check process altogether.
Read more...
---