printer friendly version
WD expands NAS storage offerings
September 2014
IT infrastructure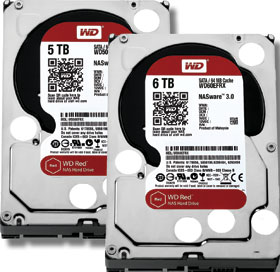 WD has announced the expansion of its WD Red line of SATA hard drives for home and small office NAS (network attached storage) systems with the release of a 5 TB and 6 TB capacity for NAS-specific storage and the introduction of WD Red Pro hard drives that address the medium to large business NAS market. WD Red 3.5-inch hard drives are now shipping in 1 TB to 6 TB capacities; and the new WD Red Pro 3.5-inch hard drives are available in 2 TB to 4 TB capacities.
"With the expansion and evolution of the WD Red family, WD once again is providing its customers with increased capacity up to 6 TB; improved bay count support with up to 8 bays; increased product breadth with WD Red Pro; and more features with the latest generation of NASware technology," said Matt Rutledge, senior vice president and general manager, WD Storage Technology.
WD Red
With the release of 5 TB and 6 TB models, the WD Red line of hard drives is now further enriched with greater storage capacity and increased performance with NASware 3.0, an enhanced version of WD's original NASware technology, designed to improve reliability and system performance, reduce customer downtime and to simplify the integration process.
WD Red hard drives also feature 3D Active Balance Plus, an enhanced balance control technology, which improves overall drive performance and reliability. Exclusive for WD Red customers, WD offers free premium 24x7 dedicated support. By increasing NASware 3.0 capability, the WD Red 1–6 TB capacity drives are capable of supporting up to eight bay NAS systems with no negative impact to performance.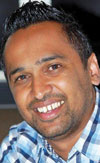 Kalvin Subbadu, sales manager, WD Components, WD South Africa.
Says Kalvin Subbadu, sales manager, WD Components, WD South Africa, "As we see the exponential increase of data in consumer and Small Office Home Office (SOHO) environments, the need for additional storage becomes a pressing issue. The introduction of our new 5 TB and 6 TB capacities will support up to 8 bays is super charging users' ability to store even more data than ever. This is particularly relevant to the South African market where broadband costs and availability is perpetually improving, ultimately resulting in an increase of digital data downloads." 
WD Red Pro
Ideal for medium to large business environments, the new WD Red Pro line of NAS hard drives supports 8 to 16 bay NAS systems. The enhanced design offers reliable, high performance storage powered by NASware 3.0. By introducing the WD Red Pro, WD now has a full portfolio NAS storage solution with the WD Red family (WD Red and WD Red Pro) for both consumer and business NAS solutions.
WD Green
The WD Green line of cool and quiet hard drives is also seeing capacity expansion with 5 TB and 6 TB additions for high capacity consumer storage. High capacity WD 6 TB hard drives will integrate seamlessly with WD's My Cloud, My Cloud EX2, My Cloud EX4, My Cloud Mirror personal cloud storage as well as My Book and My Book Duo external drive solutions and are compatible to work with a wide array of WD OEM NAS partners.
These new systems are available from Pinnacle Africa, Drive Control Corporation and Sahara Computers, the WD Red and WD Red Pro have three- and five-year limited regional warranties, respectively.
For more information contact WD, +27 (0)83 277 7634,  [email protected]
Further reading:
ALM a key element of data security
IT infrastructure
ALM is core to any data security framework in the digital age and it is an element that no business can afford to be careless with.
Read more...
---
Integrate, integrate, integrate
IT infrastructure
Security and speed will always war for dominance in DevOps but it's time to integrate the two as the landscape becomes increasingly fractious and complex.
Read more...
---
The benefits of Managed File Transfer
IT infrastructure Products
Blue Turtle Technologies looks into how a Managed File Transfer platform benefits businesses, as opposed to the usual FTP or SFTP suspects.
Read more...
---
Accelerating your Zero Trust journey in manufacturing
IT infrastructure Cyber Security Industrial (Industry)
Francois van Hirtum, CTO of Obscure Technologies, advises manufacturers on a strategic approach to safeguarding their businesses against cyber breaches.
Read more...
---
Cyber resilience is more than cybersecurity
Technews Publishing Editor's Choice Cyber Security Integrated Solutions IT infrastructure
Hi-Tech Security Solutions held a round-table discussion focusing on cyber resilience and found that while the resilience discipline includes cybersecurity, it also goes much further.
Read more...
---
Keeping devices in check
Cyber Security Asset Management, EAS, RFID IT infrastructure
Kaspersky patents new technology for analysing relationships between electronic devices to counter cyberattacks launched through connected IoT devices.
Read more...
---
IQ WiFi 6 supporting users and security installers
IT infrastructure Products
The IQ WiFi 6 is a new purpose-built mesh router solution for homes and businesses with security, automation and Wi-Fi devices.
Read more...
---
Considering cloud downtime insurance?
Arcserve Southern Africa Cyber Security IT infrastructure Security Services & Risk Management
Byron Horn-Botha, business unit head, Arcserve Southern Africa, reveals three vital steps that you must consider to ensure business continuity before you buy insurance.
Read more...
---
A robust OT cybersecurity strategy
Editor's Choice Cyber Security IT infrastructure Industrial (Industry)
Cyber experts are still struggling to convince senior management to spend money to protect their control system assets, resulting in a lack of even basic measures to protect control systems.
Read more...
---
IT security at the core of smart cities
Cyber Security IT infrastructure Government and Parastatal (Industry)
The success of service delivery and public access to universal Wi-Fi, home automation and smart sensors is based on increased IT security.
Read more...
---