printer friendly version
Keeping an eye on your data
September 2014
IT infrastructure
The term 'big data' has become increasingly recognised in the business world over the past few years. While it might have become something of a marketing term, most can appreciate the concept of more smart devices producing data in ever-increasing quantities.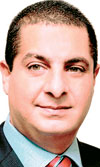 Christian Assaf, senior sales manager of Seagate.
The perfect illustration of the growth of big data can be found in the surveillance market, whether it be data used for security purposes or collecting and collating information in a range of areas. The number of CCTV and surveillance cameras has increased dramatically in the last decade. But not all are used purely to keep an eye on secure building access and street corners.
City councils and planners looking to predict traffic flow patterns, airport and aviation authorities seeking to reduce wait times, retailers examining customers' browsing habits, and emergency services seeking to cut vital seconds from response times – all can benefit from the increasing amount of data stored in surveillance systems.
The growth and increasing sophistication of surveillance has resulted in an explosion of data that organisations can, and are expected to, manage safely and securely. This is before we even consider how data is being stored so it can be analysed and used to provide benefits for the organisation. With this growth in surveillance data, organisations need to assess how they are storing it, whether it is properly held, and if they are missing out on any opportunities to extract insight.
Scale of the challenge
A report by IDC revealed that half of global big data in 2012 came from surveillance. This statistic goes some way to illustrating the scale of the challenge organisations that use surveillance face in both storing and managing it. The storage demands from this huge volume of data is likely to be overwhelming to most organisations.
There are two key areas concerning surveillance data storage that organisations should consider today; the length of time data can realistically be stored for, and the quality and resolution of the data stored. For some industries where surveillance is a standard requirement, there will be a set of archive requirements to adhere to – a minimum time required to store data – and this time frame has actually increased in recent years within several MENA countries. In terms of resolution, it's generally a case of the higher the better. The better the resolution, the more value the organisation will see from the data. The catch is, the higher the resolution the higher the storage requirements – and costs.
These challenges are not set to ease in the future. The amount of data globally (including surveillance data) is set to grow significantly over the next six years, with Gartner noting that the market for business intelligence (BI) and analytics software in MENA alone increased 11% last year compared to the previous year. With such relentless change in the quantity of data being created and stored it is almost inevitable that organisations are struggling to use it to gain real insight. By 2020 more than 32% of all data could be considered useful, meaning that it can be analysed with patterns and trends found from it. As a result there is a real need for organisations to get back in control of their data now or risk never being able to control it and analyse it in future.
Taking back data control
There are two main challenges to taking back control of surveillance data, firstly around the storage of the data and secondly regarding the analysis of it.
The storage of surveillance data should be done exclusively on hard drive storage, which can store significant amounts of data at high quality and be connected to an intelligent video surveillance (IVS) system which provides consistency in recording multiple video streams around-the-clock. The good news on this front is that hard drive storage capacities are continuing to grow rapidly. In turn this means the overall expense of getting data properly stored is decreasing even as the amount of data increases. With costs continuing to decrease there is greater possibility of deploying an IVS to manage the data from surveillance, making detailed analysis a realistic possibility for more organisations.
Having the right hard drive storage in place, with high capacity, means organisations can carefully plan for how much storage capacity they need to meet their specific archive and resolution requirements. Purpose-built surveillance systems can also help organisations control the cost of their infrastructure. Surveillance hard drives cost only slightly more than a multitude of desktop-class drives, yet require fewer SDVR (standalone digital video recorder) drive slots to deliver much higher capacity, consume far less energy and generate less system-threatening heat.
However, simply upgrading to a hard drive based data storage system with an integrated IVS system isn't enough. To tackle the challenge of data analysis, organisations need to have the processes and structures in place to take advantage of the benefits. Video analytics systems can now be programmed to track objects identified as human and send an alert when the subject violates predefined rules, such as climbing over a wall. While some of this analysis is done in real-time, a great deal is typically done on recorded video, rather than live streams. This again means significant storage capacity is required to house the large amount of high-resolution video data and therefore make best use of the analytical technology on offer.
Further reading:
ALM a key element of data security
IT infrastructure
ALM is core to any data security framework in the digital age and it is an element that no business can afford to be careless with.
Read more...
---
Integrate, integrate, integrate
IT infrastructure
Security and speed will always war for dominance in DevOps but it's time to integrate the two as the landscape becomes increasingly fractious and complex.
Read more...
---
The benefits of Managed File Transfer
IT infrastructure Products
Blue Turtle Technologies looks into how a Managed File Transfer platform benefits businesses, as opposed to the usual FTP or SFTP suspects.
Read more...
---
Accelerating your Zero Trust journey in manufacturing
IT infrastructure Cyber Security Industrial (Industry)
Francois van Hirtum, CTO of Obscure Technologies, advises manufacturers on a strategic approach to safeguarding their businesses against cyber breaches.
Read more...
---
Cyber resilience is more than cybersecurity
Technews Publishing Editor's Choice Cyber Security Integrated Solutions IT infrastructure
Hi-Tech Security Solutions held a round-table discussion focusing on cyber resilience and found that while the resilience discipline includes cybersecurity, it also goes much further.
Read more...
---
Keeping devices in check
Cyber Security Asset Management, EAS, RFID IT infrastructure
Kaspersky patents new technology for analysing relationships between electronic devices to counter cyberattacks launched through connected IoT devices.
Read more...
---
IQ WiFi 6 supporting users and security installers
IT infrastructure Products
The IQ WiFi 6 is a new purpose-built mesh router solution for homes and businesses with security, automation and Wi-Fi devices.
Read more...
---
Considering cloud downtime insurance?
Arcserve Southern Africa Cyber Security IT infrastructure Security Services & Risk Management
Byron Horn-Botha, business unit head, Arcserve Southern Africa, reveals three vital steps that you must consider to ensure business continuity before you buy insurance.
Read more...
---
A robust OT cybersecurity strategy
Editor's Choice Cyber Security IT infrastructure Industrial (Industry)
Cyber experts are still struggling to convince senior management to spend money to protect their control system assets, resulting in a lack of even basic measures to protect control systems.
Read more...
---
IT security at the core of smart cities
Cyber Security IT infrastructure Government and Parastatal (Industry)
The success of service delivery and public access to universal Wi-Fi, home automation and smart sensors is based on increased IT security.
Read more...
---