printer friendly version
HVAC performance degrading?
September 2014
Security Services & Risk Management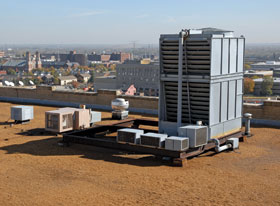 Regular maintenance can ensure that HVAC equipment remains efficient, but it could also cut energy costs. Part failure can seriously impact the performance of equipment, so it makes good sense to keep an eye on key components that have the greatest energy impacts. However, there are also significant benefits to be gained by switching to a whole-building-system approach, applying best practices and implementing effective scheduled maintenance.
Studies show that:
* Use of best practices in building maintenance and operations can reduce energy use by 10 to 20%.1
* Poor maintenance practices can increase energy use by 30 to 60%.1
* Programmes to enhance the efficiency of HVAC and lighting systems can decrease energy bills by 5 to 20% in commercial buildings2, without significant capital investment.3
* Effective scheduled maintenance can decrease energy bills by 15 to 20%.
As more studies show the benefits of a proactive approach and energy costs continue to climb, companies are stepping up their HVAC maintenance schedules even further, switching from a reactive 'break-fix' approach and from standard 'scheduled maintenance' practices prescribed by manufacturers to a predictive maintenance approach which bases maintenance on the actual condition of the machine.
A look at how common component performance issues in various types of chillers can degrade energy performance is a good incentive to begin to migrate to this approach, proactively monitoring performance and assessing the status of chiller components with the greatest energy impacts. Our top 10 are: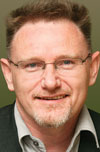 Neil Cameron
Centrifugal chillers
1. Dirty tubes – Microbes and the formation of scale or iron deposits in the chiller tube bundle reduce heat transfer. A water treatment program and tube cleaning could lead to a 10-15% saving in energy consumption.
2. Condenser flow rate – A 20% reduction in the condenser flow rate will increase full-load energy consumption by 3% in mechanical and absorption chillers used in chemical process cooling.
3. Oil contamination in refrigerant – There is a 2% loss in chiller efficiency for every 1% of oil found in the refrigerant. It is not uncommon to find 10% oil in the refrigerant of older chillers.
4. Sub-optimal refrigerant levels – Correcting refrigerant levels can provide up to 20% saving.
5. Leaks in the compressor can result in higher condenser pressure and temperature – About 1 psi of air in a condenser equates to a 3% loss in chiller efficiency.
Rooftop units
6. Economiser failure – Repair could deliver a 14 – 40% saving on energy consumption.
7. Airflow problems – Correcting to standard levels could deliver 10% savings.
8. Thermostat control problem – Correction could provide up to 40% savings.
9. Sensor problems – If a repair enables a non-functioning economiser, savings of up to 40% can be gained.
10. Suboptimal refrigerant charge – Correcting levels could lead to a 5 to 11% energy savings.
For a more detailed look at what could go wrong and how to fix it, see our Energy Savings from Maintenance fact sheet at http://www.institutebe.com/InstituteBE/media/Library/Resources/Existing%20Building%20Retrofits/Fact-Sheet-IBE-Energy-Savings-from-Maintenance.pdf
References:
1. Frankel, M., Heater, M. and Heller, J. 'Sensitivity Analysis: Relative Impact of Design, Commissioning Maintenance and Operational Variables on the Energy Performance of Office Buildings' New Buildings Institute. August 2012.
2. Portland Energy Conservation 1999c. Operation and Maintenance Assessments: A Best Practice for Energy-Efficient Building Operations. September 1999.
3. Chimack, M. J. Aardsma., D. Novosel. Energy Reduction through Practical Scheduled Maintenance. National Center for Energy Management and Building Technologies. November 2006.
For more information contact Johnson Controls, +27 (0)11 921 7141,  [email protected],  www.johnsoncontrols.com
Credit(s)
Further reading:
Top fraud trends to watch in 2023
News Security Services & Risk Management
Even though financial concerns remain a significant obstacle for companies in implementing new anti-fraud technologies, 60% of businesses expect an increase in their anti-fraud technology budgets in the next two years.
Read more...
---
Be cautious when receiving deliveries at home
News Perimeter Security, Alarms & Intruder Detection Security Services & Risk Management
Community reports of residents being held up at their gate when collecting fast food deliveries at home are once again surfacing.
Read more...
---
Sasol ensures Zero Trust for SAP financials with bioLock
Technews Publishing Editor's Choice Cyber Security Security Services & Risk Management
Multi-factor authentication, including biometrics, for SAP Financials from realtime North America prevents financial compliance avoidance for Sasol.
Read more...
---
Protecting yourself from DDoS attacks
Cyber Security Security Services & Risk Management
A DDoS attack, when an attacker floods a server or network with Internet traffic to prevent users from accessing connected online services, can be costly in both earnings and reputation.
Read more...
---
Crossing the chasm
Editor's Choice News Security Services & Risk Management Training & Education
Industry reports suggest that in the next ten years, millions of jobs could go unfilled because there simply are not enough people to fill them.
Read more...
---
Records in place now, not later
Editor's Choice Security Services & Risk Management
It is important, after an incident, to have records in place as soon as possible. Too often the matter is left for the day when the company is going to court, or a disciplinary hearing is scheduled.
Read more...
---
Considering cloud downtime insurance?
Arcserve Southern Africa Cyber Security IT infrastructure Security Services & Risk Management
Byron Horn-Botha, business unit head, Arcserve Southern Africa, reveals three vital steps that you must consider to ensure business continuity before you buy insurance.
Read more...
---
Real-world sustainability and innovation
Axis Communications SA Security Services & Risk Management
Technology such as smart city surveillance systems, in combination with video analytics that use artificial intelligence to analyse, prioritise and make decisions, enables cities to use resources as efficiently and sustainably as possible.
Read more...
---
The $600 000 question
Cyber Security Security Services & Risk Management Financial (Industry)
Usman Choudhary, chief product officer of VIPRE Security Group, advises companies to do the basics to protect themselves before looking for cyber insurance.
Read more...
---
Axora launches Metals and Mining Innovation Forecast 2022/23
IT infrastructure Security Services & Risk Management
Miners making super-slow progress towards digital transformation despite universally designating it 'critical to survival', with cybersecurity one of the concerns hindering progress.
Read more...
---