printer friendly version
New patrol management system
September 2014
Security Services & Risk Management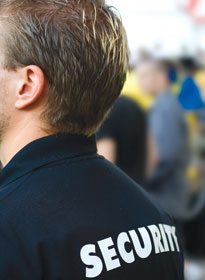 Guard monitoring solutions have been manufactured by OnGuard since 2004 and the company has released its third generation patrol system, according to Richard Frost, managing member of Astute Electronics. The latest release has several improvements, including new features, some of which are unique to the OnGuard system.
OnGuard's vision is to provide the customer with an end-to-end solution, starting with staff vetting, data verification, patrol management and ending with time and attendance reporting. In an effort to assist the industry and improve the efficiency of staff vetting, OnGuard now provides a free service to PSIRA registered security companies. This service allows the participants to upload their staff data to the company's server.
The system automatically verifies PSIRA information and keeps a record of the employment history. The information is not publicly available and can only be accessed when the employee resigns from their present company. The purpose behind the service is to enable employers to establish the employment history of an applicant in order that fly-by-night staff can be quickly and efficiently vetted. An added bonus to participating companies is that they can print staff ID cards by using the company's software. "Staff photographs are easily uploaded to our server using our free android phone application," says Frost.
Our patrol system facilitates time and attendance reporting and reduces the possibility of buddy clocking. The benefit of using an OnGuard system is that the controller is able to verify that each site is correctly manned with the appropriate number of staff assigned for that shift. This is achieved through a simple yet efficient Web based controller interface.
Each OnGuard is remotely configurable to cater for the correct staff complement for the particular site. Clocking data is immediately available to the controller and the information is automatically compared to the site roster. When the site is correctly manned, the warning showing an under or over posted site is removed from the screen.
A question is often raised as to "who watches the duty controller?" OnGuard takes care of this by including in its daily report to managers, a report on how efficiently the signals from the various sites were dealt with in the previous 24 hours.
"Daily reports are the key to managing a properly run guarding company," adds Frost. "Ours are really very easy to read and supervisors are able to drill down to problem guards with one click of a mouse.
"Patrol management is the heart of the system and through years of refinement we have built what we believe to be the best system on the market today. We are able to cater for multiple guards doing simultaneous patrols as well as different patrol durations for each of the routes required. A unique feature is that of the interpoint delay. Our systems are configurable to prevent the guard from hurrying his patrol in order to get back to a warm and cosy guard hut. A point will simply 'glow red' to indicate that he must wait before proceeding if the guard gets to the point before the allotted time. Other features include a 'stay-awake' function to eliminate the possibly of the guard going to sleep during his rest period."
In the MKIII version, OnGuard has included RFID technology which now allows it, as an option, to provide our customers with RFID points and an RFID baton.
Cost is a big factor when supplying a service to the guarding industry, says Frost. "The bulk of our customers rent patrol management systems from us and included in the rental fee is full maintenance. A service department is expensive to maintain and the result is that to drive the rental prices down we have to improve the product so as to avoid unnecessary expenses. This is a win-win situation for both OnGuard and our customers.
"Despite inflation, we have kept our rental fees constant over the past four years. This has been achieved as a result of strong company growth and improvements in the reliability of our hardware."
For more information contact OnGuard, +27 (0)21 701 7777, [email protected], www.onguard.co.za
Further reading:
The Deposita Protector 3000 d-s1
Deposita Security Services & Risk Management
The Protector 3000 d-s1, designed for medium-sized enterprises, improves the level of security at the business and helps optimise resources by streamlining cash-handling processes.
Read more...
---
Top fraud trends to watch in 2023
News Security Services & Risk Management
Even though financial concerns remain a significant obstacle for companies in implementing new anti-fraud technologies, 60% of businesses expect an increase in their anti-fraud technology budgets in the next two years.
Read more...
---
Be cautious when receiving deliveries at home
News Perimeter Security, Alarms & Intruder Detection Security Services & Risk Management
Community reports of residents being held up at their gate when collecting fast food deliveries at home are once again surfacing.
Read more...
---
Sasol ensures Zero Trust for SAP financials with bioLock
Technews Publishing Editor's Choice Cyber Security Security Services & Risk Management
Multi-factor authentication, including biometrics, for SAP Financials from realtime North America prevents financial compliance avoidance for Sasol.
Read more...
---
Protecting yourself from DDoS attacks
Cyber Security Security Services & Risk Management
A DDoS attack, when an attacker floods a server or network with Internet traffic to prevent users from accessing connected online services, can be costly in both earnings and reputation.
Read more...
---
Crossing the chasm
Editor's Choice News Security Services & Risk Management Training & Education
Industry reports suggest that in the next ten years, millions of jobs could go unfilled because there simply are not enough people to fill them.
Read more...
---
Records in place now, not later
Editor's Choice Security Services & Risk Management
It is important, after an incident, to have records in place as soon as possible. Too often the matter is left for the day when the company is going to court, or a disciplinary hearing is scheduled.
Read more...
---
Considering cloud downtime insurance?
Arcserve Southern Africa Cyber Security IT infrastructure Security Services & Risk Management
Byron Horn-Botha, business unit head, Arcserve Southern Africa, reveals three vital steps that you must consider to ensure business continuity before you buy insurance.
Read more...
---
Real-world sustainability and innovation
Axis Communications SA Security Services & Risk Management
Technology such as smart city surveillance systems, in combination with video analytics that use artificial intelligence to analyse, prioritise and make decisions, enables cities to use resources as efficiently and sustainably as possible.
Read more...
---
The $600 000 question
Cyber Security Security Services & Risk Management Financial (Industry)
Usman Choudhary, chief product officer of VIPRE Security Group, advises companies to do the basics to protect themselves before looking for cyber insurance.
Read more...
---