printer friendly version
Bring your own identity
September 2014
Access Control & Identity Management
New research shows that both the lines of business and IT departments see value in 'Bring Your Own Identity' (BYOID) initiatives, where social networking or digital IDs are used for application login. The groups also agree that more security is needed to increase BYOID adoption.
The report, 'The Identity Imperative for the Open Enterprise 2014', conducted by the Ponemon Institute and CA Technologies, examines business user and IT department attitudes toward BYOID.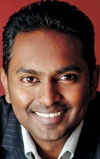 Ugan Naidoo, head of security at CA Southern Africa.
"In today's application-driven economy, access to applications has to be simple and secure. BYOID is an increasingly popular option for simplifying access. It can reduce the need to create new accounts for every site, which leads to registration fatigue and abandoned shopping carts," says Ugan Naidoo, head of security at CA Southern Africa. "We are working to make sure we enhance BYOID security without adding friction or complexity."
The report provided several key insights into BYOID, including the current state of adoption, its perceived value and views toward the identity providers and how BYOID could be enhanced.
Current state
BYOID deployment using social IDs is still in its infancy, but interest is high, especially for mobile and Web customer populations. There is a high level of interest in BYOID and using social identities such as Facebook, LinkedIn or Yahoo, with 50% of IT and 63% of business users expressing high or very high interest. Customers engaging with the business via the Web and mobile device were highest rated for targeted digital identity engagement, eclipsing other populations such as job recruits, employees, contractors and retirees.
Perceived value
Identity is now viewed as a contributing growth asset as well as a security component. Both IT and business users agreed that an important reason for BYOID adoption in their organisation was to achieve a stronger identity credential and get a higher level of confidence that a user is who he says he is (69% and 65% respectively). But business users cited capturing attributes about users as the biggest benefit (95%). This indicates an evolving view of identity. No longer viewed as simply a component for protecting data, identity is now seen as a value asset that can provide data which could drive incremental revenue and help maintain customers.
Enhancing BYOID
Additional security developments could drive increased BYOID adoption. The majority of IT and business users said 'identity validation processes' would help increase BYOID adoption (72% and 70% respectively). Implementing fraud risk engines also rated among the top three across both groups. Interestingly only 27% of business respondents believed formal accreditation of the identity provider was very important / essential, while 59% of IT users believe formal accreditation is very important / essential.
Perception of identity providers
Respondents' preferred identity provider varied based on the situation and region. When asked what social ID was of most interest to their organisation, IT users ranked PayPal as the preferred identity provider across all regions. Business user responses varied with Amazon edging out PayPal and Microsoft. When asked what social ID respondents preferred as a consumer, Google was highest ranked among both IT users and business users.
"An holistic examination of the attitudes uncovered in the research show two clear views of identity," said Dr. Larry Ponemon, chairman and founder, Ponemon Institute. "IT continues to take a traditional risk-based, security view of dealing with identities, while the business side takes a more value-based, customer-centric view of identity. In order to gain the most value from any BYOID initiative, these two groups must collaborate and become allies for secure business growth."
"Enabling and protecting the open enterprise is the mantra of today's application economy. Identity is the new security perimeter that makes this possible. CA is dedicated to providing the market with the solutions needed to accelerate the delivery of secure, new applications, and help ensure access to the right users on their devices. This ultimately translates into driving business growth, which is good news for the SA economy," concludes Naidoo.
A BYOID infographic is available at www.securitysa.com/*infographic1 (short URl to http://www.ca.com/us/~/media/Files/infographics/a-three-legged-race-are-businesses-and-it-getting-off-on-the-wrong-foot-with-byoid.PDF).
The report can be downloaded at www.security sa.com/*CA1 (short URl to https://www.ca.com/us/register/forms/collateral/ponemon-institute-research-report.aspx).
For more information contact CA Southern Africa, +27 (0)11 417 8645, [email protected], www.caafrica.co.za
Credit(s)
Further reading:
Smart parking management platform
Access Control & Identity Management Asset Management, EAS, RFID
Parket builds a seamless bridge between supply and the ever-increasing, but fluid – and often temporary – demand for parking bays.
Read more...
---
Visible-light facial recognition terminal
ZKTeco Access Control & Identity Management Products
The SpeedFace-V5L [P] is a visible-light facial recognition terminal using intelligently engineered facial recognition algorithms and the latest computer vision technology.
Read more...
---
Facial and palm verification
ZKTeco Access Control & Identity Management Products
The ProFace X [P] supports both facial and palm verification, with a large capacity and rapid recognition.
Read more...
---
Glide Master High Security 90° Sliding Gate
BoomGate Systems Access Control & Identity Management Products
Boomgate Systems was asked to make a sliding gate that can turn 90 degrees. The gate had to offer high security and be vandal-proof.
Read more...
---
Informing, entertaining and communicating across your landscape
Evolving Management Solutions Access Control & Identity Management
For the first time, the attraction of large shopping malls with many stores, entertainment and food courts no longer offers enough appeal to attract customers.
Read more...
---
Suprema's new BioStation 3
Suprema Access Control & Identity Management Products
The brand new BioStation 3 is not only Suprema's smallest face recognition device to date, but it also comes packed with the largest variety of features.
Read more...
---
Suprema renews international privacy and security standard certifications
Suprema News Access Control & Identity Management
Suprema has simultaneously renewed two important international standard certifications regarding information security management (ISO/IEC 27001) and privacy information management (ISO/IEC 27701).
Read more...
---
SuperVision biometric access control
Integrated Solutions Access Control & Identity Management Products
SuperVision is a time & attendance (T&A) biometric access control system Fourier IT has been developing and enhancing for 18 years.
Read more...
---
Manage energy usage with Paxton access control
Paxton Access Control & Identity Management Products
Paxton provides access control systems that can integrate with existing infrastructure and manage a building's energy-consuming activities to save energy and costs.
Read more...
---
Why Multi-Factor Authentication, universal ZTNA and Zero Trust matter
Access Control & Identity Management Cyber Security
Malicious cyber actors are experimenting with new attack vectors and increasing the frequency of zero-day and other attacks, according to Fortinet's 1H 2022 FortiGuard Labs Threat Landscape report.
Read more...
---