IDS and Optex announce partnership
September 2014, News
IDS and Optex recently announced a partnership that represents a significant change in the security industry in southern Africa. In terms of the partnership, Optex has granted IDS the right to integrate its full range of wireless detectors into IDS's X-Series range of alarm panels, and to distribute the product throughout the SADC region.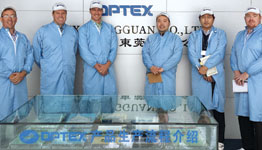 IDS management tour the Optex factory in Shenzen, China.
According to Bryan Watson, MD of IDS, and Atsushi Yasuoka, head of product and business planning for Optex, the partnership was an obvious choice and has been a long time in the making. It brings together Optex's intrusion detection capability and IDS's mastery of emerging market alarm panel requirements. The resultant product will offer a single solution that will meet the demanding requirements of wireless hybrid intrusion installations in emerging markets.
"Every installer worth his salt in southern Africa has installed IDS panels and Optex detectors. We have long known that most of our customers rate Optex as the premium range of detectors in the market and we are ecstatic to be able to offer our customers this range of detectors, out-the-box-integrated with our X-Series control panel solutions," says Watson.
"IDS is a leading brand in emerging markets, and we believe that this unique product offering will assist our many loyal customers in extracting the maximum possible value out of our range of wireless detectors," says Yasuoka.
In terms of the deal, IDS will pre-install its Xwave wireless transmitters into Optex detectors in its factory in Durban, creating much-needed skilled employment in South Africa's struggling manufacturing sector. IDS has custom-developed the Xwave range of transmitters and receivers to support the Optex range, and is releasing both a generic Xwave transmitter and an Xwave door contact. Xwave was developed specifically to meet South Africa's demands of wireless detectors, with the 433 MHz spectrum offering penetration of our large brick buildings, selectable supervision capabilities and robust RF jamming detection, ensuring complete peace of mind.
IDS and Optex have worked closely throughout the development to deliver a product that meets both of their exacting standards. "This project represents a strong commitment by us and Optex to the wireless intrusion market," says Watson. "Wireless detectors are now a critical component of many intrusion installations, offering ease of installation and aesthetic benefits in applications where wired detectors are impractical."
Sales commenced on 1 September 2014 and a national product launch will introduce customers to the solution and to the Optex and IDS teams from early September 2014. To secure attendance at the product launch events, and secure a preferential 15% off Xwave and Optex discount for first invoice purchase, contact Alison Renwick at marketing@idsprotect.com