printer friendly version
ACT in pole position at Silverstone
September 2014
CCTV, Surveillance & Remote Monitoring
The ACTViquestPRO, the integrated video and facility management IP platform from ACT, has been used as a safety and race directing system at Silverstone, England, for the 2014 Formula 1 Santander British Grand Prix which was won by home driver Lewis Hamilton in his Mercedes.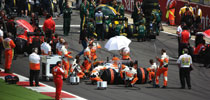 Silverstone Grand Prix. Photo: Tim Carey
The ACTviquest software provided footage from 32 cameras around the 3,66 mile (about 5,9 km) circuit as well as acting as a GUI to empower the decision-making of race controllers.
The controllers received instant access to data from course marshals in relation to potential hazards, traffic in pit lanes and general race conditions.
An advantage of ACTViquestPRO and the twin offering of ACTViquestWALL is that organisers at large events who must aggregate information from multiple video feeds, digital signage, histograms and other disparate data sources, can do so from a single display wall. In this way, abnormal conditions that may have an impact on the safe running of a motor event can be pinpointed immediately.
The variety of video used at Silverstone is illustrated by the fact that certain channels gave views of pit lanes and were fed into the F1 constructor teams to give them awareness of likely congestion while other views showed mechanics their own cars' progress out on the track.
The cameras, which are HD PTZ units by Sony, were labelled according to some of the totemic landmarks on the Silverstone track such as Club Corner, Hangar Straight (the longest straight at 770 metres with an average speed of 145 mph or about 233 kph) and Maggotts Curve, which exerts a lateral G force of 4,5G on the drivers.
Shay Moran, chairman of ACT, said: "ACTviquest underpins our commitment to scalable integration of video management and data aggregation at the widest range of venues. We pride ourselves on helping clients to manage an ever-increasing range of data types and security or safety risks. The Santander British Grand Prix saw £44m being spent at the course and in the county of Northamptonshire."
ACTviquest is designed for all levels of safety and security risk and can be scaled according to the size of the application. The video management can also be paired with scene analytics that will alert the user to significant behaviour that is atypical and warrants investigation.
In addition to the Sony units used at this application, ACTviquest supports major camera brands including Ganz, PixelPro, Vivotek, Hikvision, Bosch and Samsung.
For more information contact ACT, +353 1 466 2570, [email protected], www.act.eu
Further reading:
Smart car parking solution eases traffic flow
Dahua Technology South Africa CCTV, Surveillance & Remote Monitoring Integrated Solutions Products
Ethiopia's first smart parking lot, designed to improve traffic flow and management efficiency, has been built and installed using Dahua Technology's smart parking solutions.
Read more...
---
VMS 7.2 supports the investigation process and adds cloud capabilities
CCTV, Surveillance & Remote Monitoring Integrated Solutions Products
Qognify has launched the second release of its VMS, including extended support for body-worn video, additional functionalities to support investigations, and a new web client architecture. VMS 7.2 addresses the increasing use of body-worn video (BWV) across many sectors.
Read more...
---
The future of AIoT
Hikvision South Africa News CCTV, Surveillance & Remote Monitoring
Hikvision hosted its 2022 Shaping Intelligence Summit in Bali, Indonesia, on 29-30 November, where the company, its customers, and technology and solution partners, looked into the future of AIoT and explored paths to shared success.
Read more...
---
A comprehensive video solution for retail
LD Africa Retail (Industry) CCTV, Surveillance & Remote Monitoring Products
Retail Intellect is a comprehensive, flexible solution for retailers that matches technologies to ensure point-of-sale safety and security with video analytics.
Read more...
---
Understanding customers better using AI
Secutel Technologies Retail (Industry) CCTV, Surveillance & Remote Monitoring Products
With in-store analytics of consumer behaviour, retailers can improve store performance and boost the productivity of their business.
Read more...
---
Benefits beyond just security
CCTV, Surveillance & Remote Monitoring
Store cameras are boosting customer experience and sales, as well as preventing losses, finds market research e-book from IDIS.
Read more...
---
Hikvision unveils first 'True 8K' NVRs
Hikvision South Africa CCTV, Surveillance & Remote Monitoring Products
The new M-Series NVRs can be used with a host of Hikvision cameras, and are ideal for environments where a wide field of view and extremely high image resolution are needed.
Read more...
---
AI in video analytics
CCTV, Surveillance & Remote Monitoring Integrated Solutions
AI (artificial intelligence), has been developed and debated ever since the first computers were invented, and while the most revolutionary incarnations are not yet here, AI-based technologies are widely used today.
Read more...
---
Milestone flies a Kite for small businesses
Milestone Systems CCTV, Surveillance & Remote Monitoring
Milestone Systems introduces Milestone Kite for small to medium-sized businesses and organisations, supporting 6000+ camera models from 100+ manufacturers.
Read more...
---
Railway AI-enabled video analytics
Rugged Interconnect Technologies CCTV, Surveillance & Remote Monitoring
The Rugged Computing Group has announced the AVA-RAGX, a fanless AIoT video analytics platform for railway applications, paired with Nvidia's Jetson AGX Xavier platform.
Read more...
---