printer friendly version
Technology and convenience merge
September 2014
CCTV, Surveillance & Remote Monitoring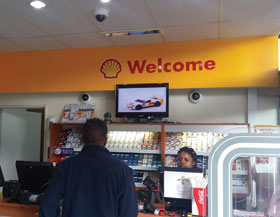 Johan van Zyl of South Africa has a very interesting hobby. Unlike many business owners, he considers security solutions an intriguing pastime.
As the owner of Shell Sentra Motors located in the town of Bellville, in the Western Cape, security is obviously a priority. However, it is not simply a means-to-an-end; instead it is both an opportunity and a hobby: "I love playing around with computers and understanding what is happening in the tech world ... so when I began switching from analogue to IP, I was really excited to see what Hikvision IP technology offers."
For Van Zyl, it's already offered:
* Allowing live-viewing from his home.
* Providing superior coverage, both indoors and outdoors.
* Increasing employee productivity.
* Providing additional business benefits.
Convenience from home
Van Zyl lives near his Shell Sentra Motors station. As such, he often chooses to work from home and was set upon incorporating this into his new solution, "I really wanted a solution that gave me much better resolution, but I also wanted the ability to access every camera from my home. This was a must for me," he explained.
To accomplish this, Hikvision's IVMS-4200 Client Software was installed for Van Zyl to control the entire solution on his PC.
A clear inner world
Now, with the ability to view all of his cameras from any location, the benefit of IP technology was readily apparent. Inside the station, Hikvision's DS-2CD2112-I 1.3 MP IP66 Network Mini Dome Camera, DS-2CD2712F-I(S) 1.3 MP IP66 Network IR Dome Camera, and DS-2CD2412F-I (W) 1.3 MP IR Cube Network Camera were all installed.
Each model filled a specific logistical need. For example, the DS-2CD2112-I 1.3 MP IP66 network mini dome camera was chosen for its 1.3 MP (1280 x 960) high resolution to better view the store's corner spaces. Previously, earlier analogue cameras did not provide enough resolution quality in these areas, leaving virtual blind spots. With this improved camera quality, this is no longer a concern.
For the cash register, Van Zyl had a slightly different goal, "I wanted great resolution, but also the ability to zoom onto details. Obviously, where money is handled, I wanted to verify what is going on in great detail, so I love being able to zoom onto a small item ... or zoom back to a larger overview."
To do so, the vandal-proof DS-2CD2712F-I(S) 1.3 MP IP66 Network IR Dome Camera was selected. This model features identical 1.3 MP high resolution, but adds a 2.8-12 mm vari-focal lens to meet the zooming requirement.
Rounding out the inside, Hikvision's DS-2CD2412F-I(W) 1.3 MP IR Cube Network Camera was placed in office rooms located adjacent to the main shopping area. Interestingly, it wasn't only improved resolution that was key; it was also the camera's ability to hear. Since many business transactions take place in these office rooms, the DS-2CD2412F-I(W)'s audio microphone allows the camera to provide both a visual and audio record of any agreed upon terms. While this isn't always necessary, "It's a good form of protection, nonetheless," noted Van Zyl.
A safer outer world
Outdoors, differing Hikvision cameras were again combined to provide security. For perimeter security, the DS-2CC11A2P-IRA Weather-proof IR Bullet Camera was placed on poles and onto building's corners.
Newly added on the top of gasoline pumps, the DS-2CC1197P(N)-A(-C) High Definition WDR Box Camera represents Van Zyl's selectivity. Due to the ever-changing outdoor lighting conditions, this pump area represented a chronic security problem. For example, if the sun was in a particular location, issues with glare and backlighting would render most video images essentially useless. However, the DS-2CC1197P(N)-A(-C)'s Digital Wide Dynamic range overcomes this backlighting issue for clear and usable images, regardless of time of day.
Lastly, located near the station's carwash facility, as well as selected indoor areas (such as the employee break room, etc.) is the DS-2CE5582P(N) DIS Dome Camera; a camera model that provides a good overall picture of these environments.
More than just stopping robbers
Because of this improved IP resolution, Van Zyl has already seen dramatic improvement both indoors and out. Now, gas pumps are just as secure as the cash register, and vice versa.
However, this technology extends beyond traditional security concerns. "Obviously, I want better resolution in my cameras to stop crime-related loss, but I also want to improve overall employee productivity. For me to be able to work from home, and accurately see what is happening in my station, has made all the difference in the world ... for both me, and the betterment of my business," summed up Van Zyl.
For more information contact Hikvision, +86 571 8700 6060,  [email protected],  www.hikvision.com
Credit(s)
Further reading:
Smart car parking solution eases traffic flow
Dahua Technology South Africa CCTV, Surveillance & Remote Monitoring Integrated Solutions Products
Ethiopia's first smart parking lot, designed to improve traffic flow and management efficiency, has been built and installed using Dahua Technology's smart parking solutions.
Read more...
---
VMS 7.2 supports the investigation process and adds cloud capabilities
CCTV, Surveillance & Remote Monitoring Integrated Solutions Products
Qognify has launched the second release of its VMS, including extended support for body-worn video, additional functionalities to support investigations, and a new web client architecture. VMS 7.2 addresses the increasing use of body-worn video (BWV) across many sectors.
Read more...
---
The future of AIoT
Hikvision South Africa News CCTV, Surveillance & Remote Monitoring
Hikvision hosted its 2022 Shaping Intelligence Summit in Bali, Indonesia, on 29-30 November, where the company, its customers, and technology and solution partners, looked into the future of AIoT and explored paths to shared success.
Read more...
---
A comprehensive video solution for retail
LD Africa Retail (Industry) CCTV, Surveillance & Remote Monitoring Products
Retail Intellect is a comprehensive, flexible solution for retailers that matches technologies to ensure point-of-sale safety and security with video analytics.
Read more...
---
Understanding customers better using AI
Secutel Technologies Retail (Industry) CCTV, Surveillance & Remote Monitoring Products
With in-store analytics of consumer behaviour, retailers can improve store performance and boost the productivity of their business.
Read more...
---
Benefits beyond just security
CCTV, Surveillance & Remote Monitoring
Store cameras are boosting customer experience and sales, as well as preventing losses, finds market research e-book from IDIS.
Read more...
---
Hikvision unveils first 'True 8K' NVRs
Hikvision South Africa CCTV, Surveillance & Remote Monitoring Products
The new M-Series NVRs can be used with a host of Hikvision cameras, and are ideal for environments where a wide field of view and extremely high image resolution are needed.
Read more...
---
AI in video analytics
CCTV, Surveillance & Remote Monitoring Integrated Solutions
AI (artificial intelligence), has been developed and debated ever since the first computers were invented, and while the most revolutionary incarnations are not yet here, AI-based technologies are widely used today.
Read more...
---
Milestone flies a Kite for small businesses
Milestone Systems CCTV, Surveillance & Remote Monitoring
Milestone Systems introduces Milestone Kite for small to medium-sized businesses and organisations, supporting 6000+ camera models from 100+ manufacturers.
Read more...
---
Railway AI-enabled video analytics
Rugged Interconnect Technologies CCTV, Surveillance & Remote Monitoring
The Rugged Computing Group has announced the AVA-RAGX, a fanless AIoT video analytics platform for railway applications, paired with Nvidia's Jetson AGX Xavier platform.
Read more...
---