printer friendly version
Widening the scope of thermal cameras
September 2014
CCTV, Surveillance & Remote Monitoring
Thermal imaging cameras are gaining in popularity in South Africa, because the cost of these kinds of cameras are coming down, while the number of usage applications is increasing.
Thermal imaging cameras record images of the infrared radiation (heat) being emitted by the skin to determine threats. The image produced by these cameras consists of a range of colours, with hotter areas represented in red, cooler areas appearing in blue and lukewarm areas in orange or yellow for instance.
These cameras have a number of advantages over conventional CCTV security cameras including being able to detect threats in extremely low light (or even complete darkness), and during unfavourable weather conditions like heavy fog, dust, excessive glare from the sun, or thick vegetation in the area being surveyed. In addition, thermal cameras provide a much clearer image compared to conventional imaging solutions and have a considerably longer threat detection range when compared to lower resolution surveillance cameras that make use of conventional optics.
This makes thermal imaging cameras particularly appealing within the property security sector such as within housing and golf estates, as well as businesses such as a car park or train station for instance where long perimeter fences are used.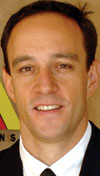 Roy Alves
"Despite an entry-level thermal imaging camera costing in the region of R30 000, the overall return on investment comes across in the total cost of a company's security solutions. This, as low cost thermal cameras can cover long distances of between 300 and 400 metres, whereas a company would need up to eight conventional surveillance cameras to cover the same area at an inferior image quality with devices that are more susceptible to a range of environmental factors and conditions," says Roy Alves, regional business development manager for Axis Communications.
Beyond surveillance
Just like CCTV cameras are now being used for more functions that go beyond crime prevention, such as queue management within retail stores for example, thermal solutions are now also being employed for a range of additional functions.
Game rangers are using thermal imaging camera solutions to assist them in their attempts to catch rhino poachers, while thermal imaging can also be used as a safer method for screening patients for breast cancer instead of less comfortable methods that expose patients to radiation such as mammography.
A more pertinent usage case within Africa involves using thermal camera solutions to detect fevers within airport passengers for instance, which might be an indication that the person is infected with Ebola.
"Since thermal cameras look at people's heat signatures, they are able to detect whether someone has a fever. This can be used to alert the authorities to someone who may have been infected with the Ebola virus at crucial junctures like airports, bus stations, and border crossings," concludes Alves.
For more information contact Axis Communications, +27 (0)11 548 6780, [email protected], www.axis.com
Credit(s)
Further reading:
Minimising fire risks in automotive logistics
Hikvision South Africa CCTV, Surveillance & Remote Monitoring Products Logistics (Industry)
Automotive logistics company uses thermal imaging solution from Hikvision to ensure its stores of lithium batteries for electric vehicles never overheat and cause a fire.
Read more...
---
Axis launches P3265-LVE dome camera
Axis Communications SA Products CCTV, Surveillance & Remote Monitoring
Based on ARTPEC-8 — the latest Axis system-on-chip (SoC) — Axis' latest dome high-performance camera includes a deep learning processing unit (DLPU), and cybersecurity features.
Read more...
---
Smart car parking solution eases traffic flow
Dahua Technology South Africa CCTV, Surveillance & Remote Monitoring Integrated Solutions Products
Ethiopia's first smart parking lot, designed to improve traffic flow and management efficiency, has been built and installed using Dahua Technology's smart parking solutions.
Read more...
---
VMS 7.2 supports the investigation process and adds cloud capabilities
CCTV, Surveillance & Remote Monitoring Integrated Solutions Products
Qognify has launched the second release of its VMS, including extended support for body-worn video, additional functionalities to support investigations, and a new web client architecture. VMS 7.2 addresses the increasing use of body-worn video (BWV) across many sectors.
Read more...
---
The future of AIoT
Hikvision South Africa News CCTV, Surveillance & Remote Monitoring
Hikvision hosted its 2022 Shaping Intelligence Summit in Bali, Indonesia, on 29-30 November, where the company, its customers, and technology and solution partners, looked into the future of AIoT and explored paths to shared success.
Read more...
---
A comprehensive video solution for retail
LD Africa Retail (Industry) CCTV, Surveillance & Remote Monitoring Products
Retail Intellect is a comprehensive, flexible solution for retailers that matches technologies to ensure point-of-sale safety and security with video analytics.
Read more...
---
Understanding customers better using AI
Secutel Technologies Retail (Industry) CCTV, Surveillance & Remote Monitoring Products
With in-store analytics of consumer behaviour, retailers can improve store performance and boost the productivity of their business.
Read more...
---
Benefits beyond just security
CCTV, Surveillance & Remote Monitoring
Store cameras are boosting customer experience and sales, as well as preventing losses, finds market research e-book from IDIS.
Read more...
---
Hikvision unveils first 'True 8K' NVRs
Hikvision South Africa CCTV, Surveillance & Remote Monitoring Products
The new M-Series NVRs can be used with a host of Hikvision cameras, and are ideal for environments where a wide field of view and extremely high image resolution are needed.
Read more...
---
Real-world sustainability and innovation
Axis Communications SA Security Services & Risk Management
Technology such as smart city surveillance systems, in combination with video analytics that use artificial intelligence to analyse, prioritise and make decisions, enables cities to use resources as efficiently and sustainably as possible.
Read more...
---