printer friendly version
Three phases of IP video evolution
September 2014
CCTV, Surveillance & Remote Monitoring
Milestone Systems' sustained growth has to be attributed to our introducing the open platform approach to the security industry. By allowing other companies and developers to add functionality to Milestone's software and supporting the widest choices of servers and cameras, our open platform has had a radical effect on the security industry.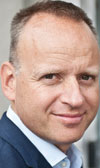 Lars Thinggaard
Milestone's open platform has created the freedom for both partners and their customers to not only select their own video system components, but also to create, define and tweak solutions to suit their security needs. Not only was Milestone one of the visionary companies in the shift from analogue to digital; our introduction of the open platform has paved the way for new ways of thinking about using surveillance video.
For the surveillance industry, the decision to 'go open' has motivated a series of developments that mark three distinct phases in its growth.
The first phase: IP video technology
When Milestone started up in 1998, video surveillance was 100% analogue. Closed-circuit television (CCTV) was synonymous with video surveillance, and even though the concept has changed a lot since then, most people today still think of analogue video when they think of video surveillance. Video surveillance is a tool to view and record video images, and the public generally sees it as being used in security only.
The second phase: video integration
The Internet brought with it a new electronic infrastructure that made Internet Protocol (IP) applications like email, instant messaging, peer-to-peer file sharing and Voice over IP (VoIP) widely available. Digital video was soon added to this list, and saw application in video conferencing and, of course, video surveillance.
The main advantage of networked applications was that they were programmable, and this opened up a range of other benefits. These typically included better user experiences, network visibility and control, better access to data and development advantages, notably in the form of tailor-made video integrations.
The third phase: video enabling
It was clear that video integration with other IP-based systems was going to change the face of video surveillance. While new video integrations were a natural result of a growing and diversifying partner ecosystem, Milestone recognised the new definitions that networked video was beginning to offer to the world of video surveillance. Companies were beginning to adapt their existing video solutions for other uses, for purposes that optimised and improved their businesses processes.
Video enabling simply means that video surveillance has shifted into a new paradigm of usability and application. This is because of the unique combination of network programmability and the extensive partner ecosystem made possible by the open platform standard.
Video enabling – the optimisation of business processes through video – is the way forward. It is not a move away from security, but rather an addition of function to that of traditional asset-protection and loss prevention. The amount of revenue-generating potential inherent in video enabling is a 'win-win-win' for vendors, partners and the customers.
There are a number of possible ways in which companies can video-enable their businesses. Here are just a few:
* Compliance. Workers can be monitored to enforce protective clothing and safety equipment or procedures, preventing loss due to fire, chemicals, accidents and injury.
* Prevent queuing at point-of-sale locations by notifying when extra personnel are needed.
* Alert maintenance crews to impending structural failures in buildings and vehicles.
* Retailers use video to track traffic patterns, measure the effectiveness of displays and other merchandising strategies, and devise ways to increase sales or visits.
Milestone's vision is "to drive the convergence of video surveillance and IP-based systems". This is not only an open acknowledgement of the new direction that video surveillance is taking; it is an assumption of initiative and a rallying call to lead the security industry toward video enabling and optimised business processes.
For more information contact Milestone Systems, +1503 350 1100, [email protected], www.milestonesys.com
Credit(s)
Further reading:
Smart car parking solution eases traffic flow
Dahua Technology South Africa CCTV, Surveillance & Remote Monitoring Integrated Solutions Products
Ethiopia's first smart parking lot, designed to improve traffic flow and management efficiency, has been built and installed using Dahua Technology's smart parking solutions.
Read more...
---
VMS 7.2 supports the investigation process and adds cloud capabilities
CCTV, Surveillance & Remote Monitoring Integrated Solutions Products
Qognify has launched the second release of its VMS, including extended support for body-worn video, additional functionalities to support investigations, and a new web client architecture. VMS 7.2 addresses the increasing use of body-worn video (BWV) across many sectors.
Read more...
---
The future of AIoT
Hikvision South Africa News CCTV, Surveillance & Remote Monitoring
Hikvision hosted its 2022 Shaping Intelligence Summit in Bali, Indonesia, on 29-30 November, where the company, its customers, and technology and solution partners, looked into the future of AIoT and explored paths to shared success.
Read more...
---
A comprehensive video solution for retail
LD Africa Retail (Industry) CCTV, Surveillance & Remote Monitoring Products
Retail Intellect is a comprehensive, flexible solution for retailers that matches technologies to ensure point-of-sale safety and security with video analytics.
Read more...
---
Understanding customers better using AI
Secutel Technologies Retail (Industry) CCTV, Surveillance & Remote Monitoring Products
With in-store analytics of consumer behaviour, retailers can improve store performance and boost the productivity of their business.
Read more...
---
Benefits beyond just security
CCTV, Surveillance & Remote Monitoring
Store cameras are boosting customer experience and sales, as well as preventing losses, finds market research e-book from IDIS.
Read more...
---
Hikvision unveils first 'True 8K' NVRs
Hikvision South Africa CCTV, Surveillance & Remote Monitoring Products
The new M-Series NVRs can be used with a host of Hikvision cameras, and are ideal for environments where a wide field of view and extremely high image resolution are needed.
Read more...
---
AI in video analytics
CCTV, Surveillance & Remote Monitoring Integrated Solutions
AI (artificial intelligence), has been developed and debated ever since the first computers were invented, and while the most revolutionary incarnations are not yet here, AI-based technologies are widely used today.
Read more...
---
Milestone flies a Kite for small businesses
Milestone Systems CCTV, Surveillance & Remote Monitoring
Milestone Systems introduces Milestone Kite for small to medium-sized businesses and organisations, supporting 6000+ camera models from 100+ manufacturers.
Read more...
---
Railway AI-enabled video analytics
Rugged Interconnect Technologies CCTV, Surveillance & Remote Monitoring
The Rugged Computing Group has announced the AVA-RAGX, a fanless AIoT video analytics platform for railway applications, paired with Nvidia's Jetson AGX Xavier platform.
Read more...
---